If seen from a distance during the day, the Mercedes CLS 350 you see above in the picture looks like it has a customized paintjob. But, at night under the lights, the car sparkles revealing that the whole body is covered with thousands of crystals. The Merc, which would normally be worth around £25,000 ($40,800 approx), is adorned in Swarovski crystals and this 2011 model CLS 350 added some mega-bling to London's streets yesterday when its mystery Russian owner was spotted driving it around the city. In fact, it caused quite a stir in London when it was parked outside The Levin Hotel on Basil Street, near Harrods in Knightsbridge. People gather around it to catch a glimpse and take photos sparkly Mercedes.

The car belongs to Daria Radionova, who is studying business management in London. 21 year old Daria said: "I wanted to have something unique and do something special. The people who did it came over from Russia and worked for 12 hours a day for two months on the car. The diamonds cost £20,000, plus I had to pay for other things but I am really happy with it and I am looking forward to driving it around. It has only just been finished and everywhere I go people stop to have a look at it. It gets lots of attention from people walking by and in cars. Sometimes I think they might crash." The bling Mercedes CLS 350 is registered in Britain and has a residents' parking permit. Harald Duttine, hotel manager said the car had received 'the most attention'. "We have seen a lot of unusual cars like Ferraris parked outside but I think this one has got the most attention," he added. The place is also famous for the supercars which wealthy motorists, often Arabs, bring to the area in the summer during london's supercar season.

Update – There is some latest scoop on the Swarovski studded Mercedes CLS 350. According to the Mirror, the millionaire Russian student is putting her bling ride up for sale to raise money for charity. She expects to sell it for £45,000 (the car is priced at £25,000 which is covered with £20,000 worth of Swarovski gems) and the proceeds will go to the arson-hit Manchester Dogs' Home. That's a noble thing to do; but one thing is for sure, she does know how to grab headlines.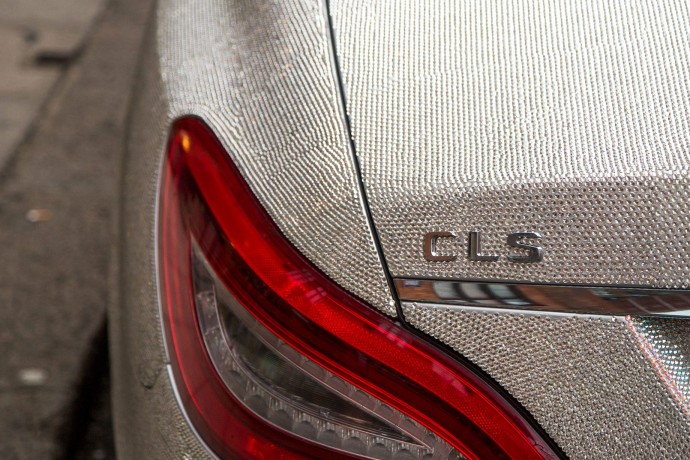 [Via – Mirror]