Believe it or not but the Rolls-Royce Cullinan is quite a capable off-roader, even though the uber-luxury SUV's comparatively soft exterior design and plush interior might suggest otherwise. Yet, it hasn't stopped enthusiasts from conceptualizing hardcore off-road beasts by customizing Rolls-Royces. Over the last few years, we've seen plenty of such concepts, including the badass Cullinan-based Arctic monster truck concept. However, none of them are as crazy or wild as this Rolls-Royce Phantom 6×6. And, no, this is not a conceptual design created in Photoshop. This six-wheeled Rolls-Royce monster is real! This mad creation joins the steadily growing list of the regular automobiles that have been given the Mad Max treatment by adding a third axle; but, there's no shame in admitting that we never expected to see a Rolls-Royce 6×6.



The tricked-out Rolls-Royce was recently featured on automotive influencer Supercar Blondie's YouTube channel, giving us a close look at the insane yet pointless 6×6 conversion. The six-wheeled behemoth was created by French custom car builder Danton Alexandre who runs his own customization shop named Danton Arts Kustoms. A 2004 Rolls-Royce Phantom was chosen as the donor car for this mad build.

The uber-luxurious sedan was chopped off from the rear door and a 2005 BMW 7 Series's body was merged with it to extend the chassis. In addition to that, the rear axle from the 7 Series was also fitted to the Rolls-Royce to accommodate the extra set of wheels. The result of all this cutting, chopping, and amalgamating is something that's cool and disturbing at the same time.

Everything about the Rolls-Royce Phantom 6×6 is over-the-top, including its giant wheels that add to its butch appearance. The six-wheeled Rolls is fitted with gargantuan 24-inch Forgiato that are wrapped with blocky off-road tires. The wheels are so big in size that the French custom car builder had to fabricate massive wheel arches out of aluminum; they look sick! If you look closely, you'll notice the brake calipers that are gold plated.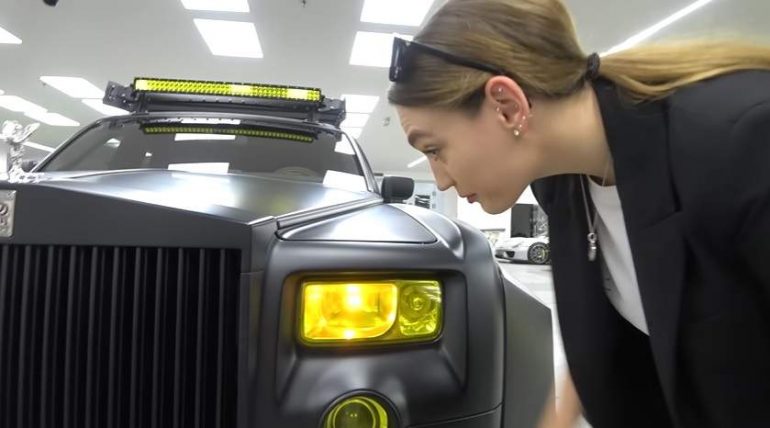 The matt black exterior of the Phantom 6×6 is contrasted with yellow-tinted headlights, fog lamps, and a roof-mounted LED bar. Furthermore, the off-road beast is also fitted with a beefy roof rack which looks big and strong to fit all your equipment needed on an adventure trip. And, guess what; Rolls-Royce's signature Starlight headliner has been flipped on this build to be implemented on the outside of the roof. How crazy is that!

Stepping inside the cabin, the interior hasn't been changed much, except for being reupholstered with more modern, orange-colored leather, which happens to be a very popular option on the Cullinan Black Badge. Additionally, the center of the steering wheel has been covered in authentic crocodile skin leather. Everything else looks pretty much what you'll expect from an opulent Rolls-Royce flagship sedan.

The suicide doors and the customary Rolls-Royce umbrella stowed within the door have also been retained. Similarly, the engine has not been tweaked and the 6×6 is still powered by the original 453hp 6.7-liter V12 engine. In case you think the Rolls-Royce Phantom 6×6 represents a world that has gone mad, wait till you hear about Danton Alexandre's next project. It has got something to do with a Lamborghini Urus and six wheels!