The new Mochi Long Range 23 motor yacht is the most perfect boat for a voyage of exploration. An expedition boat, it is the first craft to obtain the RINA "Green Star Clean Energy and Clean Propulsion" certification, the most rigorous certification standard that can be applied to a pleasure craft. The first "Zero Emission Mode" motor yacht over 20 meters, the Long Range 23's zero emissions system has been developed by Ferretti's AYT – Advanced Yacht Technology. The new hybrid propulsion system allows the craft to be controlled by a touchscreen display and managed in 5 different ways and ranging from the traditional diesel function to the zero emissions mode, using different combinations of diesel engine, electric engine, inverter, batteries and generator. A hi-tech yacht5, it offers owners the opportunity select the propulsion mode that best reflects the needs of the moment. Sure to appeal to environmentalists, this green yacht is definitely a class apart.

The boat also boasts of another amazing technology- FER.WEY (Ferretti Wave Efficient Yacht) trans-planing hull. This technology ensures higher hydrodynamic efficiency thanks to the innovative design of the depth surface, permitting the boat to avoid adopting the usual stern-down ("pooped") attitude when speed is increased. It also reduces the typical roll experienced by displacement hulls and improves static stability by up to 50%.
Powered by a 2 x MAN D0836LC engine, this motor yacht can reach a maximum speed of 28kph. Manufactured in 2008, this environment friendly yacht is priced at €3,300,000 ($4,800,000).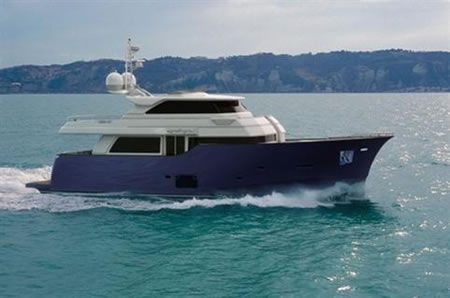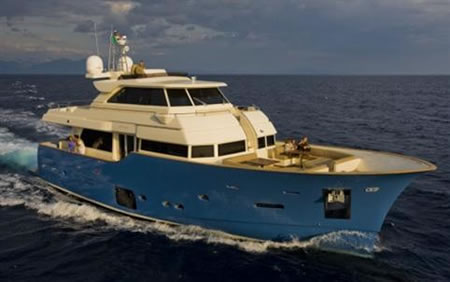 [TheYachtMarket]