The world of luxury yachting lately has come under a lot of pressure to reduce its carbon footprint with environmentalists calling for tighter emission regulations. In fact, we were startled to learn that Russian oligarch Roman Abramovich's superyachts produce more CO2 than some island nations. Shocking, right? And the superyacht manufacturing industry is now begging to pay heed to climate change and the environment of pleasure sailing. We've seen several eco-friendly yacht concepts over the last few years that look to address this challenge. The newest such concept comes from Dutch studio Vripack which has unveiled renderings of its 88-meter yacht concept Utopia at Sea. The luxury vessel seeks inspiration from nature and has been designed to focus on reduced environmental impact.



The idea for Utopia at Sea began in 2018 as a design study for a client who demanded something that had the capabilities of an explorer ship without compromising on the luxury experience of a motor yacht. Over the years, the design project constantly evolved with more focus on reducing waste and emissions. According to the studio, they wanted to create something with an environmental footprint "as small and inconspicuous as a human walking along a sandy beach." That's an ambitious goal for a luxury superyacht that measures 88-meters.

The designers at Vripack looked at nature for inspiration and came up with the idea of adding four air purifying units that work to reduce the CO2 produced by incinerators. "We connected our award-winning diesel-electric propulsion system to 4 nature-inspired air purifying units and visibly attached the entire system to an onboard park providing it with clean air. All being monitored from an on-board control room allowing researchers to observe its operations, while visitors engage with the park and its connection with technology," said Robin de Vries, senior designer at Vripack.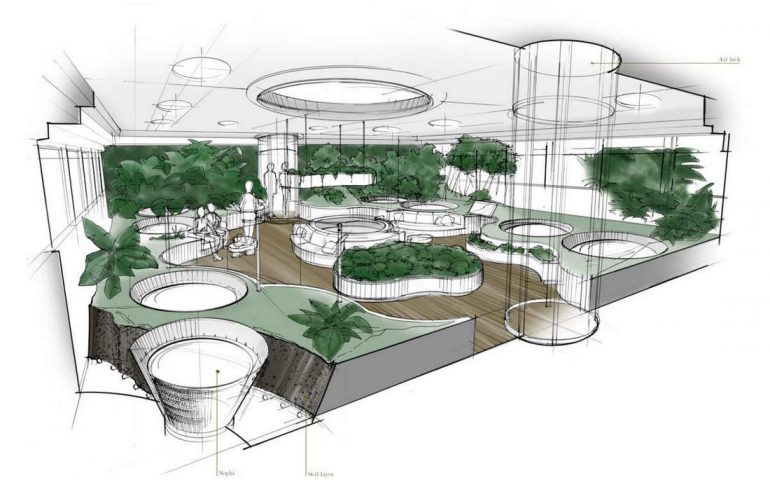 As seen in the new renderings released by the studio, the luxury yacht features a massive garden that is located beneath the tender deck and is one of the highlights of the vessel. The space will have skylight windows offering plenty of natural sunlight. According to the official information, the Utopia at Sea yacht will be able to accommodate up to 15 guests and a crew of 14.

As far as the amenities are concerned, the vessel gets a large helideck on the aft, along with tender storage and a crane amidships that can double as a mini basketball court. The vessel will be capable of hitting a top speed of 16 knots and a cruising speed of 12.5 knots (about 14mph).