Undoubtedly, one of the best parts of any boat show are the brand-new toys and tenders on display, and this year's Cannes Yachting Festival and Monaco Yacht Show 2021 didn't disappoint. After all, what's more exciting than a new yacht? Kitting it out with all the latest toys, of course!

From an electric water bike to a custom inflatable floating island, here's our pick of the top tenders and toys on display at the Cannes Yachting Festival and Monaco Yacht Show 2021.
4 Best toys and tenders 2021

1 – HYNOVA, the first hydrogen-powered powerboat
The HYNOVA was designed to be able to enjoy sailing while protecting the marine ecosystem.
Not only is she powered exclusively by hydrogen fuel cells, but she's made of eco-friendly materials. Hailing a new era of zero-emission pleasure boating, the Hynova produces zero carbon dioxide and nitrogen oxides, is soundless and odourless, and discharges only water — and it does so without compromising on comfort, style, or performance.

2 – Super Yacht Sub 3, the most compact private submarine
More and more yacht owners are discovering that it's just as much fun under the water as it is on top of it. Built by U-Boat Worx, the largest private sub builder in the world, the Super Yacht Sub 3 was designed to offer an unparalleled diving experience with best-in-class performance.
Its main selling point may be its compact nature, but don't let its small size fool you. Reaching a depth of up to 300-metres and seating for two passengers and a pilot, this tiny submersible offers an ultra-clear acrylic hull, efficient air conditioning, and surround sound, making it the perfect yacht toy for enjoying your next luxury yacht charter destination to the max.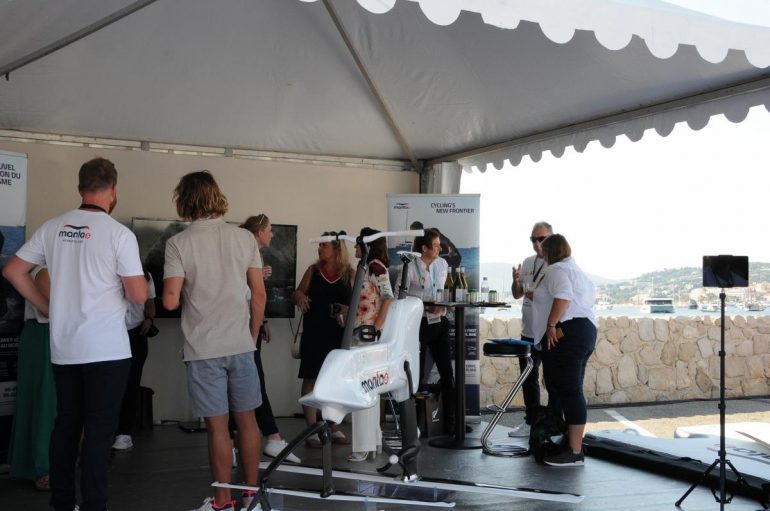 3 – HYDROFOILER XE-1, the world's first electric water bike
Designed for lovers of cycling and the sea, Manta5's pioneering Hydrofoiler XE-1 is a brand-new one-of-a-kind water toy. Perfectly replicating the cycling experience on the water, this electric water bike is eco-friendly and has zero-emission — which means you can take it to places petrol-powered boats can't go.
Suitable for a range of fitness levels, the Hydrofoiler is powered by a 70-cell lithium-ion battery, delivering up to four hours of riding time on the lowest assist level and one-and-a-half at max. It reaches a top speed of 22km/h (13mph) and can handle moderate chop and well.

4 – The FunAir, an inflatable floating island
Perfect for yacht owners and guests to relax and play, the FunAir floating island is a supersized inflatable designed for days spent out on the open sea. Who needs a beach club anyway?
With ample space for six guests, each island comes with a central dipping pool and detachable chaise loungers — for when days on the yacht turns into evenings onshore. In addition, the island features sturdy perimeter tubing in case of any accidental spillage, and sea stairs, to make getting on and off the island easy (and graceful!). There's even an option to add side tables for snacks and cold drinks.
No yacht is complete without a full watertoy and tender garage. So, which of these water toys and tenders will you be adding to your yacht?