The future of utmost luxury on the seas is slowly moving underwater. With concepts like the Under Water Entertainment Platform (UWEP), U-Boat Worx has given us several reasons to look forward to aging. According to the company, the self-sufficient submarine is 115 ft in length, which is more than qualifying to dub it a super-submarine that can dive to depths of up to 656 feet. Simply put, it will feel like a stunning superyacht, only it's not going to stay underwater and help you walk amongst rich marine life. The roomy submarine can comfortably take 120 passengers on the trip of a lifetime. Windows in a submarine are your eyes to enjoy the marvels of life underwater, and in the case of UWEP, there are fourteen windows enveloping the submarine.




The concept considers every aspect of enjoyment for its passengers, so they also added exterior lights to make night-time dives captivating. Having said that, in a submarine, the interior space needs to be very well-planned for apparent reasons. Fortunately, UWEP offers 1,600 sq. ft. of floor space and several options that pump life into the idea of deep-sea entertainment. The submersible can be configured in many variations, keeping socializing at its core. From a 64-seat underwater restaurant for an oceanic dining experience to a sub-sea gym or casino, the possibilities with the customizable UWEP platform are endless.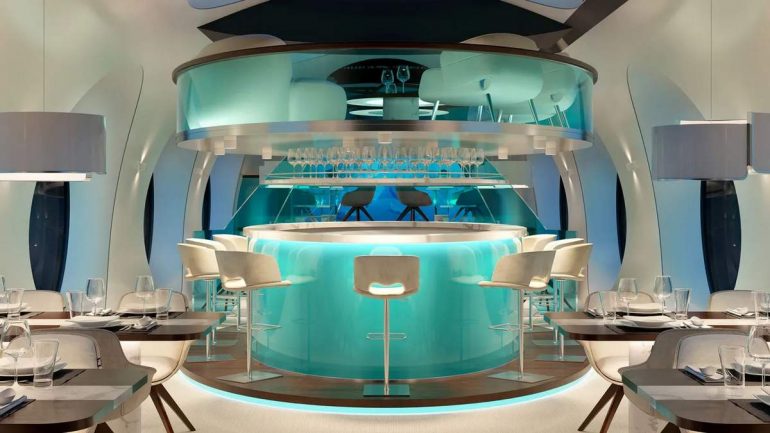 I can already picture billionaires hosting business conferences and celebrities avoiding paparazzi for intimate weddings and parties aboard the UWEP. Let's talk performance, as that aspect makes all the difference when one is expected to go 656 feet underwater. UWEP is a sea monster, albeit an artificial one that can run non-stop for 24 hours on battery power alone. As shared by Boat International, the submersible can be recharged and reprovisioned in a port or floating dock, where guests can also board the submarine via two access hatches.

Founder and CEO of U-Boat Worx, Bert Houtman, said, "The UWEP will shake up both the submarine and hospitality industry and lead the way in bespoke underwater events. We will present a stellar experience for not only the most discerning clientele but also a business opportunity that will benefit entrepreneurs and contribute to our understanding of the oceans," as per Superyacht Times. After making a life of pure joy on land, even in the skies, it is time humans explored the oceans beyond superyachts and enjoyed all its glory.

Submarines are certainly looking like the mean machine of the future as Austria-based Migaloo submarines also intend to build private yachts that will dive to 1,500 feet and cruise underwater at 20 knots. These $2 billion personal submarines will give tough competition to the megayacht floating above with lavish VIP suites, a helipad, and even an open deck swimming pool. Roy Heijdra, the marketing manager of U-Boat Worx stated, "Our goal as a company has always been to make the oceans more accessible for everyone. With the launch of our UWEP, we can truly say that U-Boat Worx provides your gateway to discovery."
[Via: BOAT International]