Much has been discussed about all the Russian oligarchs who have been sanctioned by the US and its allies in response to Putin's invasion of Ukraine. According to Forbes, a total of 25 billionaires from Russia have been hit by crippling sanctions. However, one name that has been surprisingly missing from the list of sanctioned Russian oligarchs is Vladimir Potanin. With a personal wealth of more than $30 billion, Potanin is considered the wealthiest Russian oligarch and the 58th richest person in the world.



Despite the fact that his name appeared on the US Treasury's "Putin list" in 2018 which included 210 individuals closely associated with Russian President Vladimir Putin, Potanin has only been sanctioned by Canada.

It is believed that the US and its allies have not gone after Potanin as his company accounts for about 40% of global palladium output and 10% of refined nickel – very crucial metals heavily used in all kinds of manufacturing and tech products. Sanctioning Potanin might result in massive supply chain disruptions. Although Potanin has managed to stay safe from punishing sanctions till now, the billionaire was quick to anticipate the consequences of the war and took steps to protect his wealth and property, including his luxury superyachts. Shortly after the Russian army crossed into the Ukrainian territory, Potanin had his $300 million superyacht named Nirvana moved to the Maldives to keep it away from being seized.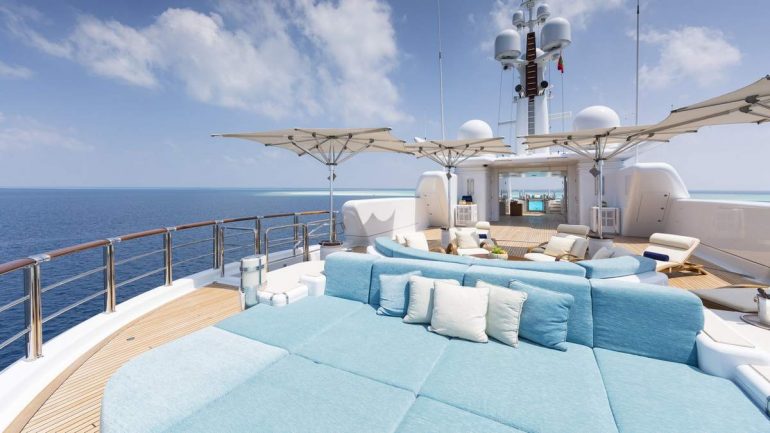 However, according to the latest marine traffic data, the 88.4-meter luxury vessel is currently located in Dubai, which has become another preferred safe haven for Russians ever since the war began in February. The UAE has not put sanctions on Russia or criticized its invasion of Ukraine, making it a safe location for the super-rich Russians to park their wealth and pleasure crafts.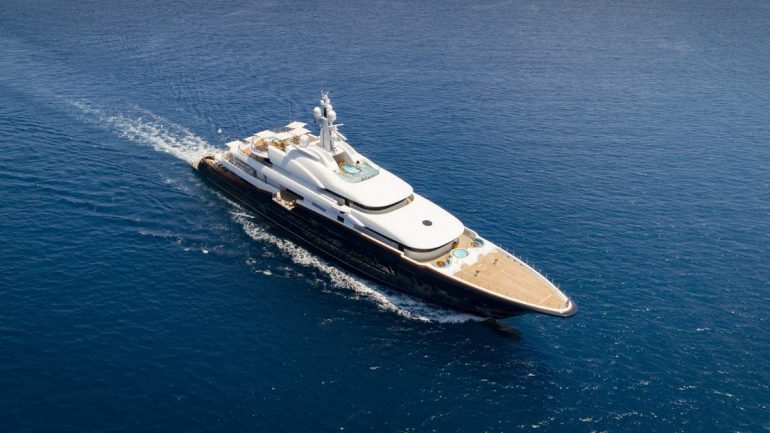 The beauty of the Nirvana superyacht
The Nirvana superyacht is one of the most beautiful luxury vessels in existence that was delivered to Vladimir Potanin in 2012. The stunning Trans-Pacific cruiser was built by Oceanco, a famous custom yacht building company in the Netherlands that's owned by Oman's private investor Dr. Mohammed Al Barwan. Measuring 88.5-meters in length, Nirvana was the largest pleasure craft created by Oceanco when it was delivered a decade ago; however, the Dutch shipyard has undertaken much bigger builds in the last ten years.

The vessel's sleek exterior and modern interior were both designed by Sam Sorgiovanni. According to Boat International, Nirvana's gorgeous design was penned to support her owner's active lifestyle at sea. The $300 million superyacht even won Boat International Media's prestigious award for Best Exterior Design & Styling.

The gorgeous exterior of the vessel features contemporary lines, while the slightly flared bow gives it a distinct appearance, which is further helped by a sleek navy blue hull and a white superstructure. Nirvana has a total of six extensively lavish decks, including the aft deck that features large sun pads and a 7.5-meter counterflow pool. The pool's floor can be lifted to deck level, creating a large space for entertainment purposes.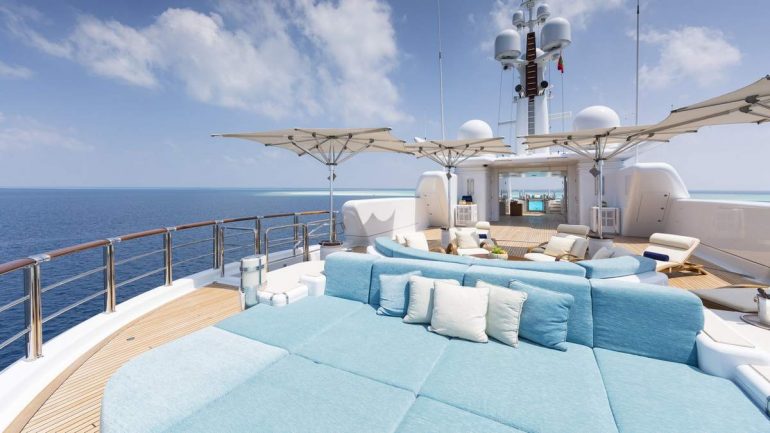 The main salon has a bar and an exotic reptile house separating it from the dining area. All the six decks are connected by the main stairwell which is accompanied by a sculptural six-person glass lift.

What makes it truly exceptional is a striking stainless-steel woven art piece that wraps the structure.

The superyacht can accommodate up to 12 guests and requires a crew of 27 members to keep it running. The interior is decked out in earthly tones and features 10 different wood veneers, including eucalyptus, teak, oak, and palm wood in various finishes. All guest cabins are located on the main deck that gets floor-to-ceiling windows as well as the full-beam VIP stateroom.

One of the highlights of the pleasure craft is the massive grand master suite which covers a whopping 150 square meters and dominates over half of the upper deck. It has a private sunbathing area along with a Jacuzzi.

Additionally, Nirvana also gets a fully-equipped gymnasium, spa, a 3D cinema, and twin tender garages with two 11-meter tenders, a ski boat, and 10 jet ski/waverunners. Nirvana is powered by 2 MTU engines, which gives it a maximum speed of 20 knots and a cruising speed of 14 knots.

Who is Vladimir Potanin?
Potanin is considered to be the wealthiest man in Russia with a personal wealth of around $30 billion. The 61-year-old Russian oligarch was born in Moscow into a high-ranking communist family and acquired his wealth through the controversial loans-for-shares program in Russia in the early to mid-1990s. It was through this program Potanin acquired Norilsk Nickel, which would go on to make him the richest man in Russia. The billionaire was also appointed as First Deputy Prime Minister of the Russian Federation in 1996. Potanin has close ties to the Kremlin and is believed to be good mates with Vladimir Putin. In fact, in a 2018 Financial Times interview, he claimed that President Putin often joins him to play ice hockey. Nirvana is not the only superyacht owned by the oligarch. According to reports, the billionaire currently owns at least three superyachts. Interestingly, Nirvana was put up for sale shortly after it was delivered in 2012 with an asking price of $304 million.