When it comes to riches and extravagant living, no family on this earth even comes close to the royals of Saudi Arabia. With 15,000 members, the house of Saud has a collective net worth of more than $1 trillion. The Saudi royals have long had a reputation of traveling in a style, with their private jets featuring interiors so luxurious that they should rather be called flying palaces. Lesser mortals like us rarely get a chance to have a peek inside such extravagant private jets owned by the Saudi royal family. However, a 737 Boeing Business Jet (BBJ) that is adorned in Saudi Arabian flag-bearing livery is up for sale, which has given us this incredible opportunity to have a look inside the ultra-luxurious private jet owned by a member belonging to the Saudi royalty.



The 737 Boeing Business Jet was built in 1999, but it only has 6,602 hours of flying time on it, which is pretty unusual. According to the description in the listing, the aircraft was decked out by Ozark Aircraft Systems in the USA in 1999-2000.

The cabin has enough space to accommodate a total of 25 VIP passengers. The cabin's layout is split into an "entrance/vestibule area, forward staff area, forward lounge, main lounge, and master stateroom.

There are 2 forward galleys, one forward lavatory and one aft lavatory." While the description doesn't do justice to the interior, the accompanying images will give you a fair idea of how elaborately adorned the cabin really is. It doesn't get more luxurious than this. The interior features a color combination of light brown, turquoise, and gold, which makes the cabin look like the master suite of a Parisian hotel.

There's no word on the owner of the business jet and the reason for selling. However, a crackdown on corruption in Saudi Arabia has severely affected the private jet industry in the kingdom, forcing many royals to sell their jets. The aircraft has the civil registration code VQ-BTA and features the Saudi flag on the tail.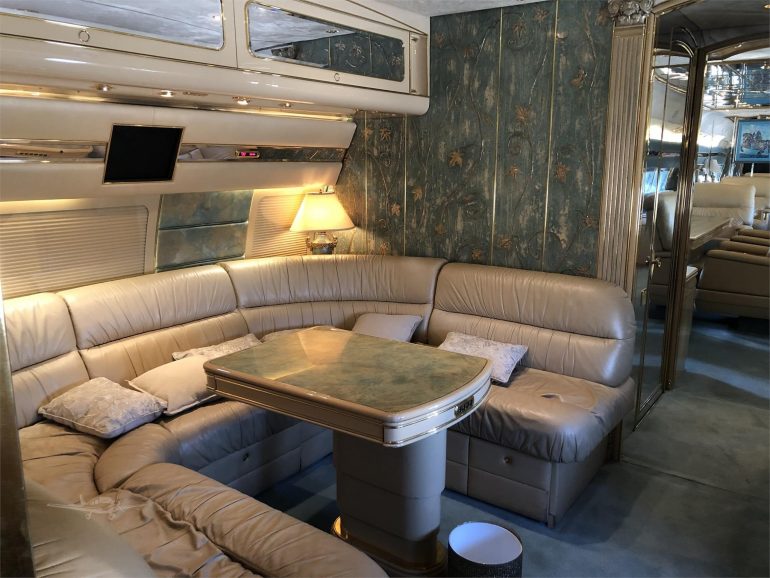 The listing also doesn't mention the asking price for this incredible private jet. As The Drive reports, a BBJ from 2001 is on sale for $15 million, which has an interior nowhere as crazy as this jet. A brand new BBJ will set you back by $75 million, but it could take at least another $10 million to give it a custom interior that's comparable to this Saudi private jet.
[On sale at Controller.com – Via: The Drive]