Almost every dreamer's bucket list includes visiting New York City and sleeping in a superyacht! The classic yacht Crown Goose, available through Airbnb, is a way to tick these boxes in one go. An experience like no other, this yacht will not take you and five other guests anywhere (it's New York, why leave?) as the wooden vessel is stationary but offers enough entertainment onboard.



Accommodation is comfortable and spread across four bedrooms, five beds, and one and a half bathrooms for $311 a night, offering panoramic views of the New York Harbor. The yacht also features a bunk bed perfect for kids and teens. The pet-friendly Airbnb ensures a good time with an array of books and a sound system to enjoy some tunes while taking in the city views.

For the sake of a relaxed experience and to provide a much-needed digital break, there's no Wi-Fi or TV onboard the all-wood yacht. Another way to de-stress is by stirring up delicacies in the galley kitchen equipped with essential cooking utensils, a fridge, microwave, electric stove, oven, and toaster. The interiors look vintage and charming, with rich wooden construction, plush rugs, and chairs. Situated in the heart of Brooklyn Bridge Park, there is plenty to do, from renting bikes to dining out at one of the area's notable restaurants. Crown Goose is ideally located in the heart of Brooklyn Bridge Park, where guests can do everything from renting bikes to dining out at one of the notable restaurants.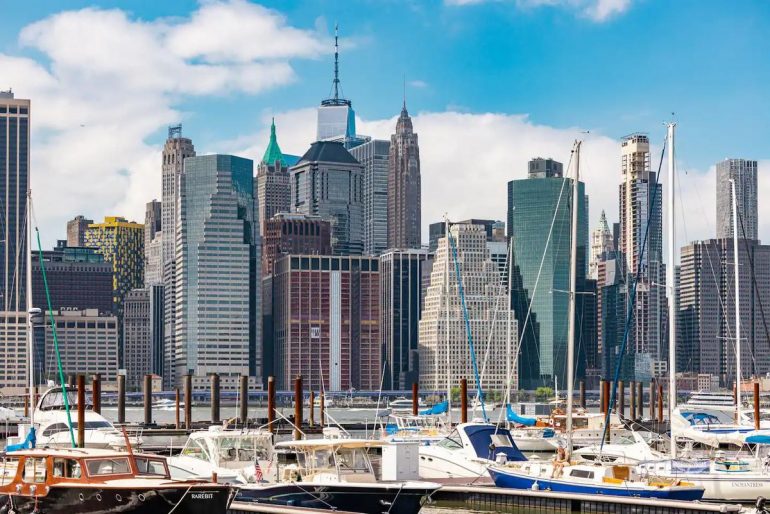 Airbnb user Cheryl reviewed, 'The Crown Goose was a wonderful adventure! The nighttime views of Manhattan and the Statue of Liberty are gorgeous. One thing to remember, boats are COLD in the winter. Nat did provide space heaters that saved us. Other than the cold weather, it was a great stay.' It looks like you don't have to choose between Brooklyn and Manhattan when you can be in the middle of it all and on a cute yacht, no less!