There is only one recurrent date common to any UHNWI's agenda for the end of September: the Monaco Yacht Show (MYS). From September 28th to October 1st, the Principality is hosting the largest superyacht event in the world, yes, the world. Although you may not need convincing, here is a short list to remind you why this date should be on your calendar:



1. Navigate the 125 yachts at berth… and even more at anchor
You won't see that many quality superyachts (40 meters +) in one place anywhere else in the world: 125 yachts in the marina, probably another hundred at anchor in the bay. Walk down the piers and floating pontoons to admire the finest yachts or make an appointment with your broker and hop on a tender to visit your dream yacht. Athena, Galactica Supernova, Lady Luck… hundreds of yachts that can be yours, be it for a week or for good.

2. Discover 40 new launches
One thing that made the MYS famous is the large proportion of world premiering yachts on display. This year, about a third of the yachts will be presented for the very first time. Prestigious shipyards like Feadship, Benetti, Columbus Yachts, and the like are presenting their newest designs, technology, and vision of yachting.

3. Admire one of the largest sailing yachts "Made in Italy"
70-meter Sybaris will without a doubt be one of the highlights of this year's MYS. The stylish vessel can accommodate 12 guests and will be home to part of her owner's art collection. It is also a yacht with a meaning: "Dreams are not just for the night, they give hope to live and fight" as reminded by her owner – a successful lawyer. Ordered while battling a life-threatening disease, her owner promised himself to build Sybaris as a celebration of fun; a plan to fight cancer. A few years later, the yacht is ready for her debut in Monaco. A dream come true.

4. Roam the newly created Car Deck
Granted, luxury cars at MYS are no news. This year, however, they are not just on the parking lot or used for chauffeured transportation around town: The Car Deck is a true accolade to fine automobiles. Supported by Lamborghini, Rolls Royce, Tesla, and Centigon, this new initiative allows you to visit, test drive, and buy dream cars on spot. Yes, actually drive them: Models will be available to drive in the streets of Monaco. If you have always fancied driving a supercar on the most prestigious Formula 1 track in the world, this is your chance.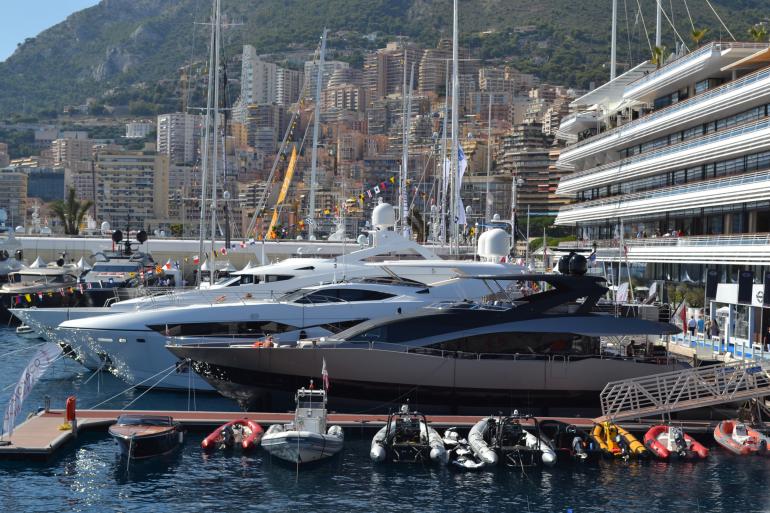 5. Attend the Monaco Yacht Summit
Buying or chartering a yacht is an emotional experience. It is also a high-ticket experience, so you will need to do your homework. Held one day prior to the MYS, this forum assembles a panel of international experts from the yachting sector to give you the keys to make the right decisions when visiting the MYS. Thinking of a yacht charter in a few months? Dreaming of building your own yacht? Experts will let you know what to consider and how to find the best match for you and your family.

6. Help protect the environment… one yacht at a time
Supporting the Prince Albert II Foundation and in order to progressively stop deforestation, the MYS engages year after year in convincing shipyards and clients alike to only use wood certified as originating from sustainably-managed forests. A substantial amount of each single entry ticket helps the Organizers to raise funds for the Foundation.

7. It's just a beautiful time of year to be in Monaco
The end of September is a magical time on the Riviera: seasonal tourists have already left the South of France but the sun is still shining high. Stroll around Old Town and visit the iconic Oceanographic Museum, enjoy an alfresco dinner at Horizon atop the Fairmont Monte-Carlo or score one of the last rooms at the Monte Carlo Beach Hotel before they close for winter. Soak up those last golden rays of Mediterranean sun and wrap up your summer in style.
Geoffrey Ravoire
Founder of UNITIATE, Geoffrey is a Marketing Expert, Luxury Specialist, and Hospitality Enthusiast. Wherever he goes, his early career and personal interests have always helped him nurture and cultivate a passion for the Travel and Leisure industries. French-born, Geoffrey has accumulated an extensive experience abroad, thanks to regular visits to foreign countries but also thanks to years of expatriation. Currently based in Chicago, Geoffrey has already lived and worked in New York, Shanghai, Singapore and Monaco. You can meet Geoffrey on Twitter and Linkedin.