What's in a holiday home that's stagnant? The identical view each time you glimpse out of your window may get slightly monotonous. Architectural maestro Friday has created technologically advanced nautical devices and deployed in their latest product, 'The Floatwing'. Fortunately for you and me, this could pair up as a romantic isolated spot

for two or a party pad for a bunch of friends. The flexible and modular nature of the house allows it to be extended up to three bedrooms.

Since the luxurious floating house entails two minute outboard motors, it can travel an impressive speed of three knots. Considering how well and smartly its designed, the equipment and furniture can be stored in two containers and shipped if required.


We love that it's so environmentally friendly! When charged the house can provide electricity for those onboard for about a week, which is rather impressive we'd say! Trust me this house is rather cool, especially if you take into account, a fully-equipped kitchen, heat pump, AC generator, a wine cellar and a barbeque located on the upper terrace.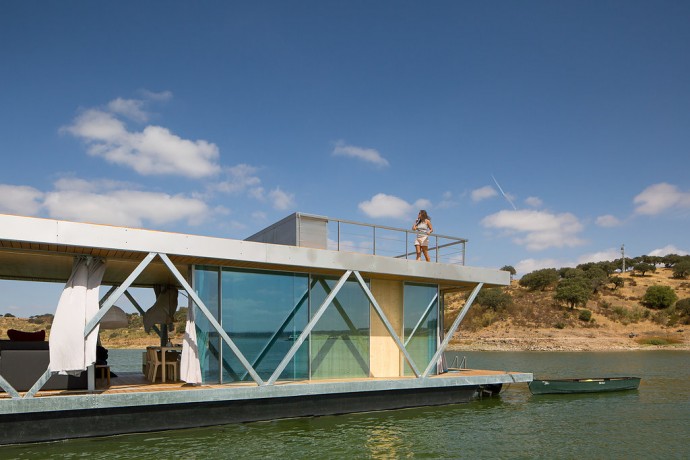 If you happen to tour around the luxury home's upper level, you'd spot the chic and stylish barbecue.


Like we mentioned earlier, the swanky internal accommodation also features a fully equipped kitchen


On colder days, a pellet studio warms up the house.


Three bedrooms = a party! Even though the original design is ideal for two, the modular nature of the house allows it to be extended up to three bedrooms.


Entailing a host of amenities including a heat generator and heat pump, this he house can be used as a base camp for a range of water sports, or simply as a weekend getaway.
[ Via : Designboom ]