Boeing Business Jets has to credit many creations that have awed and burnt deep holes in many pockets. Starting from its very first BBJ 3, through creating ultra-luxurious interiors and high-speed digital system business jets to the first Aeroloft-integrated BBJ 747-8 with sleeping quarters for eight fliers, BBJ has proven its worth. Now yet again, luxury knocks at our door in the form of an upgraded version of the luxurious BBJ 3. And this beauty was exhibited for the first time at the 2013 European Business Aviation Conference and Exhibition (EBACE) in Geneva, Switzerland.



The main feature that sets the BBJ 3 apart from the rest, even its direct competitors, is that it can fly 4,900 nautical miles. In addition, the aircraft features lower cabin altitude, "pressurizing the cabin at 6,500 feet versus 8,000 feet of other business jets. This allows BBJ passengers to arrive at their destination relaxed and refreshed without feeling jet-lagged."
Based on the 737-900ER, the BBJ 3 has been "outfitted" with plush interiors courtesy of Jet Aviation, Basel, Switzerland. BBJ has seen earlier partnerships with Jet Aviation, and both have together assembled about two dozen aircraft since 1978.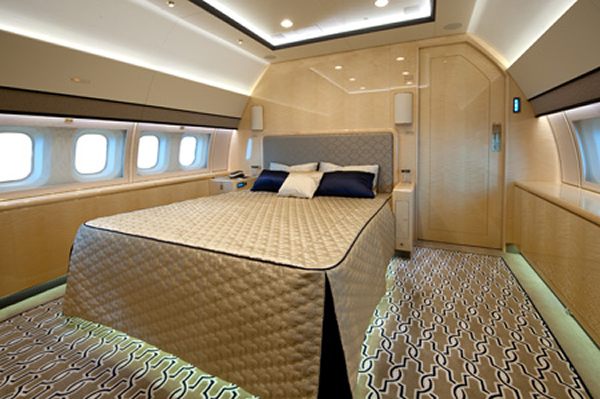 The newest BBJ offering excels in terms of its interior designing too. The cabin has been finished in bright, high-gloss sycamore wood, with hand-crafted marquetry woodwork integrated into the entrance panel. A large main lounge and a smaller area for staff, dining room, and bedroom suite with a queen-sized bed and bathroom with a shower are other features that could allure you to the purchase. It also has a large cargo area that has the capacity to hold 230 pieces of luggage.
Now on sale, the BBJ3 seats 38 passengers and eight crew members.
http://boeing.mediaroom.com/index.php?s=43&item=2681