Taking the term 'High Flying' to a whole new level, the new Boeing 787-900 Dreamliner is the very epitome of luxury in the sky. Designed with opulence oozing out of every nook and corner of the aircraft, the Dreamliner, designed by the highly acclaimed Andrew Winch Designs studio and completed at Lufthansa Technik (delivered in 2007), is the equivalent of a 5 star hotel or a luxury mega yacht in the air.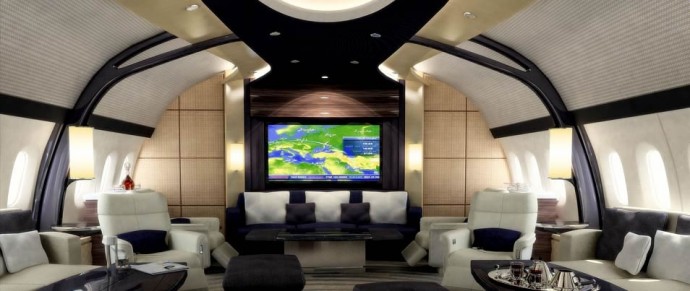 From swanky artwork adorning the walls to a luxurious dining saloon, stylish upholstery, woodwork and interiors and even an extra large screen TV (for those who miss their own Home Theatre) complete with cinema styled chairs, flying in the Boeing 787-900 Dreamliner will have you want for nothing. It even has what looks like uber comfortable beds and rather lavish looking bathrooms as well, in case you wanted to have a shower or freshen up before you 'arrive' in style.
Although ticket prices will undoubtedly be obscenely high compared to even regular old First Class, this specially customized Dreamliner will make sure you have the very best ride in the skies. A few years ago, a couple of tickets for this customized 787-900, were auctioned off on eBay reaching a final price of $31,000. Best make sure you use this for those extra long journeys to get the most out of a truly out-of-this-world experience.