It seems like every yachtsman was gathered in Fort Lauderdale, Florida this weekend. One of the world's epicenters of yachting and cruising, Fort Lauderdale has played host to America's largest and most comprehensive yacht show for more than 5 decades. All your favorite shipyards, brokers, and luxury providers were present and engaged with affluent customers looking for the next toy, yacht, or charter. Here are our favorite things displayed at the 2017 Fort Lauderdale International Boat Show.

Explorer Superyacht CLOUDBREAK
CLOUDBREAK is certainly the best equipped and most luxurious explorer yacht ever launched – as confirmed during the World Superyacht Awards ceremony. Helicopter, tenders, and toys ensure guests experience exotic locations to the fullest: from heli-skiing in Chile to diving in the Pacific Ocean. We love the ample living and social spaces: chill room, spa on one side, gym, and outdoor club on the other side. The vessel can accommodate 12 guests and up to 22 crew will deliver impeccable service and safety on board.
Stunning Monte Carlo Yachts 86
Monte Carlo Yachts have a highly recognizable silhouette that make them sexy and unique. Stepping onboard, you'll appreciate the large volumes of this fully customizable boat. Small design features provide great benefits: for instance, side panels add style and create protection from the wind or water splashes on the aft deck, and large collapsible bay windows create an extremely open flow from the inside lounge to the outdoor deck. 2 large balconies off the dining room create an even greater proximity with the sea. The final key decision factor is found forward, and is one of the most striking features of any yacht this size: an inviting built-in lounge/sun area like never seen before.
Fully Electric Hinckley Dasher
The decision to create the first fully electric boat at this 90-year old shipyard came about 3 years ago. The result is an elegant, timeless design matched with incomparable technology and novelty. Powered by BMW lithium batteries, Dasher operates in absolute silence, with zero emissions, while still reaching a healthy 27 knots. Other cool feature: the commands and other pieces of hardware are 3D printed titanium, allowing for more precise and creative parts. First deliveries in Summer 2018.
Elegant Sanlorenzo SL78 – Americas Edition
Italian builder Sanlorenzo gave its newest model, the SL78, an Americas Edition that's designed with American customers in mind, and showcasing specificities like tropical A/C, eat-in kitchen, and midcentury modern interiors by Marty Lowe. The designers also included larger windows in the hull and superstructure to increase natural light, openness, and connection with mother nature. The large windows, combined with lowered bulwarks, provide unobstructed views from the living area. The upper deck offers one of the widest and most versatile spaces in its category with anchored (and not built-in) sunbeds and furniture, under a sporty looking hardtop.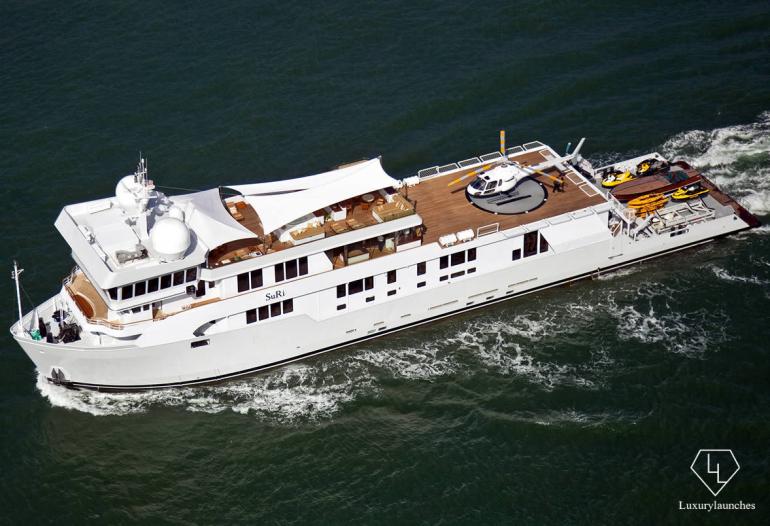 Custom Support Yacht SURI
SuRi is a 63m support vessel built in 1978 and refit in 2007. She can welcome up to 15 guests and 19 crew in a voluminous interior styled to nautical perfection. The most unique feature about her however, is the endless list of toys she carries for you: a vintage Stan Craft wooden boat, a fishing boat, an amphibious tender to cruise on water or on land, a wakeboarding speedboat, a sea plane, bikes, and much, much more. SuRi's impressive leisure and entertainment facilities make her the ideal charter yacht for socializing and exploring with family and friends.
LINK Outdoor Luxury Furniture
LINK is a Dallas-based designer and manufacturer of outdoor luxury furniture that creates a continuity to your stylish interiors. Beautiful designs, ultimate comfort, and fine craftsmanship are some of the qualities of this relatively new player in the furniture scene. To complement this, LINK uses performance fabrics which are all fade, stain, spill, mold, and mildew resistant, making them perfect for all seasons. Even superyacht builder Benetti is under the spell and signed an agreement to make LINK its exclusive outdoor vendor.
Geoffrey Ravoire
Founder of UNITIATE, Geoffrey is a Marketing Expert, Luxury Specialist and Hospitality Enthusiast. Wherever he goes, his early career and personal interests have always helped him nurture and cultivate a passion for the Travel and Leisure industries. French born, Geoffrey has accumulated an extensive experience abroad, thanks to regular visits to foreign countries but also thanks to years of expatriation. Currently based in Chicago, Geoffrey has already lived and worked in New York, Shanghai, Singapore and Monaco. You can meet Geoffrey on Twitter and Linkedin.