There are dozens of famous quotes on scuba diving, but one that I closely relate with is this: "Every time I dive in the ocean, I feel like I'm going home." Except for this time, I wasn't quite diving in the ocean, but the world's deepest and undoubtedly the coolest pool built right in the middle of the desert. And 'home' wasn't quite the coral reefs and exotic marine life that I generally associate scuba diving with; this was a one of its kind, mind-boggling sunken city with an array of underwater attractions. Trust Dubai to come up with out-of-the-box ideas!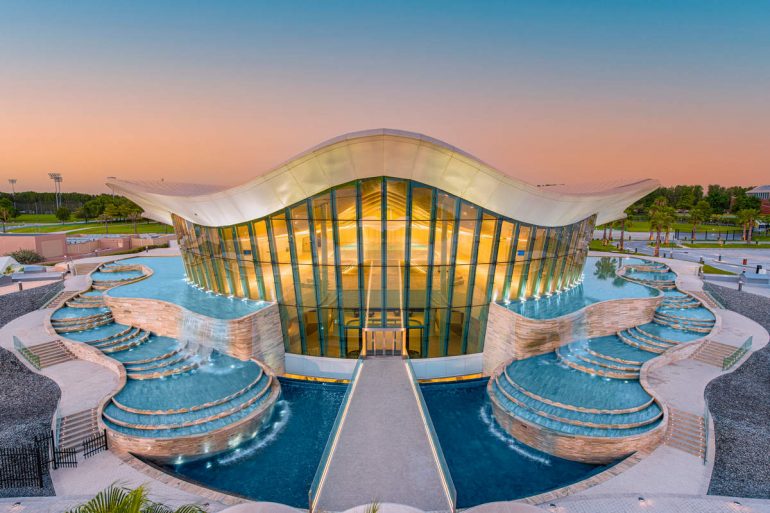 My taxi rode into the Nad Al Sheba neighborhood, a mere fifteen minutes from downtown, to get to Deep Dive Dubai, a majestic structure built in the shape of a giant oyster – an ode to the country's pearl diving heritage. The magnificent exterior, with dancing water fountains on either side, was equally matched by the facility's plush interiors – from the large viewing decks at the lobby level and the lower floors that enable visitors to peer into the underwater environment to the spacious, well-appointed locker rooms, fitted with flat-screen TVs. The rental gear, too, is high-end, sourced from top brands such as Halcyon, Scubapro, and Fourth Element.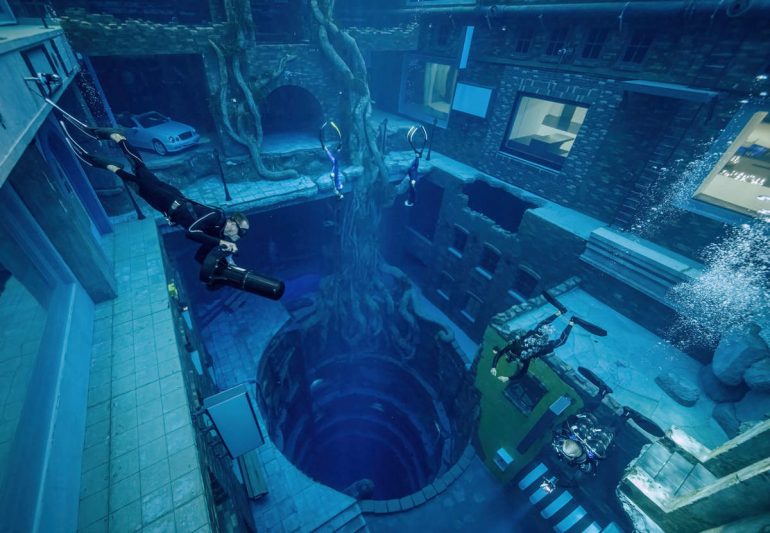 The main highlight, however, is the massive, world record-breaking indoor pool that is 60m deep and is filled with 14 million liters of fresh water, the equivalent of six Olympic-sized swimming pools. Water is regulated at a fixed temperature of 30 degrees Celsius and is circulated every six hours through a filtration system to maintain the highest standards of hygiene. Fifty-six cameras along with state-of-the-art lighting and sound systems are fitted underwater, spanning the entire pool, with divers being monitored for safety through a live feed on large screens by trained staff.

Mohab, my instructor, diligently took me through every piece of the latest dive equipment, including a metal backplate that replaces the weight belt that divers are accustomed to. More importantly, she insisted on practicing a few drills at the edge of the pool before we followed the gentle slope that led to the deeper side and finally deflated our BCDs (buoyancy control device) to descend underwater. The cutting-edge technology notwithstanding, what struck me the most was the team's professionalism and their emphasis on safety.

The meticulously controlled environment nullified the perceived challenges I have encountered during numerous open water dives in the ocean: choppy waves, strong currents, and less than ideal visibility. Diving conditions here were perfect, and I was simply blown away by what I witnessed next. An enormous tree, with roots stretching to the depths of the pool, surrounded by graffiti walls and alleys, to get from one part of a building to the other. For the next 45 minutes, I felt like a kid in a candy store, paddling from one awe-inspiring experience to the other.

Mohab and I kicked off my underwater sojourn with an apartment tour, where I headed straight to the bed and attempted to recline – a feat that was a lot harder than I thought at a depth of 20m and an air tank strapped to my back.

Adjacent to this was the TV room, where a large couch and a massive tub of faux popcorn awaited, much to my amusement. We then squeezed through an opening, descending to a depth of 30m to get to a well-stocked library lining a wall.

The area outside the apartment resembled an abandoned street, where I paddled past a phone booth mounted on a brick wall to a garage that housed a vintage white Mercedes convertible and a Ducati motorbike. This just kept getting better and better!

I then waded through an alley towards a gaming arcade, where I managed to deftly balance myself to shoot a round of pool as well as indulge in a game of foosball, mindful that my heavy breathing would soon deplete my air tank and result in a shorter dive.

As if on cue, Mohab signaled our ascent to the surface, but not before I caught on a few moments on an exercise bike and on a chess board as curious onlookers at the lobby level peered in.

I rounded off this unique and delightful experience with a relaxing cup of coffee at the seated on-site restaurant aptly named Equalize. Situated at the lower level of the facility, this elegantly-designed, modern space seamlessly integrates with the scuba diving concept, with large viewing windows offering a peek into the magical world I had just witnessed on the other side.

The scuba dive option is for certified divers only and costs AED 1200 per person, including gear. The depth of the dive depends upon the level of certification. Those with an open water diver certification are permitted to a depth of 20m, the advanced certified divers up to 30m, and trimix trained technical divers up to 60m.
The facility also has a Discover Scuba Diving option for the curious first-timers with no experience for a price of 1800 AED where they can dive up to a depth of 12m. Similarly, those who do not wish to venture below the surface can opt for a Discover Snorkeling session for a price of 400 AED.
Images: Deep Dive Dubai & Rahul Jagtiani
Based in Mumbai, Rahul Jagtiani is an entrepreneur, columnist, and travel show host.