Dubai does as only Dubai can! After offering personal butlers and chauffeur-driven Bentleys as part of hotel packages, Dubai's Five Hotels and Resorts has upped the ante with the world's first fully-customized ACJ TwoTwenty private jet service.Fly Five is a $105 million customized private jet service that makes the hotel's plush pool villas and marble suites seem plebian. The feature-packed 16-seater jet, 9H-Five, costs as little as $13,000 or $900 per person for an hour. Inside, guests can feel like royalty (perhaps even better) unwinding in a master suite with a king-sized bed and deluxe shower.



A five-star hotel in the skies, the aircraft is impressive with ambient lighting, sleek interiors, a state-of-the-art sound system, a 55-inch TV, and high-speed wifi. Meals are served on a dining table for eight after being prepared perfectly in a fully-equipped kitchen. To keep the good times rolling, free-flowing champagne and caviar are available.

And if that wasn't enough, there are iPads for passengers who slip into the coziest branded pajamas for a cat nap with silk sleeping masks and Molton Brown toiletries.

"Flying FIVE will be an unmatched, flawless, curated experience for customers seeking the unique 'Vibe at FIVE' in the sky," the hotel said of the service launched over the weekend. The charter service allows deep-pocketed passengers to hire the five-star jet (with 73 sqm of floor space) to travel to destinations within a 12-hour flight radius.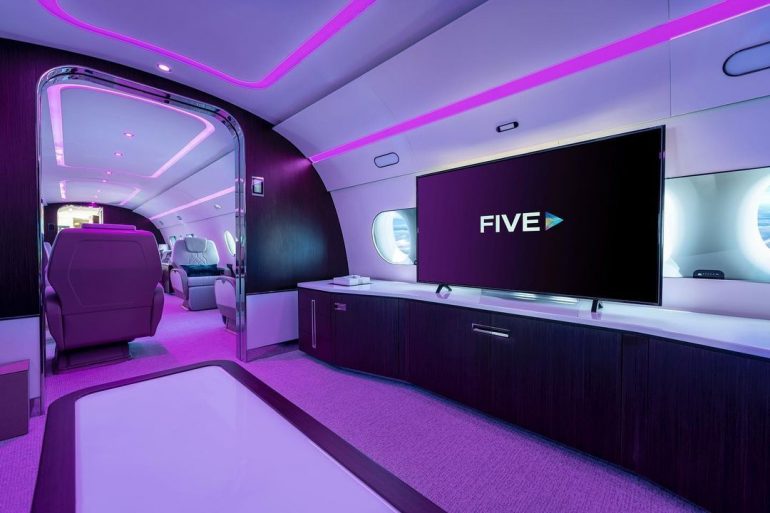 This makes thumping hotspots like Santorini, Ibiza, and even the stunning Zurich accessible. A seven-hour flight from London to Dubai will set one back by almost $91,500. Climate champions need not worry about their footprint as the hotel group purchased enough nature-based carbon credits to cover 102 percent of the jets' flying capacity for the first year. Funds from the jet's offsets will go towards critical rainforest preservation and reforestation projects in Borneo, per The National News.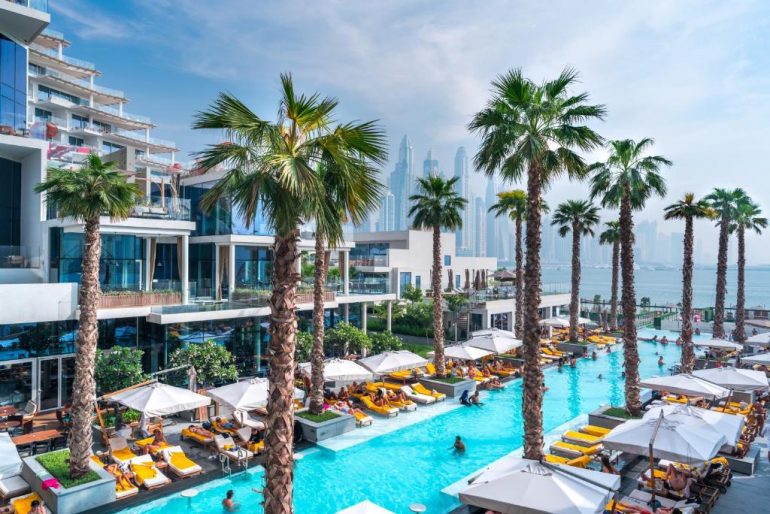 Aloki Batra, CEO of Five Hospitality, said, "This aircraft is a spectacular new chapter for Five. A world-famous frontrunner in entertainment-driven hospitality, Five now expands its award-winning portfolio to include a Five-styled experience that extends the unique and matchless 'Vibe at FIVE' from our hotels on the ground to a luxe immersive experience amongst the clouds."

He added. "We will now be able to offer a flawless and bespoke experience by establishing the next level in private aviation. Fly Five is Five Hotel and Resort's newest home in the skies – and we are excited to welcome our guests on board."