The oil rich nation of Qatar is by far one of the richest countries in the world. Qatar has always been in the fore-front when it comes to luxury, extravagance, and opulence. They now out do themselves with their new Hamad International Airport. Billions of dollars have been spent in creating this airport and the result is there for all to see. They have practically redefined the meaning of luxury and service at the airport.


The coffee kiosks are gold plated and arranged with an array of Middle Eastern delights.
80 designer shops like Armani, Burberry, Hermes, Bulgari, Harrods can keep you shopping till your flight is announced. There are boutiques at the airport that sell precious metals and jewelry too.
With comfort and convenience of the passenger being of paramount importance, the Airport Hotel offers premium hospitality without having to leave the passenger terminal. There has been no costs spared at the hotel too which boasts of a 1400 square foot Presidential Suite. The rooms can be booked for even as short as three hours.
A luxurious spa with an indoor swimming pool overlooks the runways and the action in the airport.
The 33,000 square foot Business class lounge has all the amenities one would need with shower rooms, quiet rooms with beds, meeting rooms, restaurants and a game room. The children's room has a full size replica of a Formula One racing car.

Home to over 30 restaurants, a gaming centre, world renowned chocolate shops, this airport seems to have it all.
The passenger terminal has a wide collection of art curated in partnership with the Qatar Museums Authority. Some have been created specially for the airport while some have been acquired pieces.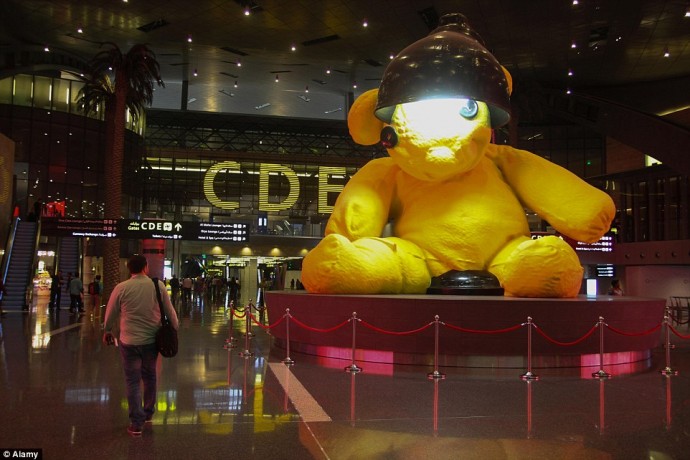 There are large scale murals, a desert horse sculpture and The Lamp Bear by a Swiss artist.
Besides all the extravagance, this new age airport will be soon welcoming 50 million passengers a year. It can handle almost 100 take offs and landings in an hour and the maintenance hangar can accommodate 13 aircrafts at a time making it the world's largest hangar. This is the first airport that has been specifically designed for the A380 aircrafts.
Just to see and experience this airport it is worth planning a trip to or through Qatar's Hamad Airport.
[Via – Dailymail]