"If the path is beautiful, let us not ask where it leads," but there is always the question of how you are getting about. The world possesses some spectacular options to relish the journey as much as the destination, and it's called a luxury train travel. For those who genuinely want to indulge in an unforgettable travel plan, truly immerse in all these beautiful places, a zipping plane journey will skip the beauty and only take you from one place to another. To feed your wanderlust, one needs to experience the satisfying sipping of wine while focusing on the wavering shapes of nature. Document the memory of meandering through the best locations in the world, all while relaxing in luxurious suites on some mesmerizing trains. Here are the world's most luxurious and expensive train rides:



Palace on Wheels – India
39 years of service, 23 opulent coaches,104 tourists,14 saloons, and a spa- India's first luxury train in the post-Raj era that continues to offer excellent service in classic Indian style. To experience India's stately splendor and incomparable hospitality, guests need to opt for seven-night & 8 days itinerary. It departs from New Delhi and covers Rajputana kingdoms like Jaipur, Sawai Madhopur, Chittaurgarh, Udaipur, Jaisalmer, Jodhpur, Bharatpur, and Agra before returning to New Delhi. The train service was refurbished in 2009 by Delhi-based interior designer Monika Khanna.

Travelers can see magnificent architecture in the form of forts, palaces, and even the 'wonder of the world' Taj Mahal. They also embark on exploring the wildlife at Ranthambore National Park and Bharatpur Bird Sanctuary, all from the comfort of a master bedroom suite, lounge, delicious food, and friendly service. The Palace on Wheels is equipped with modern amenities like en-suite bathrooms, air-conditioning, satellite TV, WiFi connectivity, dressing or writing table, etc. Various spa therapies are available, such as Ayurveda, Orient signature, Thai aromatic, and stone therapy, provided by trained masseurs and experts.

If you are seduced by the romance of train travel, the Palace on Wheels journey is your ultimate honeymoon offering you ample time and space to unravel the varied tapestry of magnificent landscapes like desert, forts, wildlife, and jungles and a glimpse of myriad colors.

To book a Super Deluxe Cabin on the Palace on Wheels, one needs to shell out $11,000 per cabin.

The Ghan – Australia
Not every journey one takes is packed with history. The same can't be said about The Ghan. This treasure-of-a-train is a legendary rail service operating since 1878. Back in 1924, the train carried more than 100 passengers, livestock, and supplies. As one of Australia's premier luxury train routes, Touted takes passengers on a three-night, 2,979-kilometer tour from Darwin to Adelaide.

The Ghan can reach almost a kilometer long – a typical Ghan runs with 36 carriages, dedicated crew cars, dining carriages, kitchens, luggage carts, and power vans. Did you know the train allows extended stops for passengers to do off-train tours at the famous outback towns of Alice Springs and Katherine on whistlestop tours? Guests are offered three different classes, although Gold Service is the most popular choice, offering private cabin accommodation together with all-inclusive premium dining, beverages, and a range of off-train experiences.

For a more refined experience, we recommend opting for the Platinum class that brings along spacious suites complemented by discreet, personalized service. Ensure you taste every delicacy on the menu, especially Australia's exotic local fare, like saltwater barramundi fish and grilled kangaroo fillet at the classically styled Queen Adelaide Restaurant. The Ghan Expedition fares can cost you $5,999 per person for the Platinum class.

Belmond Andean Explorer – Peru
South America's first luxury sleeper train is fun from the word go with an exciting welcome band and traditional dances making it seem like a party from the departure station itself. The Belmond Andean Explorer houses 24 cabins on the train, which can sleep up to 48 passengers.

No matter the number of guests, there are always 50 staff members ready to bring you coca tea or a glass of champagne.

Interestingly, this train is one of the few that travel along with one of the highest train routes in the world, from Cusco to Lake Titicaca (Puno) and Arequipa, and exploring natural wonders and ancient kingdoms on one and two-night trips.

The journey on this train is a rather musical one with a Piano Bar Car and plenty of after-dinner entertainment. Visitors enjoy gazing at the Peruvian sky from the Observation Car, located in the caboose, for a cocktail under the stars on the outdoor terrace.

The peak season is from June to August when the Peruvian Andes experience mild winter weather. You can explore Andean Explorer journeys range from $380 to $2,065 per person double occupancy.

Belmond Royal Scotsman – UK
So gorgeous is the Scottish Highlands that to soak in their beauty, one ultimately needs time and an ideal place that is found only on Royal Scotsman, a Belmond Train. The Belmond Royal Scotsman operates from April to October, departing from Edinburgh to discover ancient castles, glorious gardens, and famous distilleries.

The journey will be the highlight of your holiday, with uninterrupted views of sweeping glens, towering peaks, rugged shores, and mirror-calm loch. It gives you a unique chance to ditch the modern world of clock-watching and jet-setting and replace it with ten intricately designed carriages that can only be described as a palace on wheels. Vintage mahogany-clad cars of the Royal Scotsman lend the comfort of a country house.

Packages include a 2-night Highland tour, a 3-night Western tour, or a 4-night Highland Classic tour in addition to 5 or 7 nights tours. This train journey is one of the most endearing, too, with an ode to the golden age of travel. Personalized touches such as handwritten names of guests above each door make the trip incredibly inviting. Your days begin differently on board the Royal Scotsman, with busy mornings comprising clay pigeon shooting or fly fishing.

To see Scotland in style, be prepared to spend nearly $4,590 per person for an old-school romance with travel. As dramatic scenery zips by, travelers can unwind at the Bamford Haybarn Spa, defined as a world of indulgence on the rails.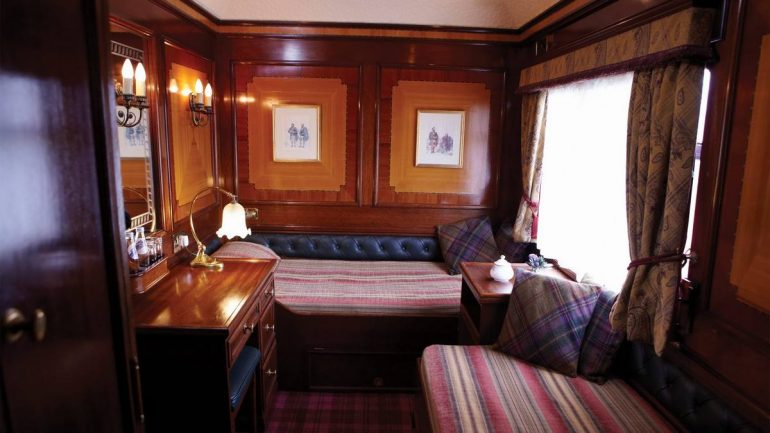 You may also be able to squeeze in a Highland safari before lunch and later end the day by deciding among 30 types of whisky.

The Transcantabrico Gran Lujo – Spain
Chugging slowly along the Bay of Biscay is the oldest of Spain's tourist trains, which aids you in witnessing the best of Spain's Atlantic coast over seven days. The Transcantabrico feels more like a five-star hotel on wheels than a full-on train experience. The lounges and suites combine early 20th century's charm with modern comforts such as WiFi and flatscreen TV.

There are two routes to choose from – The luxury route, running from San Sebastián to Santiago de Compostela and back, and the Classic route running from León to Santiago de Compostela through Bilbao and back. The maximum capacity is 54 people on the Classic train and 28 for the Luxury train. The journey is packed with sightseeing adventures, but that is what makes this trip so phenomenal.

Besides some of Spain's best vistas, travelers will remember exceptional catering with select wines, haute cuisine, and excursion meals in top-notch restaurants. To make your train journey extremely smooth, the crew is headed by an expedition leader.

It includes a guide, the head waiter, waiters, music entertainers, cleaners, security, train driver, bus driver, and rail technician. Trust the Transcantabrico to take you through the best of northern Spain from the Guggenheim museum in Bilbao to the prehistoric cave of Altamira, the Picos de Europa National Park, and the Cathedral of Santiago de Compostela. This unforgettable experience is surrounded by a full-on, five-star luxury experience on wheels costing nearly $7000 per person.

Venice Simplon-Orient-Express – Europe
The Venice Simplon-Orient-Express (VSOE) train was established in 1982 by James Sherwood. It would take you on a journey of a lifetime, one laden with a rich heritage, stunning interiors, and world-class food, in addition to over 20 scenic European routes each year. It runs roughly once a week from March to November, and over the course of just one season, the train travels nearly 100,000 miles.

The Venice Simplon-Orient-Express train is a work of art comprising 18 carriages distributed into 12 sleeping cars, three dining cars, a bar car, and two former Ytb class sleepers, which provide accommodation for the staff and storage rooms for luggage and supplies as well. In 2018 the Grand Suite class was introduced, which adds to the luxury meter of the VSOE with double or twin bed layouts and a drawing saloon with a sofa (which is convertible to a third bed) and en-suite bathroom comes in handy after all the free-flowing champagne. Sleeper carriages have a range of accommodation available other than the Grand Suites, like Cabin Suites, Twin Cabins, and Single cabins.

For the romantics, the train is perfect for proposals, dressing vintage (a significant number of travelers dress up in the 1920s or 30s style), and if you're big on comfort, please note you can't wear jeans on the VSOE.

Keep in mind the Venice Simplon-Orient-Express is an institution with five-star dining offered in the three restaurants. We suggest you make the most of your time on the train by relishing a meal on the enclosed coupé on the British Pullman train, and then taking a million pictures as you walk through the train admiring the different decor in each car.

A seat on the Grand Suite of the Venice Simplon-Orient-Express will cost you nearly $23,400.

Twilight Express Mizukaze – Japan
The Twilight Express Mizukaze departed Osaka on its maiden trip with only 30 well-heeled passengers who didn't get stupefied spending up to $20,000 for a cabin on June 17, 2017. Japan's super-deluxe train takes you through emerald green rice paddies, craggy coastlines, and ancient shrines with five-star hotel luxury.

The Twilight Express Mizukaze is a luxury hybrid diesel multiple units sleeping-car excursion train used in the Keihanshin, Sanin, and Sanyo regions of western Japan. The ten-coach train consists of six sleeping cars, a lounge car, a dining car, and observation cars at either end of the train with open balconies. The sleeping cars have three private suite rooms, but the most opulent suite occupies the entire coach and features a bathtub and private balcony.

The interior is inspired by Art Deco and also decorative elements from areas along the routes. The lounge car, Salon De L'ouest, is one of the most charming areas of the Twilight Express, with a bar counter, table, and chairs for tea ceremony and cozy wooden interiors. The dining car presents a formal yet open atmosphere with an open kitchen, where haute cuisine prepared by expert gourmet chefs is served with a side of scenery.

Japan's steadfast love for trains is no secret. Still, the Twilight Express is exceptionally extraordinary and among the most exclusive trains globally, with a waitlist of over half a year. It is a true privilege to get on board.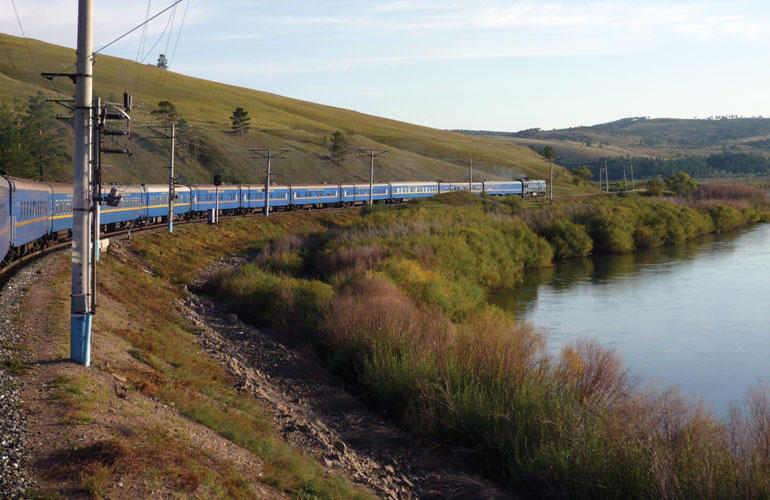 Golden Eagle – Russia
A journey on the Golden Eagle's rail cruises is lined with splendor amidst opulent décor. It's almost poetic- looking out of the panoramic windows at the gradually changing scenery that could only be Russian with Tchaikovsky playing in the background. The building of the railway between 1891 and 1916 and the expansion of the railway system continues as of 2021.

The journey on the Golden Eagle is one of the longest, too, spanning 15-days from Moscow to Vladivostok via Mongolia. The trip commences with one night in Moscow, 12 nights on the Golden Eagle, and a night in Vladivostok.

The team welcomes all its passengers with a dinner party where passengers meet and get to know each other before embarking on the journey of a lifetime that involves a 6,000-mile trip across two continents and eight time zones. Needless to say, it is also the world's longest train journey.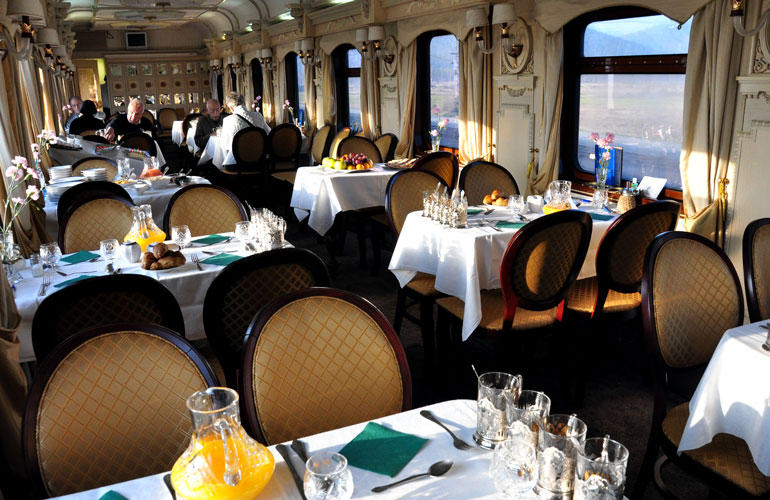 To see Russia's snow-capped mountains, the train makes four winter journeys in February and March. July is also an excellent time to hop on board as it coincides with the Naadam Festival, a prominent local sporting event. The 15-day voyage in the majestic Imperial suite will cost a whopping $76,200, making it one of the most expensive train journeys in the world. The Golden Eagle, which covers three categories of cabins, features state-of-the-art amenities and en-suite facilities, is the only private train of its kind operating in these regions of the world.

Imperial Suites are the most spacious cabins available onboard the Golden Eagle measuring 120 sq ft. In addition to comfortable cabins are beautifully appointed Bar Lounge cars and Restaurant Cars. Those worried that you didn't get enough time to practice your Russian before you arrived? Fortunately, lessons are offered onboard.

Rovos Rail Pride of Africa – South Africa
The Pride of Africa is a luxury train established in 1989 by Rovos Rail and is billed as the "World's Most Luxurious Train." Pride of Africa's lovingly-restored Pullman-style carriages is finished in polished teak and decorated and furnished in the opulent and decadently comfortable style of 1920. One can experience the richness of southern Africa, with north and southbound routes between Pretoria and Cape Town.

You can opt for the famous 3-4 night journey or spend 15 peaceful nights traversing Zimbabwe, Zambia, the Democratic Republic of Congo (DRC), and Angola. For your utmost comfort, there are three styles that guests can choose from (Royal, Deluxe, Pullman), with varying levels of luxury.

The Rovos Dining Cars are beautifully done in a Victorian setting and produce a consistently high standard of cuisine.

To truly feel the warmth of Africa on your skin, proceed to the Rovos Observation Car to bask in the balmy darkness of the African night.

The 3 days / 2 night weekly journeys cost $3500 per person, while the extravagant 15-day excursion in the luxe Royal Suite will set you back by $ 22,900 pp.

Kyushu Seven Stars – Japan
Japan's Seven Stars luxury sleeper train is a metaphor for the saying that traveling is not just about the destination; getting there is half the fun. Derived from the seven prefectures of Kyushu, made up of seven cars and offering seven-star treatment, is Japan's deluxe sleeping car excursion train operated by Kyushu Railway Company. Kyushu Seven Stars is a moving marvel consisting of five sleeping cars, a lounge car, and a dining car, with a total capacity of 28 passengers. At the rear are located two deluxe suites with observation in addition to 12 standard suites. The luxurious suites feature a sleeping area, a sitting area, and a private bathroom consisting of a shower and toilet facilities. It's the décor that is noteworthy with radiant woodwork, brass fittings, and vintage lights. There are some distinctly Japanese features like elegant bamboo blinds, delicate paper screens, and wooden shutters.

Kyushu is a treasure trove of food, and the master chefs prepare each meal with care to ensure your dining experience is sure to make your trip even more exceptional. Inside the Jupiter Dining Car, guests will enjoy more than friendly staff and outstanding service.

You won't forget the delightful afternoon tea treats from the Patisserie Muguet by Ryuji Ikeda, an acclaimed Kyushu pastry chef.

When you are savoring the food, don't forget to look like a dish yourself; the Seven Stars encourages a fairly strict dress code on the train; it certainly helps maintain the magic onboard.

The most enriching experience on this train journey is viewing the scenery from its vast windows. The visuals are enhanced further with a grand piano and live musical entertainment in the evenings. There are two main itineraries, of either 2 or 4 days, offering a unique way to enjoy the island, cruising some of its 3,000 km track for nearly $7,200 per person.

Train Suite Shiki-Shima – Japan
Isn't the whole purpose of being on a luxury train to put your daily commute to shame? East Japan's Shiki-Shima understands that and gives you a world of unmatched opulence and grandeur. For those who have the moolah, this 10-car sleeper includes a lounge car, dining car, and six carriages devoted to17 private suites and will welcome only 34 passengers on board at a time.

The stunning two-floor suites include a working fireplace, a Cypress wood bath and will cost around $10,000 from Tokyo to Aikido. Japan has been widely regarded as a frontrunner in high-quality rail travel, and with the Shiki-Shima, it upholds its reputation as an icon of both high-speed and luxury. It has two observatory cars with glass walls and ceilings.

The train designed by Ken Okuyama is the best way to see uninterrupted views of eastern Japan's forests, fields, and coastline. But what lies within is even more spectacular; the lounge has a piano bar and, uniquely-designed walls and windows effectively evoke "a quiet forest.

While the Shiki Shima signature tune, 'Train Suite,' aids relaxation even more. Not only does it boast a signature tune, in true Harry-Potter style, but the train also flaunts a platform 13 1/2 that has been built at Tokyo's Ueno Station for Train Suite Shiki-Shima's exclusive use.

To make your travel experience even more fabulous, Michelin-starred chef Katsuhiro Nakamura devised a food menu that changes to adapt the culinary style of the regions through which the train is passing.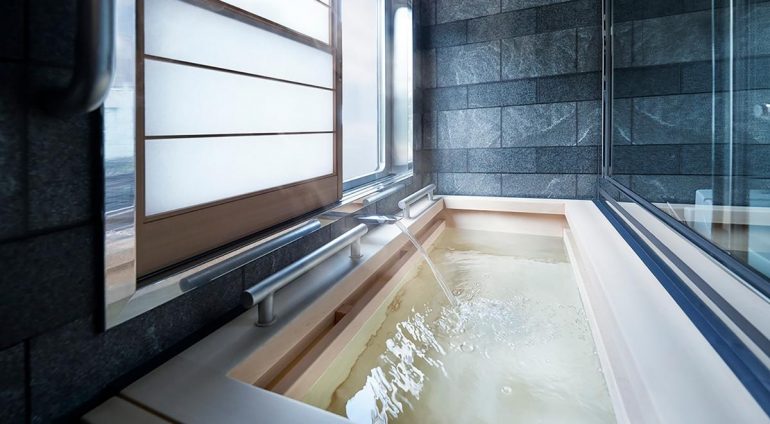 If you want to go on the ride-of-a-lifetime, only money won't get you there; those who want a ticket to ride need to fill out an application rather than purchase a fare.

The lucky few are then selected through a lottery. NHK World reports that only one out of every 76 applicants could get a place on the train's first trip in May 2017.