Three years after launching the Code 11.59 collection, Audemars Piguet has expanded the line-up with a new intriguing timepiece that marks the revival of a collector-favorite complication from the 1990s. Meet the Code 11.59 by Audemars Piguet Starwheel, a spiritual successor to the original Audemars Piguet Star Wheel from 1991 that was famous for its wandering hour system. Before we talk about the details of the new AP timepiece, it's important to have a look at the genesis of the wandering hour which dates back to the 17th century. It is believed that the complication was invented by the Campani brothers in the mid-1600s for Pope Alexander VII who was suffering from insomnia that was further aggravated by the ticking of a clock. The pope requested a clock that would be silent and easy to read in the dark, and that's how the wandering hour system was born.



At the end of the 1980s, a watchmaker for Audemars Piguet came across the wandering hour system in an article in the Journal Suisse d'Horlogerie and resurrected the complication in the AP Star Wheel reference 25720 in 1991. The Swiss manufacturer presented around 30 Star Wheel models over the next 12 years, but the complication slowly lost its sheen and was discontinued. Almost two decades later, AP has brought it back from the dead in a more modern and bold avatar in the new Code 11.59 by Audemars Piguet Starwheel.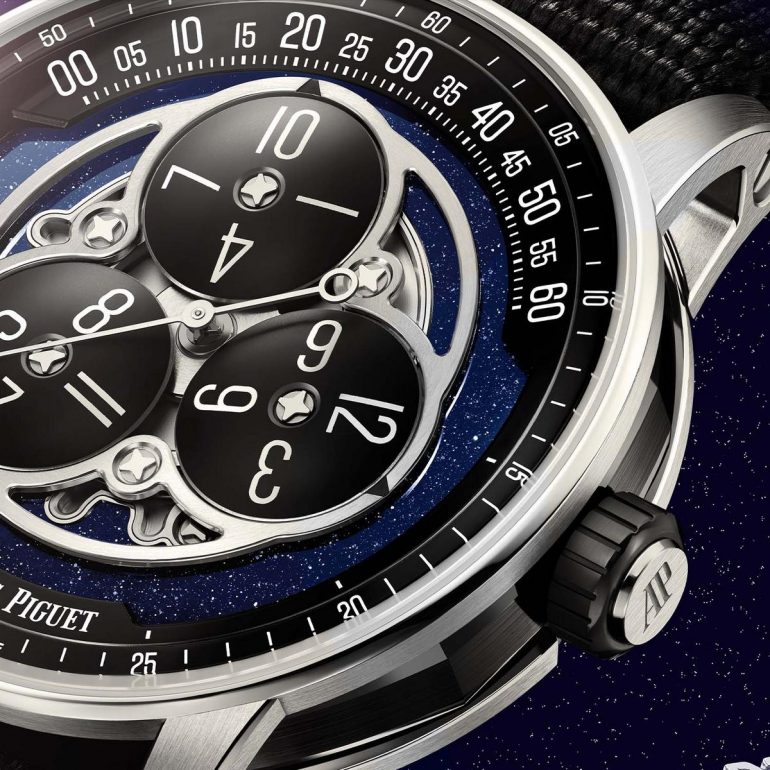 The new Star Wheel — reference 15212NB.OO.A002KB.01 – features a 41mm case that matches the design of the Code 11.59 collection. Its eye-catching architecture includes a combination of black ceramic mid-case and crown with white gold bezel, lugs, and caseback. The dual-curved sapphire crystal covers a blue aventurine dial along with the discs that rotate on their own axle as well as on a central axle. The trio of discs are made of aluminum and feature a black tint thanks to PVD treatment and each is given a sandblasted opaline finish. They "wander" across the dial, with the current hour positioned next to the current minute along the 120-degree minute track at the top of the dial. The sophisticated system is mesmerizing to watch. Powering the Star wheel is the automatic Calibre 4310 that offers a power reserve of 70 hours. As for the pricing, the Code 11.59 by Audemars Piguet Starwheel's price tag roughly converts to $58,000.