It is often believed that the watch that you wear is an extension of your personality, which not only reflects your likes and dislikes but also your inner style and character. If that's true, you'll expect a world leader to wear a timepiece that screams authority and power. But that's not quite the case when it comes to the Crown Prince and Prime Minister of Saudi Arabia, Mohammed bin Salman Al Saud. Colloquially known by his initials MBS, the 1985-born young leader is a prominent and influential figure in the Kingdom of Saudi Arabia and on the global stage. Member of the Saudi royal family, MBS has been holding the title of Crown Prince since June 2017. As a Prime Minister, he has made a significant impact on Saudi Arabia's domestic and foreign policies, steering the nation through a period of profound transformation. Obviously, one would expect him to be seen wearing a limited edition platinum Rolex or an ultra-rare Patek Philippe. However, believe it or not, the most powerful man in Saudi Arabia is often spotted wearing one of the quirkiest timepieces ever made by Audemars Piguet.



The timepiece in question is the Audemars Piguet Royal Oak Offshore Chronograph "Montauk Highway" edition, a limited edition model that debuted in 2009. The watch was created to pay tribute to the Montauk Highway, a road that goes from east to west and covers 95 miles to the southern shore of Long Island in Suffolk County, New York. The stretch of highway essentially connects New Yorkers with the sun, surf, and style of the Hamptons. Limited to just 300 individually numbered examples, the timepiece was exclusively sold through the New York-based watch specialists and jewelers, London Jewelers.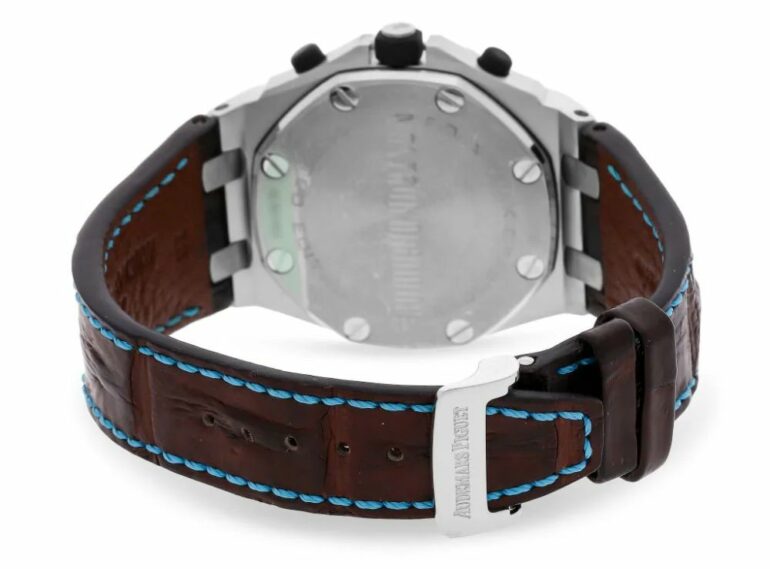 The limited edition timepiece features Royal Oak Offshore's signature stainless steel case design along with the quintessential octagonal bezel. Interestingly, instead of an integrated bracelet, the 42mm case is paired with a brown "Hornback" crocodile strap with contrasting blue stitching and a stainless steel deployant buckle. However, it's the Montauk Highway edition's dial that sets it apart from the rest of the Offshore versions we've seen over the years. The tapisserie dial is finished in a creamy white color, which is contrasted by the baby blue Arabic numerals, hands, and tachymeter scale. The subdials are dark brown in color, making them pop against the white background. The watch is powered by Audemars Piguet's legendary automatic chronograph caliber 3126/2840 with a date display and small seconds. It offers a power reserve of 60 hours.

The timepiece was originally introduced for $20,500 more than a decade and a half ago. Over the years, the price of the Montauk Highway edition has increased in the pre-owned market. A well-kept example can easily fetch up to $40,000. In complete contrast, Mohammed bin Salman's father, King Salman bin Abdul-Aziz Al-Saud, is often spotted wearing a Chopard Imperiale Ref. 388532-3002, an unassuming timepiece with a Quartz movement and a price tag of just $6,510. But even a $40,000 limited edition timepiece seems to be rather unimpressive for a man who is known for his opulent lifestyle.

Coming from the lap of luxury, MBS owns some of the most expensive properties and personal toys. His French chateau is one of the most expensive residences in the world. He purchased the $300 million Chateau Louis XIV in Louveciennes outside Paris back in 2015. Furthermore, the Crown Prince also owns a $400 million superyacht that is home to a $450 million Leonardo da Vinci painting onboard. In comparison, the Audemars Piguet appears to be just a regular watch.