Jacob & Co. has expanded its Astronomia collection of hand-crafted ultra-exclusive timepieces with another sculptural masterpiece as an ode to space exploration. The new limited edition Jacob & Co. Astronomia Maestro Worldtime gets all the signature elements that define the collection along with two new additions – a worldtime complication along with a Carillon minute repeater. Described as one of the most complex versions of the Astronomia the Haute Horlogerie brand has ever created, the new timepiece pushes the boundaries of horological engineering and craftsmanship.



Starting with the massive three-dimensional case that houses the intricate workings of the watch, it measures 50mm-wide and 26mm-thick. The skeleton construction of the 18K rose gold case is designed to showcase the beautifully crafted movement and other components with least amount of obstruction. Because of the non-traditional design of the case which is basically a cylindrical sapphire box with a gold chassis, it doesn't get a traditional crown, either. Instead, the mechanism for winding and setting can be found on the solid caseback.

Moving to the timepiece's skeleton dial, the horological dance of different components in simply jaw-dropping. Unlike previous Astronomia watches, the latest iteration's main timekeeping dial is not placed on one of the movement's signature stacked orbiting arms. In the new Astronomia Maestro Worldtime edition, the dial is right at the center, placed on the top of the central stack for easier reading. The domed timekeeping dial features contrasting traditional blued alpha hands and engraved chemin-de-fer minutes track with engraved Arabic numerals.

The timepiece gets the brand's signature Jacob Cut 1-carat spherical diamond, rotating on its axis once every 90 seconds, along with a triple-axis tourbillon in its stylized cage with the Jacob & Co. emblem in rose gold. There's also a highly detailed orbiting astronaut figure in hand-painted German silver on the opposite end of the spherical diamond. The highlight of the new Astronomia is its orbiting world-timer complication. The big painted rose gold globe rotates on its axis once every 24 hours, indicating the time across each of the 24 time zones with the help of the fixed set of indicators at the south pole.

The watch is powered by the manufacture JCFM11A handwound minute repeater tourbillon movement, which offers a 50-hour power reserve and is just as stunning as the timepiece. The timepiece is paired with a classic navy blue alligator leather strap featuring an 18K rose gold deployant clasp. Jacob & Co. has announced that it will make only 18 examples of the Astronomia Maestro Worldtime that will be sold at $780,000 apiece. The watch is available now through authorized Jacob & Co. dealers.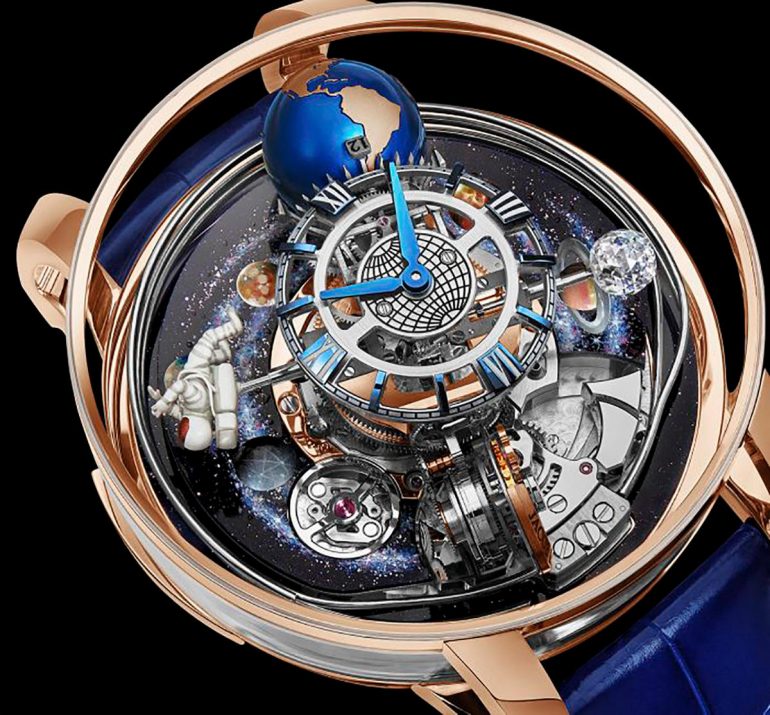 [Via: A Blog To Watch]