It's been seven consistent years of inspiring releases by Harry Winston, surprising us with the brand's high-quality watchmaking abilities. The Histoire de Tourbillion 7 joins the league of superior timepieces with two bi-axis Tourbillions to challenge high complications with svelteness. Formerly, the brand has explored bi-axial, tri-axial and coupled carousels. But this time we have a pair of Tourbillions that rhythmically tell you the time and more. It comes in a 50 mm case that is rimmed by a polished bezel.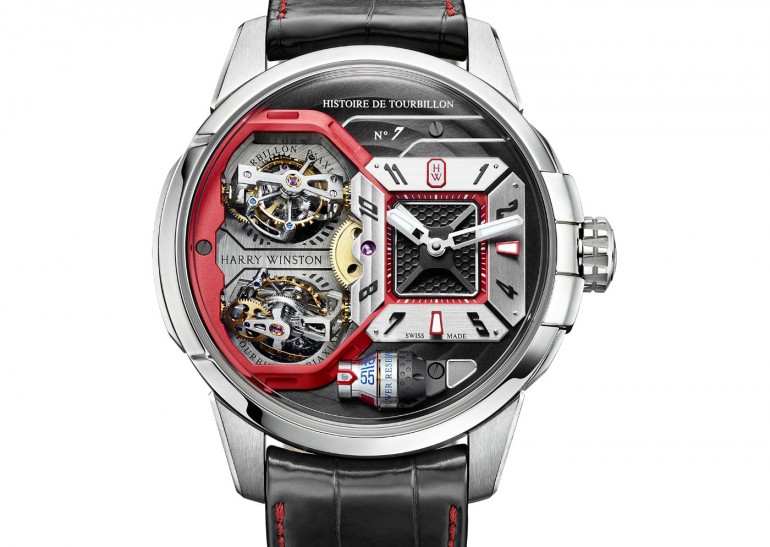 The hour and minute hands are situated on a pyramid-like elevation at the right. The perspective of this section makes the hour markers seem three dimensional. This is extended with a red aluminum or anthracite strip that is perforated. The pair of bi-axial tourbillions are present on the left. The cage of the first tourbillion moves into the cage of the second to move the escapements mesmerizingly. Both tourbillions are identical in structure and speed but have their distinct behavior. At the bottom of the dial is a rolling power reserve indicator that offers up to 55 hours. This, with the dancing tourbillions makes for quite a sight.
The Harry Winston Histoire de Tourbillion uses a spherical differential to optimize performance. Only 20 examples of this legendary timepiece will be released. 10 in red aluminum and 10 in anthracite.
[ Via : Ablogtowatch ]