Guess who's back? Back again for the sixth installment is Prop Store, one of the world's leading film and TV memorabilia companies. It has announced it is to hold UK's largest annual live auction of film and TV memorabilia yet again. Movie buffs who like to go beyond just watching movies and worship the blockbusters, here's your chance to own a piece of your favourite entertainer forever. The auction is to be held at London's BFI IMAX proudly presented by ODEON, Europe's largest cinema group. Prop Store's unique Entertainment Memorabilia Live Auction will house over 900 rare and iconic objects. The auction will be live-streamed online for fans to track the bidding on auction days. A free preview exhibition will be open to the public in the run-up to the auction, opening on Wednesday 18th September – Tuesday 1st October. There are loads of interesting memorabilia in-store right from Maximus' Screen-Matched Roman General Armour to Mace Windu's Lightsaber from Star Wars and much more. We have listed the 9 best objects of desire from Prop Store auction: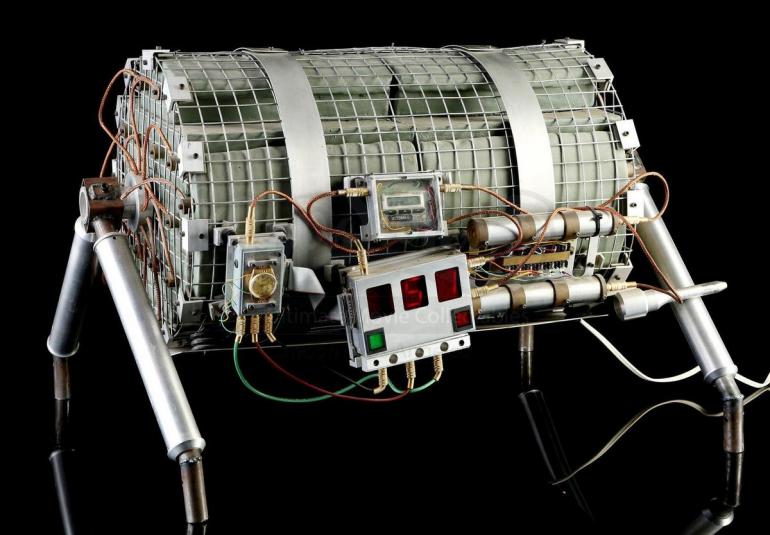 9. Bus Bomb-Speed- Estimated- 8,000 -10,000 GBP
Say hi to the 'bus bomb'. It's the bus bomb that made the action thriller 'Speed' happen. When former police officer Payne created a bomb using his gold retirement watch as a timer and planted it on a city bus, Officer Jack Traven boards the bus in an attempt to save the passengers. Yeah, the credit goes to this bus bomb and it's now for sale. This bomb consists of a cylindrical metal mesh housing containing several blocks of foam rubber and resin painted grey and shaped to look like a plastic explosive and also features a display. Dimensions: 83.73 cm x 62.25 cm x 56 cm (33″ x 24 1/2″ x 22″).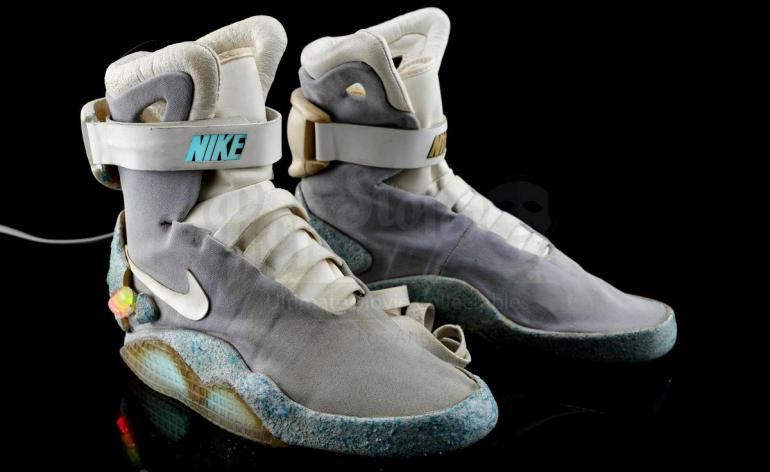 8. Light-Up 2015 Nike MAGs- Back to the Future Part II- Estimated- 15,000 – 25,000 GBP
Apart from being a cool sci-fi movie, Back to the future part II had many awesome elements, like the ship that helped him time-travel and his incredibly cool shoes. The time-travelling apparatus isn't for sale but you can get your hands (or feet) on the self-lacing light-up 2015 Nike MAGs from Robert Zemeckis' sci-fi adventure sequel Back to the Future Part II.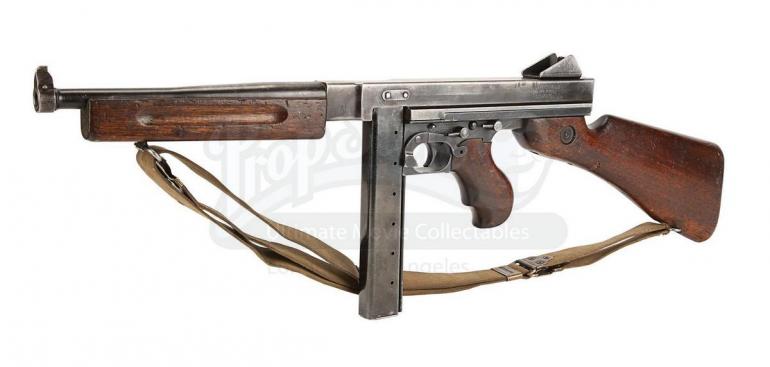 7. Live Fire Thompson Sub-machine Gun- Saving Private Ryan- Estimated-20,000 – 30,000 GBP
Feel the power in your hands with live-fire Thompson, the sub-machine gun from Steven Spielberg's World War II drama 'Saving Private Ryan'. Seen in the hands of tom hanks throughout the film, the machine gun aka Tommy gun is made of steel, while the stock, pistol grip and front grip are made of walnut wood. The Thompson comes directly from the production armourer who handled it on-set and includes a letter from the armourer detailing its history. The piece has some wear from extensive production use and age,

6. Claymore Sword- Braveheart-Estimated- 30,000 – 50,000 GBP
William Wallace's (Mel Gibson) hero claymore sword from Academy Award-winning medieval biopic Braveheart has probably been on everyone's wish list since they saw the movie. Fans truly believed this sword could single-handedly turn them into the bravest of the brave…and you never know. Here's your chance to get your hands on this impressive weapon made of steel featuring a leather-wrapped grip and blade shoulder.

5. Witch-King of Angmar's dagger-The Lord of the Rings: The Fellowship of the Ring- Estimated- 0,000 – 50,000 GBP
Fans know on first sight this dagger belongs to The Lord of the Rings: The Fellowship of the Ring. For those who don't remember, the Witch-King used his cursed Morgul dagger to stab Frodo as he and his hobbit friends hid from the Nazgul. This prop dagger features a jagged aluminium blade affixed to a ribbed resin handle with a pointed cross guard and spiked pommel.

4. Facehugger – Alien 3 (1973) – Estimated – 50,000 – 100,000 GBP
This is the one thing you need to be called 'the greatest prankster that ever lived'. The special effects facehugger from Ridley Scott's sci-fi horror Alien is made of latex and feature realistic detailing, including veins, wrinkles and ligaments. The flexible tail is made of foam latex to enable it to wrap around the victim's neck. It comes on a custom-built display, keeping it in its iconic pose, and is accompanied by a letter of authenticity from Dicken. Dimensions (displayed) 35 cm x 20 cm x 37 cm (13 3/4″ x 8″ x 14 1/2″).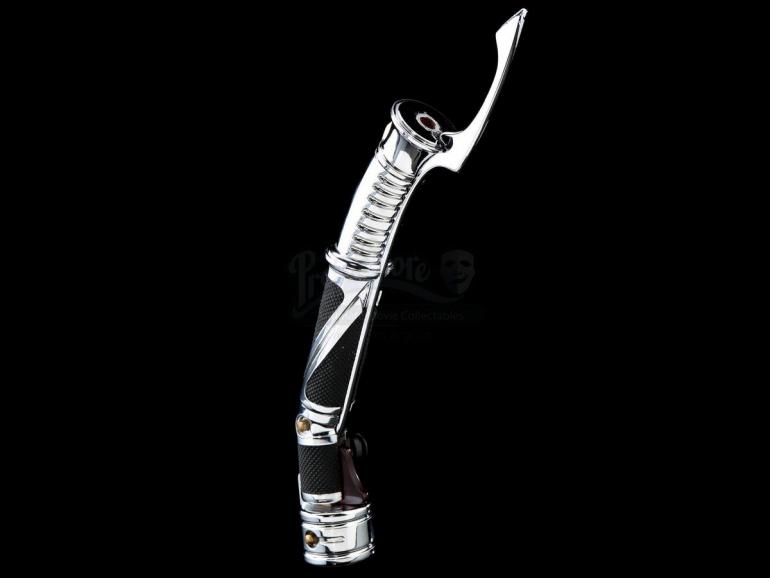 3. Hero Lightsaber- Star Wars: Revenge of the Sith- Estimated- 50,000 – 100,000 GBP
How would you like to own a lightsaber from George Lucas' Star Wars: Revenge of the Sith? That's a dream turned into reality right there! The lightsaber that Dooku wielded in a duel against Anakin Skywalker is crafted in resin and vacuum-metalized, it features a mirror-chrome finish with four separate black rubber accents and black resin details, along with a transparent red resin activator switch just above the pommel.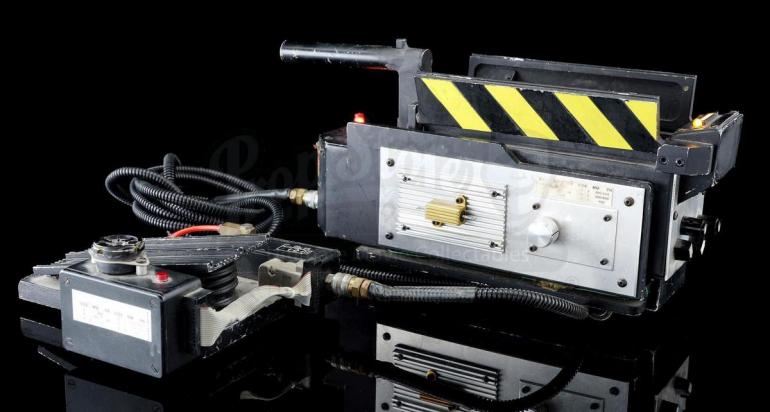 2. Radio-Controlled Hero Ghost Trap and Pedal- Ghostbusters- Estimated-80,000 – 120,000 GBP
No points for guessing the radio-controlled hero ghost trap and pedal is from everybody's much-loved and much-watched supernatural comedy Ghostbusters and its sequel Ghostbusters II. This was the true hero of the movie without which it would be impossible to capture the ghouls haunting New York. You never know how many ghosts are hiding under your bed which is why this is a great investment. The trap consists of a black aluminium box with a handle and four wheels, an illuminating red plastic light, an illuminating electronic charging meter, a yellow plastic light, and two doors with yellow striped caution tape applied on top.

1. Hand-painted Illustration of Vader Arriving on Death Star- Star Wars: Return of the Jedi- Estimated-120,000 – 180,000 GBP
This needs no introduction. It is a hand-painted Ralph McQuarrie illustration of Vader arriving on the Death Star from Richard Marquand's Star Wars: Return of the Jedi. This piece was gifted to Return of the Jedi co-producer Robert Watts at the end of production and comes directly from his personal collection. It is housed in Watts' original vintage frame and glazed with acrylic. Dimensions are: 59 cm x 39.5 cm (22″ x 15 1/2″).
[Bid on the items at Propstore auction]