As the market for vintage air-cooled Porsches continues to grow at a rapid pace, the craze for "safari" 911 builds swelled over the last decade. It has reached a point where even Porsche is looking to cash in on the hype with a rumored high-riding 911 that might be named the Dakar edition. But true Porsche fans only demand old-school, air-cooled 911s correctly customized into machines that can be directly linked to the race cars that competed in the East Africa Safari Rally during the 1970s. While we've seen plenty of poorly built examples in recent years, the Singer ACS that came out last year is the pinnacle of a reimagined Safari 911. The 964-based Baja Prototype from Russell Built Fabrication is also a great example of a proper Safari 911 build and the very first example of the off-road beast is up for grabs.



The sensational custom Porsche crafted by Russell Built Fabrication was built to meet the brief of "the most capable purpose-built luxury off-road 911 possible." The porotype #1 started off as an accident-free 1991 Porsche 911 (964) Carrera 4 Cabriolet chassis. It was then heavily modified by making it three inches longer and 15 inches wider than a Carrera 4. A 4130 Chromoly race roll cage was also integrated into the structure to make the chassis more rigid. The heavy metal body was replaced with panels lightweight carbon fiber and composite materials. As a result, the off-roader weighs a little less than 2,800lbs, which is roughly 400lbs less than the donor car. It also gets a hood-mounted LED light-pod with a carbon fiber housing and a McLaren F1-style central roof-mounted intake scoop crafted from carbon fiber.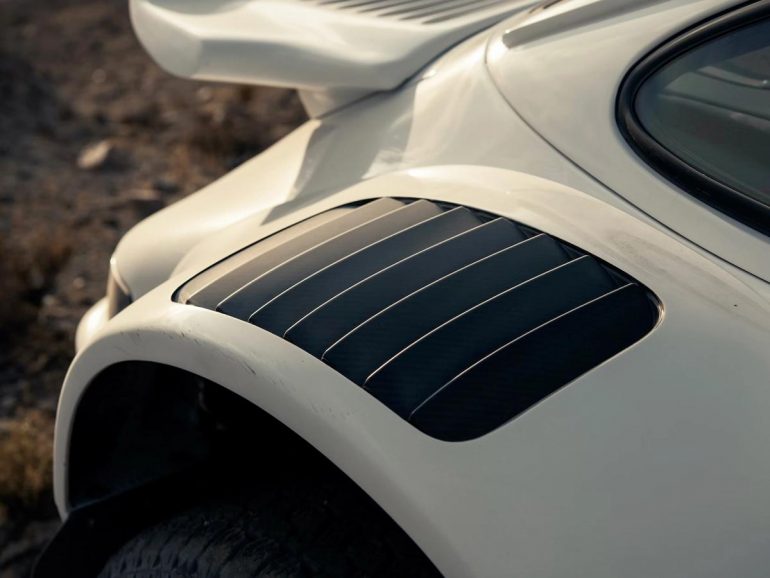 While the exterior is all rugged and sturdy, the cabin is sporty yet luxurious. The interior is done in a beautiful combination of Olive Green leather and black Alcantara. The cabin also features a carbon fiber trim package, carbon fiber Sparco bucket seats, a Tilton Racing pedal assembly, a three-spoke Sparco steering wheel with custom switchgear panels, a rear seat delete storage box, and a custom lightweight dashboard housing a digital race display. The Baja Prototype #1 is powered by a 3.8-liter flat-six engine specially built for this by Rothsport Road & Race. The engine produces around 360bhp and 310lb-ft of torque, which is sent to the rear wheels via a five-speed G50 manual transmission. The unique 911 only has only 5,200 miles on the odometer and has been kept in pristine condition. The Baja Prototype #1 is currently located in LA and is available for sale on Collecting Cars' auction platform.