Haven't you always wondered about the rich and their heavenly mansions? Here's taking you through a fascinating journey with a list of the top ten biggest and luxurious houses in the United States. (Note that this list does not include historic homes that are no longer primarily used as residences.)
No 10) Tied in for the last spot is the Beverly House at Los Angeles, California. The 50,000 square feet house, which once belonged to William Randolph Hearst, was originally listed at $165 million in 2007, but is now quite cheap at just $95 million.



No 9) Montagel Way Mansion, Birmingham, Alabama is also a 50,000 square feet home shaped like a guitar, and is listed at $13.9 million.

No 8) Longaberger Eschman Meadows, Nashport, Ohio is a 55,000 square feet house where the CEO of Longaberger Baskets lives. This house is now on sale for $15 million.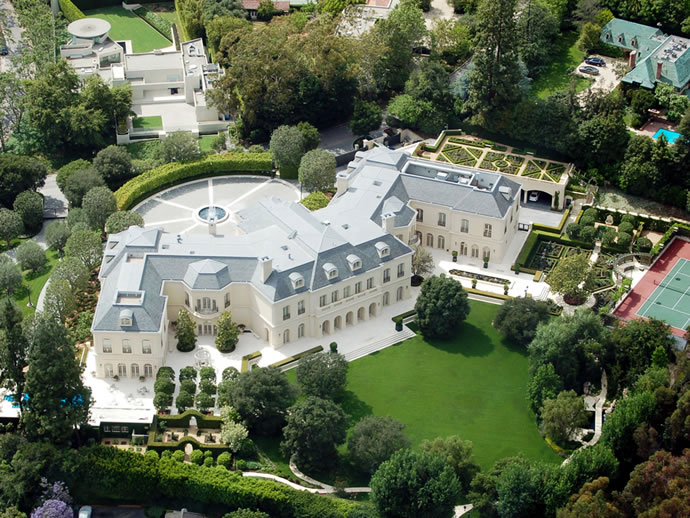 No 7) The Spelling Mansion, Los Angeles, California is Petra Ecclestone's newly acquired 57,000 square feet home. The 123-roomed house was purchased at $85 million.

No 6) Maison De L'amitie, Palm Beach, Florida is a 60,000 square feet owned by Dmitry Rybolovlev bought, who purchased it from Donald Trump for $95 million a few years ago. Apart from diamond and gold fixtures it also houses a 50-car garage.

No 5) Xanadu 2.0, Medina at Washington is Bill Gates' 66,000 square feet mansion. Housing a 2,500 square feet gym, it is valued at $121 million.

No 4) Rennert Mansion, Sagaponack, New York is a 66,400 square feet. Junk bond legend Ira Rennert's mansion is said to house between 21 and 29 rooms.

No 3) Pensmore, Christian County, Missouri is a sprawling 72,000 square feet mansion belonging to Business Executive Steve Huff. The 13-bedroom house is energy efficient and after completion of its construction by 2013, it will be strong enough to withstand even a tornado.

No 2) Tomiyasu Lane Estate, Las Vegas, Neveda is the second biggest home at 73,000 square feet. Bought by casino mogul Phil Ruffin, it was purchased from the Sultan of Brunei for around $24.9 million in 2011.
And the biggest home in the US is……

No 1) Versailles, Windermere, Florida, is a 90,000 square feet home. The largest private home in America is still being built. Once ready, mega-mansion will be on sale for $100 million complete.