By now, we all know Drake all too well. The man likes to live life king-size, which is why he sleeps on a $400,000 Hästens Grand Vividus mattress, drives around in one-of-a-kind Rolls-Royce costing $700k, and rejuvenates in his mansion that boasts a swimming pool the size of a small lake. The man is a giver, too; he gifted his entire team $50,000 diamond rings to celebrate Rec Basketball League Championship and is known for his countless donations. Hence, it doesn't come as a shock on learning that Drake pulled out all the stops to rent out the entire Dodger Stadium for a super private dinner date with model Johanna Leia.



That's just Drake being Drake and wanting to work his magic to impress the stunning model. Drizzy was spotted enjoying the 40-year-old model's company at a table for two along the baseball field, where the pair sat side by side with a bartender stationed nearby. Their table had champagne glasses and various vases filled with flowers on it. The duo was seen wearing a neutral-toned sweater while Johanna opted to wear her new custom Dodger's jersey with slicked-back hair and a long braid. For those who don't know Johanna, she is the mom of nationally acclaimed high school basketball star Amari Bailey. He plays for the Sierra Canyon Trailblazers alongside Bronny James – the son of LeBron James. Bailey is one of the best high school basketball players in the country.

He currently ranks 3rd on the ESPN 100 list and is the number one shooting guard in his class. The pair had 'two waiting black SUVs' parked right outside the stadium for what would be a swift and private departure. Booking a mammoth stadium for a table-for-two and expecting no one to notice is absurd.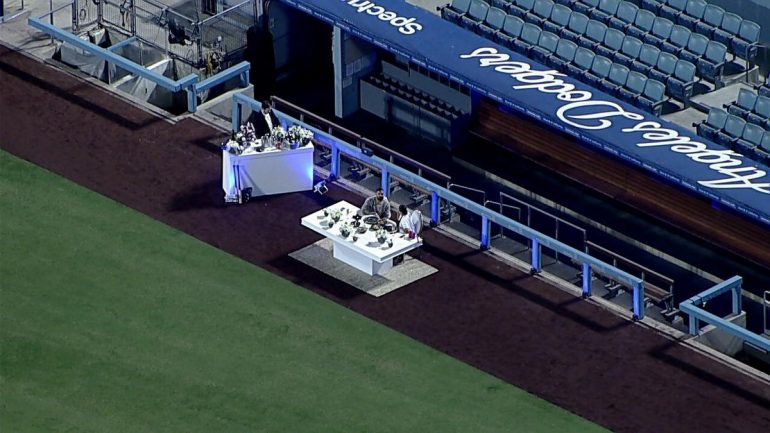 The Dodgers Stadium field is usually only rented out for significant events or productions and Drake-sized dates! According to MLB.com, the capacity for the domain is between 400-500 guests.
[Via –ABC]