There are many ways to show your wealth. You can zip around in supercars, fly in private jets, and holiday on superyachts. Regarding the world's richest, the above examples don't do enough to help laypeople conceive their enormous wealth. In an eye-opening, jaw-dropping example, entrepreneur and TikTok star Humphrey Yang from Silicon Valley gave the world a mind blowing visual representation of Jeff Bezos' net worth using rice grains. In the video, Yang made a single grain of rice representing $100,000, an intelligent move considering that he would need a field otherwise.

Ten grains of rice made $1 million, followed by measuring out $1 billion by counting out a whopping 10,000 grains of rice by hand. As simple it may sound, he spent a painful 11 hours and some more counting the grains of rice by hand. "Once I had that 10,000 grains of rice counted out I knew how much it weighed," Yang told Mashable in an email. "Then [I] multiplied it out to figure that Jeff Bezos' approximate net worth was around 58 pounds of rice." The quick-cut clip showed Yang buying a scale and shopping for huge bags of rice at Costco to represent Bezos' fortune.

Thanks to Yang's method, we know the Amazon co-founder with a net worth of $122 billion equals 58 lbs. of rice. As expected, netizens went into a frenzy. One Twitter user wrote, "My jaw dropped. Thank you for this visual perspective!" Another stated, "Gross. Not you or your analogies, the disproportionate wealth."

He may be standing atop a mountain of rice (read: wealth), but Bezos reached out to his now billionaire parents, Jacklyn and Miguel, for financial help. His parents skeptically loaned Jeff $245,000 in 1995 to start Amazon.com. They heaved more than a sigh of relief as by 2020, he had transformed Amazon into a $1 trillion company. Not only Jeff Bezos but his parents became billionaires with their stake worth more than $30 billion. That rice mountain also shed light on why it made complete sense for centibillionaire Bezos to retire in 2021.

After decades of work, the businessman is now enjoying the good life in the arms of his fiancé, Lauren Sanchez, aboard their $500 million sailing yacht Koru without a care in the world.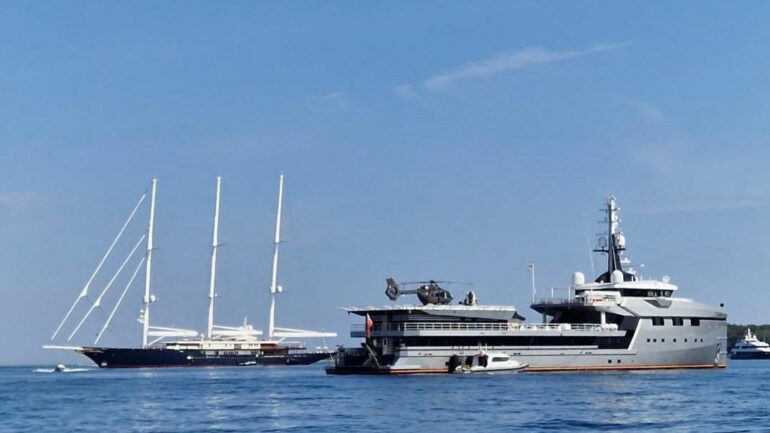 If we were to represent the value of his fleet as grains of rice, the Koru sailing yacht would equate to 5,000 grains, and its support vessel, the Abeona—which serves as a helipad for Lauren Sanchez would equate to 750 grains. Once again, one grain of rice is worth $100,000. The duo has been soaking in the Mediterranean sun for months together. They are joined by family and famous friends like Bill Gates, Oprah, Kris Jenner, and more.
Note – At the time this TikTok video was made, Jeff Bezos was worth $122 billion. As of writing this article, according to Forbes, the Amazon founder's net worth has increased to $152 billion. So, if we were to convert this amount, his net worth would now be equivalent to 72 lbs. of rice.