Kylie Jenner was once upon a time the world's youngest self-made billionaire. While the self-made angle is debatable and the billionaire status is dwindling, her ultra-luxurious lifestyle is a constant. A massive part of the high-flying lifestyle is a $73 million private jet. Clearly, several classes apart, the grandeur of the Kardashian-Jenner family can put their counterparts to shame. Making traveling first-class look second-rate is the mind-blowing menu on board the makeup mogul's private jet. Momager Kris Jenner shared a decadent seven-course menu onboard 'Kylie Air' that listed mouth-watering delicacies like roasted tomato bisque, lentil soup, and spinach ravioli with butter sage pesto.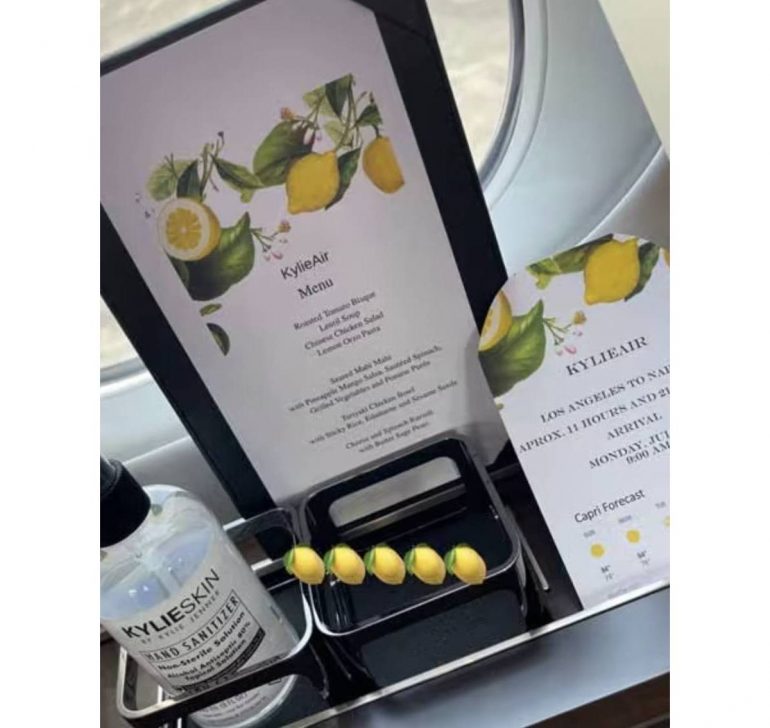 Kylie Air also offered the Kardashian-clan favorite Chinese chicken salad, seared Mahi Mahi with pineapple mango salsa, sauteed spinach, grilled vegetables, and pomme puree. The benefits of being a billionaire (or nearly one) don't end with lip-smacking food. The benefits indeed never cease to impress, and Kylie Air flaunts a plethora of amenities like an entertainment room, master suite, massive closet, and pink mood lighting. Comfort is taken care of by including plush white seating, pink blankets, custom KylieSkin pillows, and cozy sleepers for long flights.

There are enough reminders that the stunning aircraft belongs to Kylie Jenner (personalized details on coasters, décor, and KylieSkin emblazoned across the side of the plane). Yet, some striking inclusions remain unchanged; case in point, Hermes blankets draped over each chair to keep passengers cozy and impressed.