Naomi Biden is the 27-year-old grand daughter of America's 46th President Joe Biden. She is the oldest child of Joe's son Hunter and has started garnering attention for all the right reasons. From her political views, her unflappable support for her pop, aka Joe Biden, her unwavering love for her family, Naomi surely comes across as someone with deep-rooted family values.



Growing up in a tight-knit family, the oldest grandchild of President Joe Biden and First Lady Dr. Jill Biden is now becoming her person. She is the most public of the Biden grandchildren, and we are here to tell you her lesser-told tale:

Early life
Naomi Biden's parents are Hunter Biden and his first wife, Kathleen. She is named after Hunter and Beau's sister, Naomi, who unfortunately was killed in a car crash. Born in December 1993, Naomi grew up in a loving atmosphere where the value of family was emphasized, and that's evident in her closeness to her siblings and cousins. Naomi is the oldest of five children, Finnegan, Maisy, and Beau. During President Biden's inauguration in January, the Biden grandkids displayed their close-knit bond as they showed up together in full support. Naomi considers Natalie Biden, daughter of the late Beau Biden, her 'mini-me.'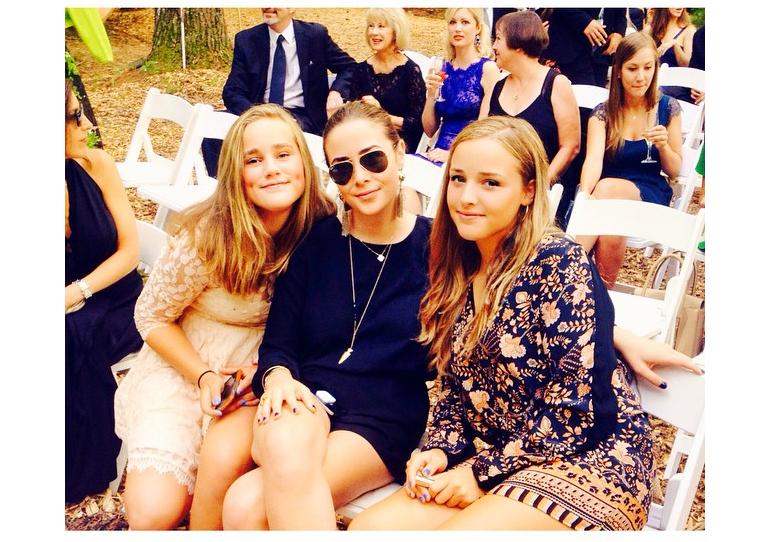 She often posts throwback photos of her sisters Finnegan and Maisy and lets the world take a peek at their closeness. Naomi's father, Hunter Biden, was appointed to the department by President Bill Clinton and from 1998 to 2001 as a director in the Department of Commerce focusing on e-commerce policy issues. The kids grew up in a tony Washington, D.C. neighborhood as their father, Hunter Biden, strived to appoint himself as a D.C. player. According to Business Insider, Hunter Biden's confessed his salary barely covered the family's house, the children's schooling, and living expenses that kept them in pace with high D.C. society.

It is noteworthy that despite her parents' divorce, Naomi is still fiercely protective of her father, accepting the harsh reality that he was dating Hallie Biden, Beau's widow. That can't be easy on anyone. The Biden family has witnessed a lot of tragedy, and Naomi, the oldest grandchild, was obviously in the know of things. Through thick and thin, the siblings and cousins have been a support system for each other, and this is evident through her Instagram post, 'Anyone who wants to get to @joebiden, will have to get past us first. A solid unit indeed!

Education
Naomi is a lot like the other Biden boys, at least when it comes to her education. She followed her family tradition by pursuing a legal career. Grandfather Joe Biden graduated from Syracuse University College of Law; Her father, Hunter Biden, graduated from Yale Law School in 1996, and Naomi graduated from Ivy League, Columbia Law School in 2020. Naomi Biden attended the University of Pennsylvania, where she majored in international relations. After graduating, Naomi celebrated the milestone by honoring her uncle on social media. Heavy reports, Naomi shared, "How proud he'd be that I graduated from Columbia Law. And how annoyed he'd be when he found out I won't receive my degree in the mail until I return those two library books I can't find."

Career
After her graduation in May 2020, Naomi was set to join an international law firm, Arnold & Porter, according to The Washingtonian,. It was quite an accomplishment to be one of the 55 first-year associates joining the prestigious firm in January 2021. Whether she is currently working with the firm is not clear. As of now, Naomi is now based in New York. If she ever plans to move to D.C., there will surely be a big white house awaiting her arrival. Naomi has teamed up with her boyfriend Peter to create an online tool for people to check their CARES Act benefit eligibility. The agency called My CARES Act Benefits is a website that includes a quiz and calculator with links to professionals who might give pro bono help in claiming money granted by the CARES Act.

The love of her life
Naomi Biden is engaged to her longtime boyfriend Peter Neal. Peter proposed to Naomi over Labor Day weekend in September 2021 at Jackson Hole. From skillfully handling her personal life, building a professional career, and managing all the limelight that comes with being Joe Biden's granddaughter with elan, she is proving to be an efficient multi-tasker. Biden's fiance, Peter, was a fellow law student and is scheduled to get his J.D. in 2022. The newly engaged couple recently shared a photo taken in Jackson Hole, Wyoming, captioned, "Forever."

The couple was all smiles and basking in the warm sun with the rays shining brightly on her oval-shaped sparkler. Neals's parents run a small business in Jackson Hole. Peter first made an appearance on Naomi's Instagram feed in 2018. She captioned their image, 'The B A L L A D of J O H N & Y O K O. Eating chocolate cakes in a bag. The newspapers said She's gone to his head. They look just like two gurus in drag."

The couple has been going strong ever since. They have been spotted together on several important occasions, the most exemplary being Joe Biden's inauguration. Peter Neal too wished his lady love on the gram, he wrote, "Happy birthday to my partner in everything @naomibiden who is the most brilliant and beautiful best friend. She is more kind, loving, and thoughtful than the world deserves and we are all, and me in particular, lucky to get another trip around the sun with her."

Things started seeming serious when in August of 2019 when Naomi and Peter were seen visiting Peter's moms maternal home in Michigan. He posted yet another image, hugging Naomi outside the memorable home, 'Outside the house that my Mom and her family grew up in, and next to the tree that she broke her arm in in 1965."

Closeness to President Joe Biden aka Pop:
Being the oldest of seven grandkids, it is only natural Naomi is closest to Pop, and Nana, having had more time with them. The 78-year-old politician is a doting grandfather who ensures he communicates with them daily. "Every single day, I speak to all five of my grandkids. Either on the phone, or I text with them," Biden told Anderson Cooper during a March CNN town hall.

In an interview with Today before his inauguration on January 20, Naomi spoke about their close relationship with their grandfather. She explained why Joe and Jill Biden are called "Pop" and "Nana." She said, "They [Joe and Jill Biden] felt like they were really young grandparents because my dad [Hunter Biden] had me when he was 23. So they weren't ready to be called Grandma and Grandpa yet."

Naomi has accompanied Joe Biden in his political ventures even before his presidential tenure. She traveled with him on an official visit to China in August 2011 and New Zealand in July 2016, the NZ Herald reported. This early exposure to the world of politics explains her current passion for it.

She posted a heartwarming video on Presidents Day weekend playing a game of Mario Kart with the President of the United States. New York Post shared her Instagram story, "Secret service made an exception and allowed him to drive himself," she posted, linking to a short video of them playing the video games. "A little rusty, but he still won (barely)." This heartwarming image says it all.
Anyone who wants to get to @JoeBiden, will have to get past us first 💪⚡️👊😜

We may not look intimidating, but remember, our Nana is @DrBiden… pic.twitter.com/6R1zlpmy9p

— Naomi Biden (@NaomiBiden) October 22, 2020

She is fiercely protective of her family:
No one messes with Naomi's family, and she speaks her mind if they do. She defended her father on Twitter with a thread of personal tweets stating assertively how he has stood for his family as a rock. Naomi tweeted, 'Though the whole world knows his name, no one knows who he is. Here's a thread on my dad, Hunter Biden – free of charge to the taxpayers and free of the corrosive influence of power-at-all-costs politics. The truth of a man filled with love, integrity, and human struggles."
Someone give this man a hug https://t.co/krTvlnbMLo

— Naomi Biden (@NaomiBiden) February 17, 2021

Similarly, when Fox News correspondent Tucker Carlson took a dig at the relationship between Joe Biden and wife Jill Biden, granddaughter Naomi who typically refrains from interfering in his pop's political work, took matters into her own hands and killed it with kindness. The conservative host's criticism (that Joe and Jill's affection for one another was an elaborate PR hoax) met Naomi's sharp and smart retort. She gave it back with a good dose of sarcasm, "The Bidens' affection is totally real it's in no way part of a slick PR campaign devised by cynical consultants determined to hide the President's senility by misdirection. No, not at all. Their love is as real as climate change."
If two years ago we could have seen just two minutes of tonight—❤️ so proud, pop.

— Naomi Biden (@NaomiBiden) April 29, 2021

Naomi loves to Tweet
She is evidently an opinionated Twitter girl with as many as 315.6K followers, nearly double what she enjoys on Instagram, i.e.177k followers (but Twitter is where all the action takes place). To get a peek inside Naomi's heart, visit her Instagram handle. But to understand her sharp mind, head straight to Twitter. Among her pinned and most famous tweets is, Anyone who wants to get to @JoeBiden, will have to get past us first. We may not look intimidating, but remember, our Nana is @DrBiden….' She retweets the POTUS's tweets while talking about family, the importance of vaccinations, and our favorite, 'Proof I didn't just have a weird dream, Pop became the POTUS. Craziest part, though is he went straight to work after this photo was taken, and I just woke up from a week-long nap.'

She loves nature
The oldest of the Biden grandkids love traveling. she doesnt miss an opportunity to bask in nature and celebrated her graduation with a bike ride to Cape Henlopen State Park in Delaware. She shared on Instagram that it was her late uncle Beau Biden's favorite spot. In addition to trips made to Jackson Hole, Wyoming, to meet Peter Neal's family and get proposed, she has made some spectacular memories in exotic Italy.

The water baby has been spotted enjoying in East Hamptons New York, Nantucket Island, Big Sur California, and even snowy regions of Davos with the POTUS.
She indeed looks like a girl ready to take on the world!