Steve Jobs is celebrated across the world for his role in revolutionizing the technology industry. The Apple co-founder's passion for cars is also well-known, which was a not only significant aspect of his personal life but also inspired him to create some of the most revolutionary tech products. Be it his intense love for the Porsche 911 sports car or his exploiting a California legal loophole to avoid putting a license plate on his Mercedes-Benz SL55 AMG which he changed every six months, there are plenty of famous stories that highlight Jobs' fascination with cars. However, not a lot of people know that Jobs also had an affinity for motorbikes, especially in his early life – something that might have stayed hidden had the National Geographic magazine not done a profile on Silicon Valley and its young tech geniuses published in 1982. Titled "High Tech, High Risk, and High Life in Silicon Valley," Jobs was pictured riding his 1966 BMW R60/2 for the story.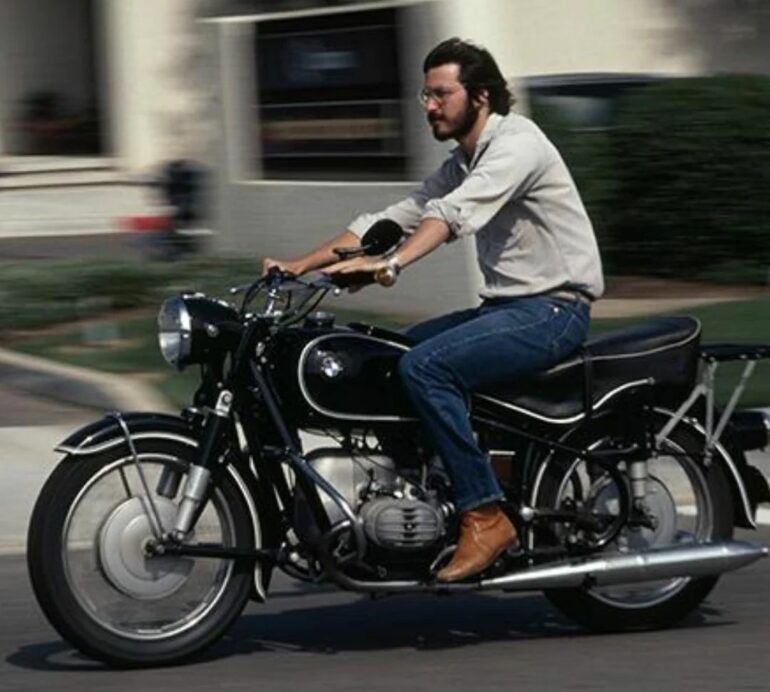 One of Jobs' friends is quoted in the article saying: "In plaid shirt and jeans, [Jobs] still prefers to drive his motorcycle to my place, sit around and drink wine, and talk about what we're going to do when we grow up." The photo depicts a young 27-year-old Steve Jobs riding the beautiful classic BMW motorbike, wearing a blue shirt and a pair of jeans along with brown ankle-length boots. With the wind in his hair, Jobs looks nothing short of the lead character in a Hollywood movie.

It's important to remember that the state of California didn't make it mandatory to wear a helmet while riding a motorcycle until 1992. There's also a video that appears to have been shot around the same time (the early 1980s) in which Jobs can be seen riding his prized two-wheeled BMW sporting a similar attire, except for wearing Adidas sneakers.

You must be wondering why wasn't Jobs seen or photographed riding his BMW motorbike after the early 1980s. Did he fall out of love for bikes as he grew older? Well, he absolutely did not! In fact, his BMW R60/2 became the source of inspiration for designing famous Apple products according to Walter Isaacson's biography of Jobs. In his book, Isaacson writes how Jobs kept his BMW motorcycle parked alongside a Bösendorfer piano in the lobby to be inspired by the obsession for craftsmanship and design. The probable reason why Jobs wasn't able to ride his motorcycle was the meteoric growth of his popularity. Riding a motorbike without a helmet in Silicon Valley for Jobs without grabbing too much attention must have become impossible, which might have forced him to stick to his Porsche in those days. Later on in his life, the Apple co-founder grew over-particular about traveling discreetly. He reportedly drove cars without license plates for the very same reason.

The BMW R60/2 is a classic motorcycle that holds a very special place in the history of BMW Motorrad. Produced between 1956 and 1969, this iconic two-wheeler is celebrated for its timeless design and robust engineering. A little more than 20,000 units of this machine were made by the German manufacturer, which was sold in three different iterations during its production cycle: R60(1956-60) 28hp, R60/2(1960-69) 30hp, and R60US (1968-69) 30hp. Except for the examples with the US designation, the two-wheeled machines were designed primarily as rugged motorcycles to pull sidecars with built-in mounting points. The models sold in America had high handlebars with a cross brace, setting them apart from the others. The RR60 features a 594cc, four-stroke, air-cooled, boxer-twin engine, which gave the motorbike its characteristic look. It's not known when Jobs bought his 1966 BMW R60/2; however, it was already more than a decade and a half old when he was pictured riding it.