If films like Catch Me If You Can had the same effect on you as they did me, make you want to pull a Leo and imitate airline crew, then the latest Vivienne Westwood deigned Virgin Atlantic uniforms absolutely call for reminiscing if not attempting this. For, true to the glamor that led to such temptations to begin with, the godmother of Punk has lent the new uniforms very 1940s French fashion renderings.



"Along with her team, she creates intelligently cut, beautiful tailoring that makes both men and women feel confident and at their best," an airline representative was quoted saying. And pictures confirm. With high collared, nipped-in-the-waist jackets on ruffle-front blouses for women and three-piece suits in a deep burgundy Oxford weave wool for men, the reimagined outfits are nothing short of modern sophistication.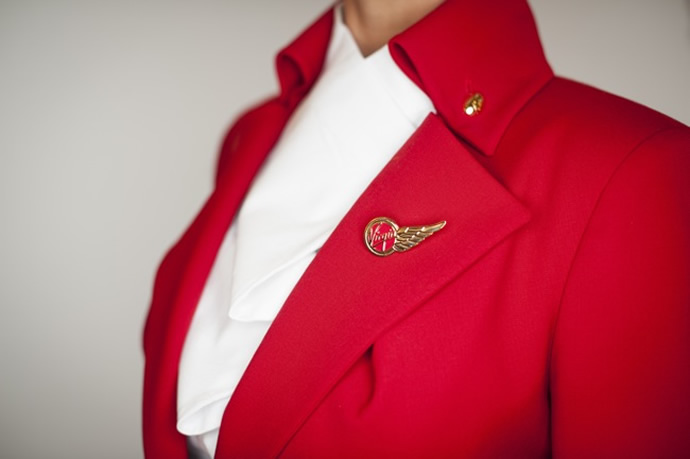 What we're especially loving though is that red double-breasted overcoat, a handbag, and hourglass heels (offered in three heights) complete the stewardess' ensemble. While men get an au courant slim cut option in trousers although regular fit is also available. They also get a classic Oxford shoe in matte black leather and ties in jacquard fabric. And many items in the new uniforms are born out of sustainable materials.
If you're wondering when you could actually get up close, the upgrade, consisting of 22 pieces in total will be making its way to more than 7,500 staff and then on-board Sept. 1. Meanwhile, stars such as Mark Ronson, Matt Smith and Bond girl Naomi Harris got a good look in London on July 1st when Westwood unveiled her red hot pieces in the company of Sir Richard Branson. And Branson articulated about the pieces in his signature style, "extremely glamorous".
[Via – Telegraph]