Hermes has done what no other label could, given competition to its own Birkin-Kelly legacy. And with a modern twist at that! The world-renowned luxury label has released its unique new range of "for day" bags that contain silk or canvas or even calfskin but most of all a charismatic character that would enhance not just your everyday look but add to your personality, whatever the mood.



Soie-Cool
Combining the iconic Hermes scarf with leather and giving us the sac de luxe is the Carre en cravats Soie-Cool. This print powerhouse is made with silk and fire ever color calfskin with a woven silk strong shoulder and hand strap and practical palladium metal strap loops. Sure to become a classic, the Soie-cool is the ultimate in carryall-chic and is priced at $2,050.

Cabag
The latest Cabag from the house of Hermes is an amalgam of a simplistic silhouette and Parisian elegance. With Tosca pink and taupe canvas options, the tote made with natural hunter calfskin
is a double-handled day bag option, which can make any plain outfit pop or the opposite, soothe a print-heavy look. Carry-able by hand or on the shoulder, this perfect pairing-for-all accessory also features press-studs on the side to adjust its width and comes for $1,725.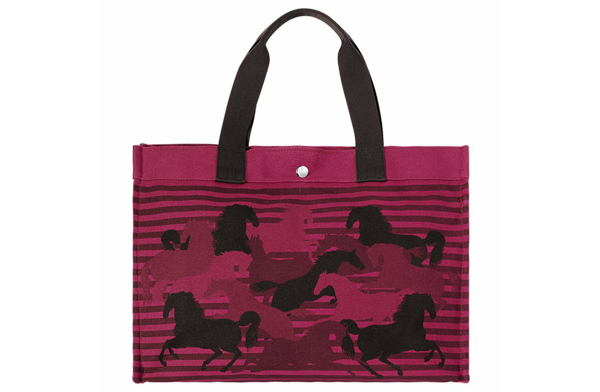 Chevaux en camouflage
As the name suggests, the beach bag boasts of a flamboyant display of cheval-s, aka horses in camouflage. One of the rare few to pack in a punch, this 100% printed dip dye cotton canvas carryall exudes 100% chic. It can be scooped up for $1,225 to un-camouflage your inner mermaid by any pool or beach.

Clou de Selle
Eeeeee! The Hermes Clou de Selle is the ultimate in Kiwi vibrancy. The perforated pouch screams "happy" and thus, would happily perk up any dull moment. If you want to get attention off of that bad-hair day, snag this show stealer for $1,075.

Double Sens
Now for $3,650, you can own not one but two Hermes merchandise. Well, almost. The latest Double Sens is a reversible tote
in taurillon (bull) clemence calfskin. The double-duty holdall comes in an array of attractive combinations, such as a Graphite/Electric Blue, and is the perfect purchase for modern-day fashionistas on the go.