Yes we can-vas, seems to be the mantra at the Louis Vuitton maison. The fashion house seems to be on a spree of revamping Cabas in canvas. Ask me more about the collection and I'll tell you this- it is inspired from Slim Aaron's photographs of 60's jetsetters. "Photographing attractive people doing attractive things in attractive places," was Aaron's statement. Now, scroll below and find your sorbet spewing summer selection.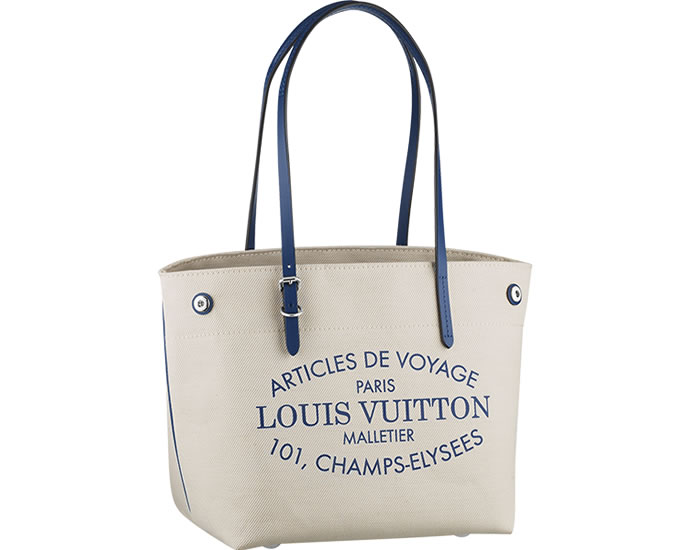 Starting with the Saphir strapped and emblazoned, cotton/ linen Cabas PM ($1,520), Louis Vuitton gets it right by bringing compactness in the form of lightweight cotton and linen. Also available in Corail, the bag features palladium metallic hardware and adjustable Epi leather handles besides being lined with Summer 2014's tropical flower print. Demonstrating the same "Articles de Voyage" charm comes the Cabas MM ($1,750).

Like the PM, it too includes palladium metallic hardware pieces, 2 press buttons on each side that can alter the bag's shape and hook closure to secure belongings. As well as flower printed cotton textile lining that matches the colored trimmings. And speaking of, unlike the PM, the daily use-friendly MM boasts a lovely Lilas besides Corail and Saphir, something you might miss in the third variant, which also bears the heritage Articles de Voyage signature and is your canvas toting beach friend.

Despite its large size, the Cabas GM ($1,970) doesn't skip the interior zipped and double smartphone pockets and protective bottom studs. Being only available in Coral though, it does miss out on color options. Our favorite? The Damier Azur! It replaces the festival of perfect pastels and sweet sorbets with Riviera like cowhide accents. Available in two sizes, a petite PM ($1,520) and an ample-sized MM ($1,750), it can be found at Louis Vuitton stores along with the rest of the collection.