Making the already iconic Champs-Elysées in Paris even better is a new Montblanc boutique. Not only is it an excellent edifice but also a refreshing way of experiencing the brand owing to multiple elegantly designed spaces. Dubbed Montblanc Suite 4810 Paris, the structure is impressive from first sight, featuring the design of a Montblanc nib and a mosaic on the floor. Per the press release, the number 4810 is significant as the height of the Montblanc in meters at the time the Montblanc brand came into existence over 115 years ago. The impressive lobby opens with an immediate reminder of the iconic Meisterstück writing instrument.



The Ink Bar is a charming and inviting addition that acts as a space for artistic and creative expression where customers can try out the Montblanc nib selection and inks of many different colors. Next comes the concierge, aka the soul that unveils the Montblanc universe covering everything from product categories to the latest capsule collections. Making matters memorable is an expert on hand to personalize accessories, paint on leather or even advise on writing techniques and calligraphy. A horological match for the Ink Bar awaits in the form of a Watch Bar, the most fabulous time-telling table with Montblanc timepieces displayed for customers to try on. Yes, at Montblanc Suite 4810 martinis are for lesser mortals! Montblanc is a leader where leather goods are concerned, which is why the entire room with art deco influences showcases large leather goods on shelves and small ones in marble drawers.

Plus, there's enough room here to test-drive roller suitcases. The highlight of the exceptional suite/boutique is up the elevator from the lobby to the Salon of Montblanc Suite 4810 to get a closer look at extraordinary pieces from the Montblanc collection. Inside the Treasure Room, a bank vault features several small chests on the walls housing rare and high artistry writing editions. In this intimate setting, guests can experience the brand's rich history spanning over a century with one-of-a-kind pieces from the archive room at Montblanc Haus in Hamburg.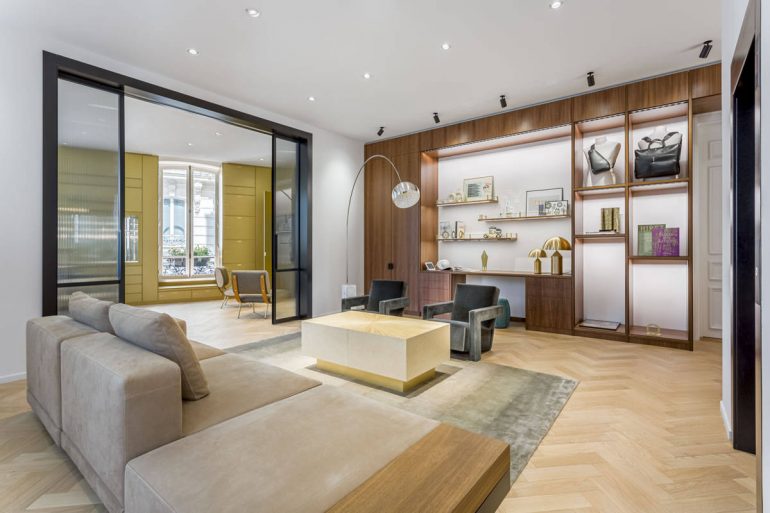 "Montblanc is enriching its omnichannel offering that perfectly complements our overall retail experience. We are taking luxury customers to the heart of our Brand universe, bringing our stories and products even closer to them in a personalized way. At the intersection of hospitality and retail, Montblanc Suite 4810 Paris has the multi-functional characteristics of a luxury boutique hotel full of unexpected elements to surprise and delight our guests, inspiring them to keep 'coming home' to a warm and welcoming destination," says Nicolas Baretzki, Montblanc CEO.