Never before has the idiom 'When it rains, it pours' made as much sense as now. And if the torrential rains are coming our way we are going to be nothing less than prepared and very stylishly so. Investing in a good umbrella can do you a great good for a long time to come. the rainy days are here to stay and you don't want to end up with an overturned umbrella which in all likeliness will happen if it's bought from a corner store just based on cuteness. So here are 5 fantastic picks of fashion-forward umbrellas that will serve you for decades pretty much like that expensive timepiece on your wrist-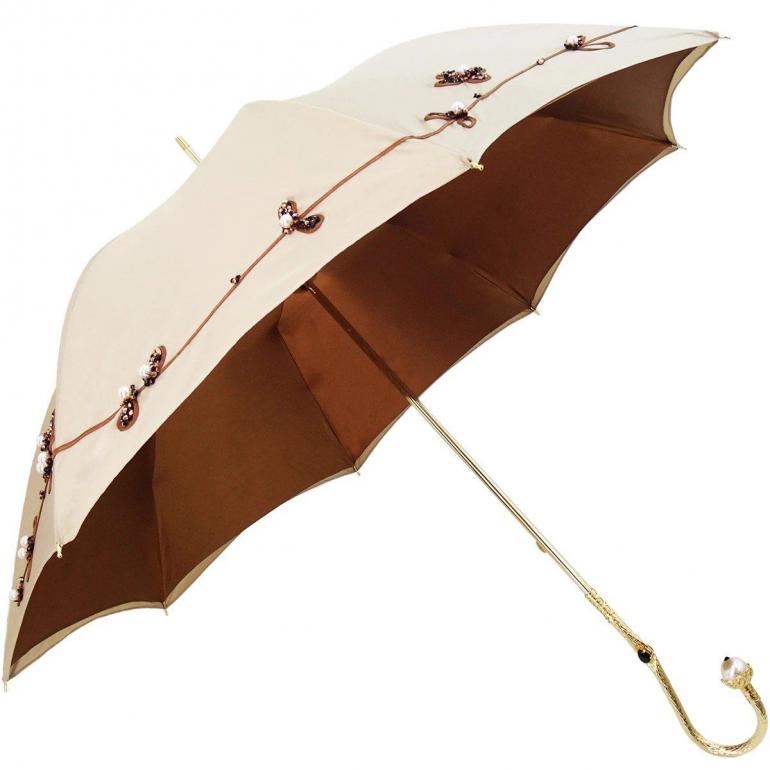 5. Il Marchesato, $380
Can you imagine anything more regal than holding a silk umbrella, embellished with hand-sewn pearls, a sparkling gold handle embedded with jewels perched in your delicate hands as you sashay down looking like an absolute vision? This luxurious double cloth umbrella for women is executed in satin with a handcrafted bejeweled handle covered in 24K gold. Got to confess, never seen an umbrella this gorgeous, have you? This stunning Il Marchesato beauty measures 95cm (36.6in) in length with a diameter measuring 102cm (40.2in).
[Available at: Il Marchesato]

4. Pasotti, $385
This iconic Italian brand has made a name for itself in masterfully handcrafted home accessories and umbrellas. Their latest offering is a besotting black men's umbrella with a luxury red gem handle. If your knight in shining armor ever needed an umbrella to combat relentless rains, this would be the one. This Pasotti umbrella is made of 100% polyester featuring an enchanting red gem and Swarovski crystals handle. It measures 95cm in length with a 110cm diameter. Hand-made in Italy.
[Available at: Pasotti Ombrelli]

3. Fendi floral print umbrella, $600
Watch this floral Fendi umbrella rise to the occasion of brightening up your dull days or even blooming attractively under the scorching sun. It's the perfect accessory to strut around with; a companion that will get you the nod of approval from passerby's. The Fendi umbrella is made of 100% nylon features a floral print, a folding design, and a matching zipped pouch. It is made in Italy.
[Available at: Farfetch]

2. The Brigg Malacca Flask, $1100
This luxurious Brigg umbrella design comes handcrafted from two pieces of wood. It's a beauty that features a Malacca cane two-piece handle with a fitted screw-in drinking flask. The umbrella canopy is available in two variants, silk or nylon though the traditional black silk version will cost you an additional $420. A choice of 25″ or 27″ rib frame of high tensile strength can be made and the canopy comes in a plethora of wonderful colors like lime, green, red, navy, yellow, etc. The overall length of a 25″ from the curve of the top of the handle, down to the tip is 35.5″ while of a 27″ from the curve of the top of the handle and down to the tip is 38″.
[Available at: Swaine Adeney Brigg]

1. Discord Yohji Yamamoto, $1900
Nothing to brighten up a gloomy rainy day than a sprightly pink umbrella by Discord Yohji Yamamoto. The wood weave structure umbrella features a waterproof design along with an embroidered logo to the front and a straight handle. It comes in one size for all and offers another peppy purple option to its customers.
[Available at: Farfetch]