Famous French fashion houses legacy made them some of the most sophisticated luxury brands of the present. Easily recognisable by their elegant style, these houses are characterised by their remarkable know-how, respect of traditions and great craftsmanship. Their creative directors always excel at designing beautiful pieces and one of the most renowned and coveted brand name is Louis Vuitton.

Opening his original atelier in Asnières – France – in 1859, Louis Vuitton is among the world's most legendary and successful houses. The Monogram was created by Louis Vuitton's son, George, in 1896 in honour of his late father. The House famous signature style instantly became an icon. Most of Louis Vuitton's handbags, being the perfect balance between craftsmanship, art and design, became a cult. The House most iconic pieces are known to be the Speedy Bags and The Neverfull Bags. Each season Louis Vuitton produces rare, limited edition bags, maintaining the prestigious image and grandeur of the French House. To celebrate Louis Vuitton's splendour, we have chosen six of the House cult pieces shown below in signature Monogram canvas as well as the elegant Chaine Louise clutch, our favoured one being the legendary Speedy Bag.

Louis Vuitton Speedy 30 Monogram
Launched in the 1930's, Louis Vuitton Speedy chic monogrammed bags became a worldwide icon and legend in the 1960's when Audrey Hepburn was touting them around town or across the globe. She loved her Speedy Bags so much that she made a special request to Louis Vuitton, asking them for an even smaller version to be created especially for her. Louis Vuitton of course obliged Audrey Hepburn's request and created the "Speedy 25" that became her signature bag. An icon of our times, this elegant hand carry city bag is a must have modern life accessory, for getting around town carrying all the essentials. The Speedy Bag rounded and generous shape reveals a very spacious interior and features rounded handles and trimmings in natural cowhide leather as well as zip closure and padlock. The simple lines and chic Monogram canvas of the iconic Louis Vuitton design immediately appeal to women with an eye for fashion.

Louis Vuitton Neverfull Monogram
The Neverfull Bag is also known to be one of the House most iconic handbags. In honour of its timeless and beautiful design, Louis Vuitton has unveiled a new version of this sought after bag, redesigning its interior with a fresh textile lining and heritage details inspired by House archive. Featuring natural cowhide leather trim and shiny golden brass hardware, the Neverfull Bag is characterised by its glamorous removable zippered clutch with matching interior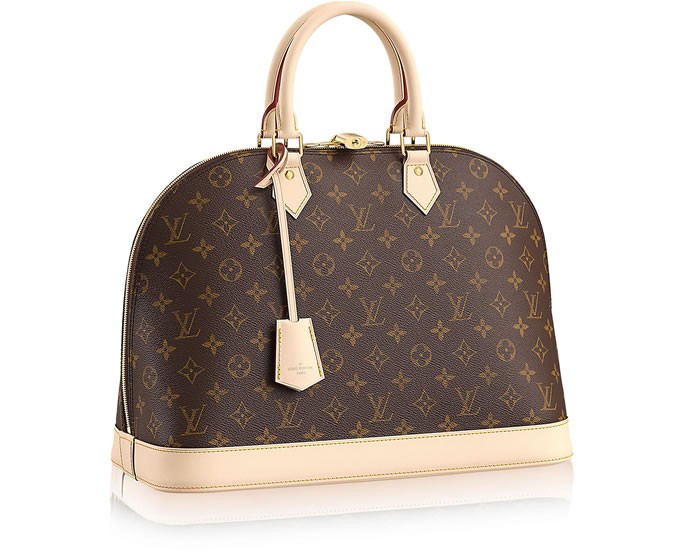 Louis Vuitton Alma Monogram
Named after the Alma bridge over the river Seine in Paris, the Alma Bag was originally designed in the 1930s by Gaston-Louis Vuitton. Characterised by its original shape and structured design, The Alma Bag is the perfect reflection of the Parisian elegance and lifestyle. Designed for contemporary women, this hand carry bag features two-way zipper with padlock, natural cowhide leather key bell and trim and protective bottom studs.

Louis Vuitton Lockit Monogram
The Lockit Bag perfect size and beautifully designed shape is an archetypal must have accessory. This modern and feminine classic bag, in Monogram canvas, instantly adds up chic to any outfit. It comes with natural cowhide trimmings including key holder, Louis Vuitton engraved padlock and toron handles.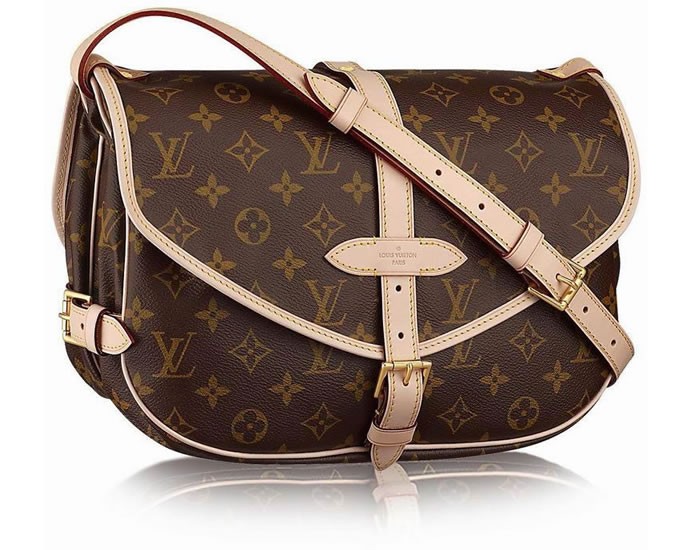 Louis Vuitton Saumur Monogram
The Saumur Bag timeless and classic design is the reflection of the House of Louis Vuitton's style and elegance. This bag features adjustable cross-body strap with shoulder pad and two compartments with secure adjustable closure as well as shiny golden brass hardware.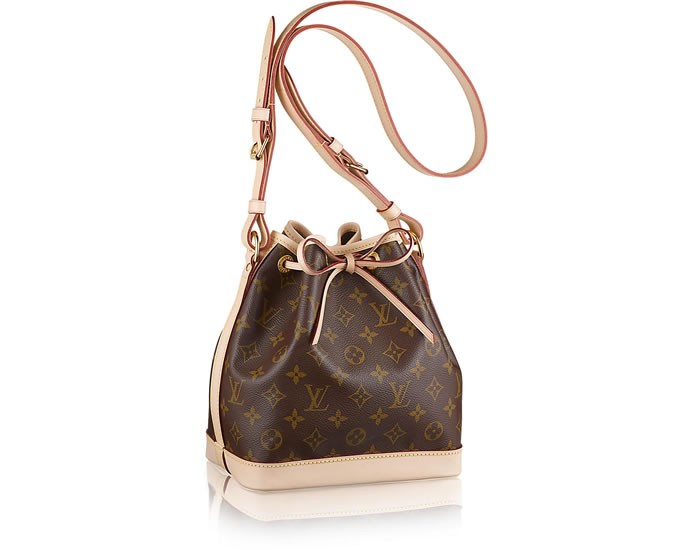 Louis Vuitton Noe Monogram
The Noé Bag, another House classic, was created by Gaston-Louis Vuitton in 1932 when a Champagne producer asked him to develop a strong and stylish bag in which he could carry some bottles. This supple pleated shape bag is characterised by its extra strong adjustable cross-body strap with buckle in natural cowhide leather and signature leather strap closure. The Noé bag is instantly recognisable by its stylish and charming design.

Louis Vuitton Chain Louise
The Chain Louise clutch Bag is the epitome of a minimalist and elegant design. Its iconic LV initials clasp adds up a perfect touch of allure and sophistication. Carried as a clutch in the hand or on the shoulder with its beautiful golden chain, the Chain Louise stunning design will enhance any day or evening occasion.
By Albane Chevallier-Chantepie, Carmin Luxury Handbags' designer.
Having spent several years in the corporate world, French born and London based Albane Chevallier-Chantepie decided to use her skills to develop her passion for design and, in 2013, she created Carmin fashion label. Carmin Luxury Handbags designs timeless yet thoroughly modern pieces made in a French workshop recognised for its remarkable know-how, respect of traditions and quality of work.
The aesthetic and artistic environment of her upbringing and her classical French heritage gave her a natural love of beauty and influenced her work.
As a designer, she wanted to achieve with these handbags what a modern and elegant woman would want. Carmin handbags are created for women who love style, quality and great craftsmanship.
She believes the future of luxury is about aesthetic, artisanship and personalisation. She loves the idea that a woman's handbag, being the reflection of herself and hiding her most valuable treasures and secrets, should be unique.
The opinions expressed in this article are ours.