Following the Apple Watch news is a fascinating experience. It was just yesterday that we found out that it was very possible Apple would need at least 30% of the world's gold production to manufacture the 18K gold iteration of the device. That's a pretty scary number and so thankfully, when luxury and couture product design companies, like Brikk, decide to craft and sell their own special edition gold and bejewelled Apple Watches, they do it in a very limited quantity.


Brikk announced that they intend to sell a line of 30 luxury models of the watch that, according to them would offer "unmatched opulence to an exclusive clientele worldwide." The Lux Watches, as they're called, will be available in the most ostentatious of forms possible; color options will range from 24-karat yellow gold, 18-karat pink gold, and 950 platinum along with other varying band options in three distinct editions – Standard, Deluxe, and Omni.
These uber expensive Lux Watches are, in fact Apple Watches that are essentially disassembled and repurposed with all the luxurious materials the company can find. All of this is done in a specially designed "state-of-the-art laboratory". The Standard edition (if that's even an appropriate term to use) comes with a single row of .50 carat diamonds and a leather strap. That's not so much bling as you'd expect.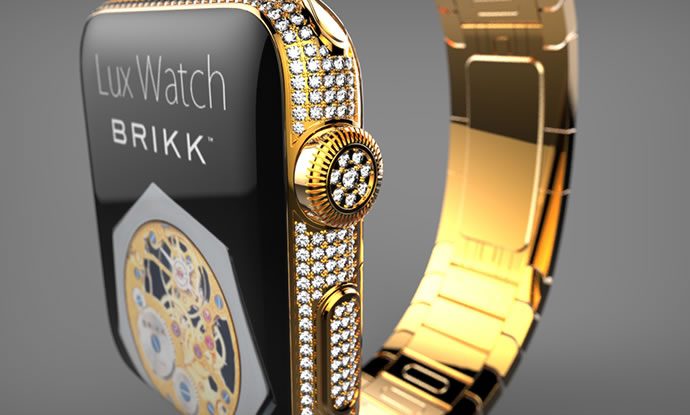 The Deluxe model will have multiple rows of 2.3 carat diamonds along with diamond encrusted buttons and a diamond studded clasp to make that leather strap really pop. Now there's some Bling!
And finally, the Lux Watch Omni, the top-of-the-line, King-of-the-heap edition, has a fully diamond-emblazoned case resulting in over 12 carats of jewels on the device. That's the kind of bling Hip-Hop stars are used to!
Each of these devices are hand polished, and before heading off for their final plating, in either two layers of gold or platinum (wow!), they're also plated with five layers of diverse metals. It's just one precious metal over another to ensure that you never (Ever! Ever!) question just how exclusive or lustrous a Lux Watch is. The high-quality diamonds are precision set using a microscope in a custom-machined bezel. And finally, after putting this incredible piece of luxury together, the watch is meticulously tested.
And now for the pricing – the Standard edition will be price at about $7,495 while the Deluxe comes in at $11,995 and a whopping $69,995 is what you'd pay for the ultra luxurious Omni model. Since the Lux Watches will be made available in two sizes – 38mm and 42mm, prices will vary depending on your preference. The Omni is, as of now (though I'm not sure for how long), the most expensive iteration of the Apple Watch, beating the Diamond Studded devicewe heard about awhile back that was to be priced at $30,000.
Brikk has also assured customers that each of these devices will ship with a Zero Halliburton aluminum case complete with carbon fiber interiors that will include a manual, a 1-year warranty, and a diamond-studded certificate of authenticity to top it all off. The Lux Watches are already available for pre-order and will require you to place a deposit ($10,000 for the Omni edition). They're expected to ship out to customers only after about a month (between 4-6 weeks to be precise) following Apple's official launch of the Apple Watch. The company has also very clearly stated that they will not be held responsible for any design changes that Apple might announce to the watch when it's launched.
[Brikk]