Gone are the days when simple four to six speaker home theatres were the "in". Now has emerged an era of ultimate home theatre experiences that are accumulating umpteen numbers of fans and followers. Elegant, high tech, and aweing home theatres experiences like: a pool side home theatre with a 130 inch display sans a screen, "Star Trek"-themed home theater with real props, Pirates of the Caribbean inspired home theater, Dark Knight themed custom home theater, among others have already created the stir necessary. The trend is catching on, and most luxury residents are on to including an elaborate home theatre experience. Here's one such unique and dynamic experience created and designed by custom electronics (CE) professional Jason Voorhees of Cantara in Costa Mesa, California and Laguna Beach-based home theatre designer Slayman Cinema that costs $3 million! Yes, $3 million it is! And it took four long years to finally reach completion on this huge project.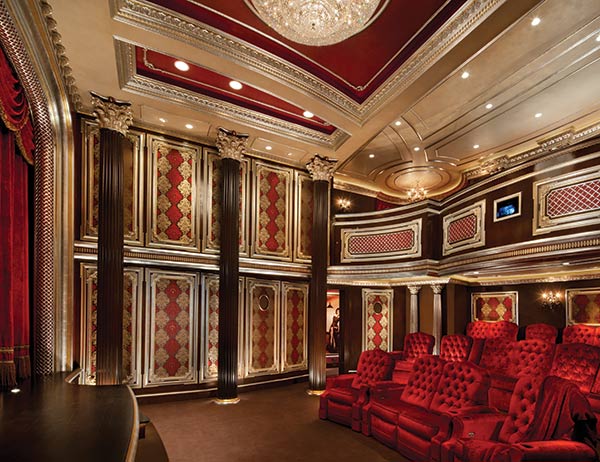 The inspiration for the theatre germ-ed from a simple piece of red fabric that materialized on to an additional 8,000sq.ft space, accompanied with equipment as sophisticated as Genelec. Along with the exquisite and lounge like designing that has been successfully applied to the room, acoustics also was a vital factor that needed to be taken care of. For that, the Cantara team consulted experts from Genelec, who recommended 13 reference-grade speakers and five subwoofers, providing a 8,400 watts of ear-splitting audio. However, the need for covering up the beefy speakers was a necessity, and this was achieved in conjunction with Slayman. The speakers were recessed into studs, "each in its prime location based on diligent speaker diagnostics."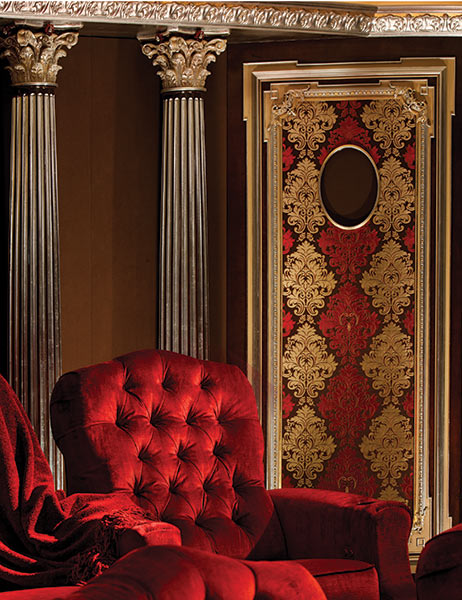 Even the fabric underwent special treatment, making it conducive to easily project sound from the speakers. Thus, small portholes were cut from the fabric, later covering these with decorative grilles.

Among other outstanding features of the home theatre is the CinemaScope screen in the room, which is an 18-foot-wide custom-built screen from Stewart Filmscreen, the fabric designed to allow free flow of sound through the screen.

Owning an 25,000sq,ft residence, the owners were quite adamant to own a big enough home theater, and now they are exclusive owners of an extravagant 45-seater theatre experience that's one in a million!
[Via – Electronic House]