On receiving an invitation to the unveiling of world-renowned, wine critic James Suckling's collaboration with Italian fashion house: Salvatore Ferragamo, I felt the same shred of excitement I believe anyone would have- such a momentous occasion, when titans of French glassware and masters of Italian leather fuse, inter-twine and allow their creative juices to flow without cease, transcend all boundaries of design and innovation.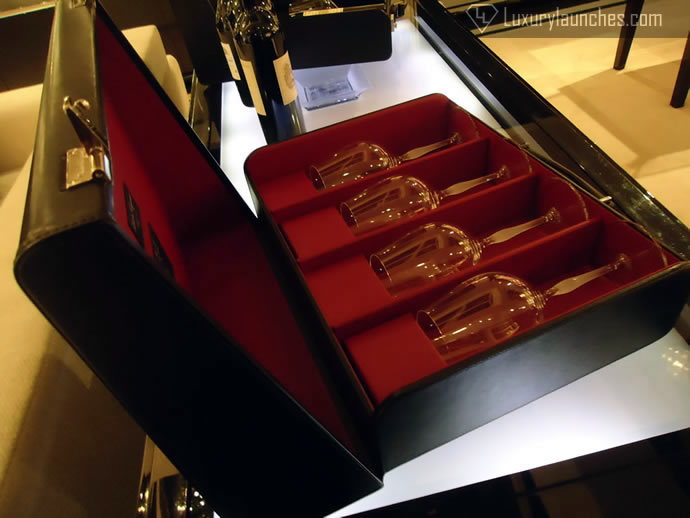 Embedded in the epitome of class- Mayfair's exclusive Conduit Street and hidden from the gaze of the impure, is the Lalique Boutique- which shares it's postcode with fashion and art institutions of a similar calibre (Namely Hermès and Burberry). Although I have known of the great boutique for quite some time, I do feel it is suspiciously under-marketed- a concept which I began to appreciate after seeing some of their collaborations, and one which I hope to discuss further.
The intricate world of wine tasting is one of great diversity, and the art of transcribing the seemingly decipherable code behind the variety of aromas and tastes has only been mastered by the few. Especially those who have dared to dedicate a substantial part of their lives to venturing around the globe, tasting, learning and conversing about the age-old phenomenon of alcoholic grape juices. One of these modern-day connoisseurs is James Suckling: a man who trots around the world with a briefcase containing a selection of artisanal Lalique wine glasses which would serve as the root of the inspiration for Suckling's collaboration with Salvatore Ferragamo: 100 Points.
100 Points, truly, is a piece that has reserved a space in modern design history- with it's sleek, woven texture that resembles carbon fibre it is still reminiscent of the large, box-like luggage containers that were once sold by Louis Vuitton and Hermès that bore a distinct presence and reflected the opulence that has always been inter-twined in the fundamentals of these like-minded fashion houses. Speaking with the C.E.O of Davidoff, the idea was proposed that the Italian Leather Case could have multiple purposes, such as an overnight bag as well as it's wine carrying capabilities. This was something James had also had touched on. The initial design of 100 Points incorporates the idea of removable compartments. This is beneficial considering that Lalique are working on a collaboration to try and introduce a Cigar Humidor into the case. Surely, then, it will be a flawless briefcase- there is much to be appreciated for those who find an enjoyment in Salvatore Ferragamo's sophisticated craftsmanship.
100 Points is, of course, a body of not only a briefcase, but Lalique's well-known French crystal glasses- but these ones are a completely new design. James made references to captivating the femininity behind French crystal. The stem of the glasses was actually redesigned- having been initially drafted with allusions to mermaids. One also cannot help but pick up on the religious connotations that come through this collection- perhaps because of the light references to neo-classical art. In fact, if I were to sum up this collection, I would say it was a very functional, neo-classical fusion of elegance and appreciation that was formulated to enhance one's drinking experience. It is apparent, indeed, that this collection with René Lalique's original vision primarily in mind, but incorporative of various other motifs that are embodied by the Lalique boutique.
Leather briefcase by salvatore ferragamo (red interior with 4 Universal glasses): £3,900.00
Leather briefcase, black edition to 100 pieces, by salvatore ferragamo with 2 Universal glasses and 2 bottles of wine: £5,900.00