Save some room for dessert as we present to you the 11 Most Outrageously Expensive Desserts. Drizzled with edible gold, dipping with diamonds or made from rare glaciers; these extravagant desserts are a perfect way to end a nice hearty meal. But how much are you willing to spend on the sweet treats?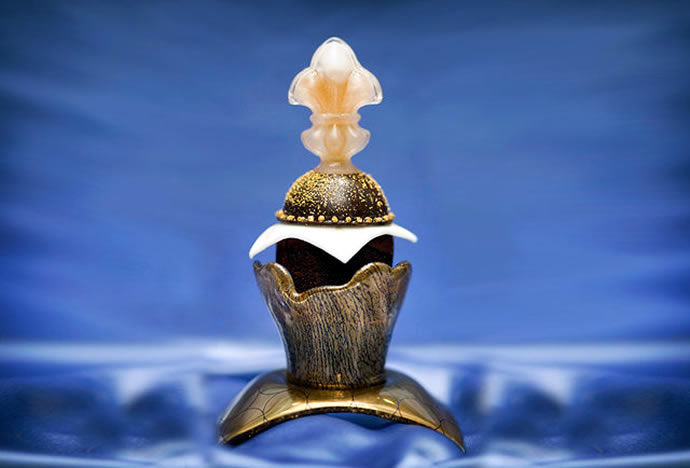 11. Cupcake – Sweet Surrender, Las Vegas ($750)
The Decadence D'Or on the menu at The Palazzo hotel's Sweet Surrender store means serious business. They are not just miniature-sized cakes with layers of butter cream. Crafted out of Venenzuelan chocolate, Tahitain vanilla butter cream, 100-year-old cognac and topped with edible gold frosting, the world's most expensive cupcake costs $750.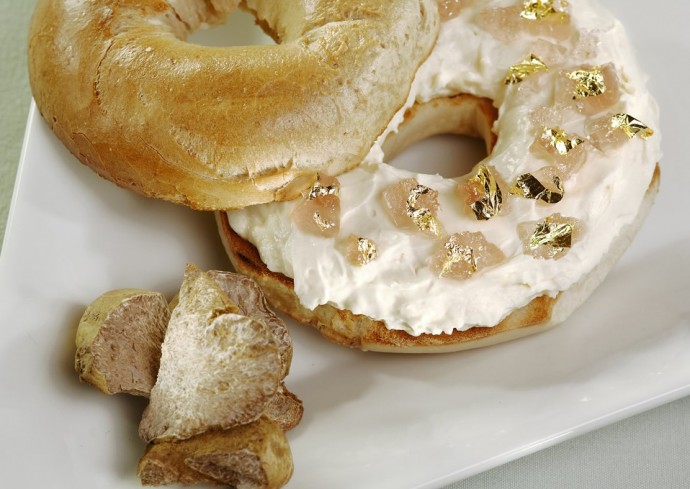 10. Bagel – Westin Hotel, New York ($1,000)
The Alba white truffle cream cheese bagel is the creation of chef Frank Tujague of The Westin New York hotel, and was designed in part to help raise funds for Les Amis d'Escoffier Scholarship, which provides scholarships to students of the culinary arts. The bagel is made with white truffle cream cheese and goji berry infused Riesling jelly with edible golden leaves. What makes this bagel so expensive is the use of Alba white truffles that are extremely rare.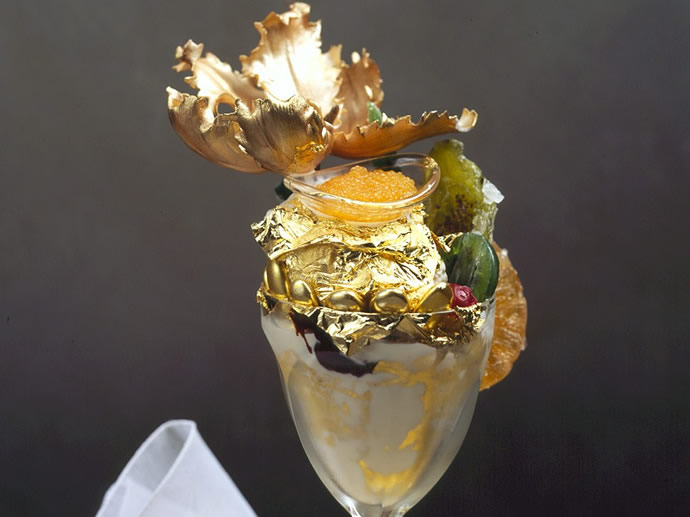 9. Golden Opulence Sundae- Serendipity 3, New York City ($1,000)
Serendipity 3's Golden Opulence Sundae is made from the finest Tahitian Vanilla ice cream infused with Madagascar Vanilla beans and chunks of rare Chuao chocolate from Venenzuela to intensify the flavor, the decadent dessert is then wrapped in 23-carat edible gold leaf. It is then drizzled with one of the world's most expensive chocolates, from Amedei Porcelana, and then adorned with candied fruits, gold covered almonds, chocolate truffles and marzipan cherries. This pricey sundae is served in a Baccarat Harcourt crystal goblet with an 18K gold spoon.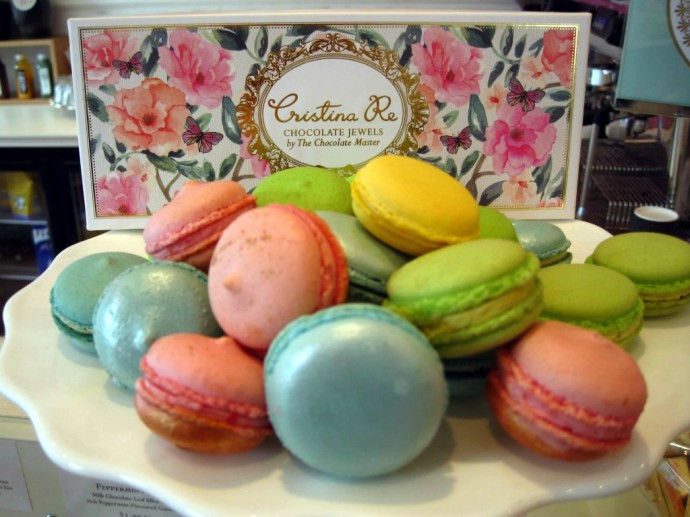 8. Macaroons – Haute Couture ($7,414)
Pierre Hermé, Parisian pastry chef offers customers a choice of ingredients such as balsamic vinegar, fleur de sel, red wine, peanut butter among others. Not all of the macaroons are this expensive, but depending upon the ingredients you could end up paying as much as $7,000.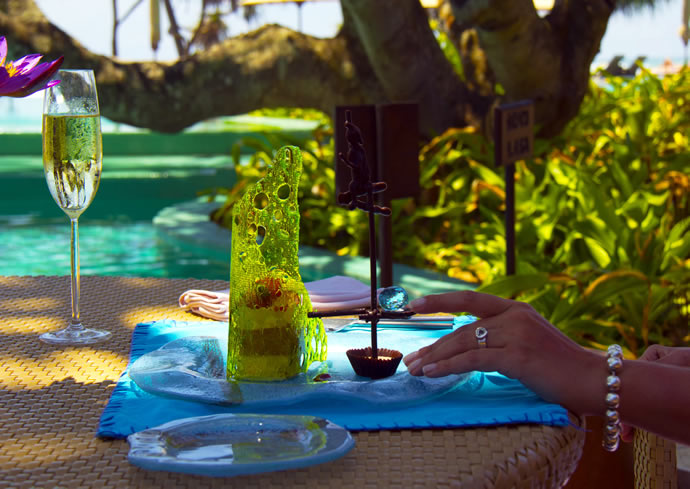 7. Fortress Stilt Fisherman Indulgence Dessert – The Fortress Resort & Spa, Sri Lanka ($14,500)
Fortress Stilt Fisherman Indulgence is a gold leaf Italian cassata, flavoured with Irish cream infused with tender fruit. It is served with a mango and pomegranate compote, and a bubbly-based Dom Perignon champagne sabayon, forming the base of this delicious dessert. It is decorated with a signature Fortress handmade chocolate carving in the shape of a local stilt fisherman clinging onto his stilt. A magnificent 80-carat Aquamarine stone adorns the dish. The Fortress was first unveiled at the Wine3 Fisherman Stilt restaurant in Sri Lanka.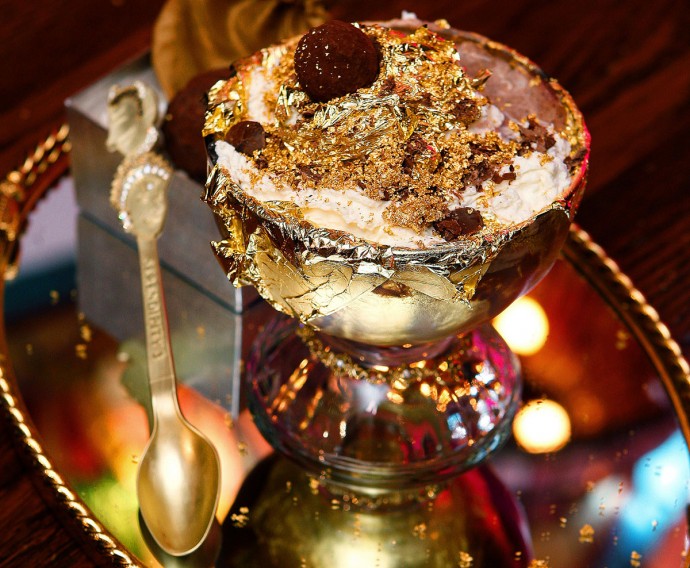 6. Frozen Haute Chocolate – Serendipity 3, New York City ($25,000)
Another Serendipity 3 dessert, the Frozen Haute Chocolate is a blend of 28 most expensive and exotic cocoas. It is infused with 5 grams of edible 23-karat gold and served in a goblet lined with edible gold. At the base of the goblet is an 18-karat gold bracelet with 1 carat of white diamonds. The sundae is topped with whipped cream covered with more gold and a side of La Madeline au Truffle from Knipschildt Chocolatier.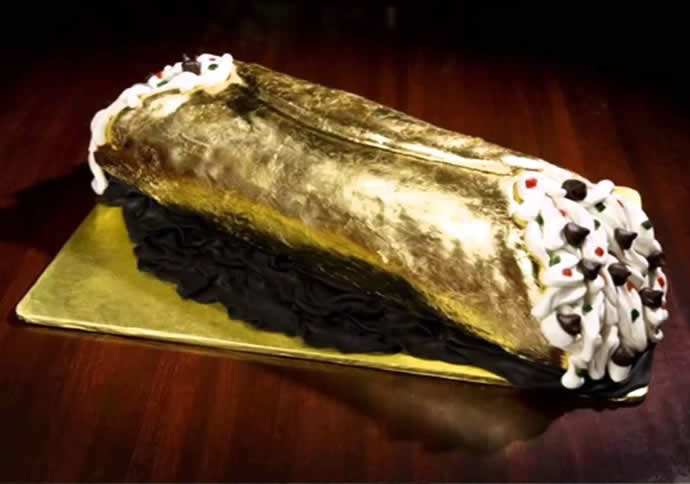 5. Golden Cannoli – Jasper Restaurant, Kansas City ($26,000)
Jasper Mirable, the chef/owner of Jasper's Restaurant teamed up with world famous Tivol Jewelers and the Sprinkled with Sugar bakery to display the most expensive cannoli ever made. The cannoli is made with whipped ricotta cheese (often with sweet cream) mixed with bits of chocolate, candied lemon and orange peel, and nuts all wrapped in an edible gold leaf.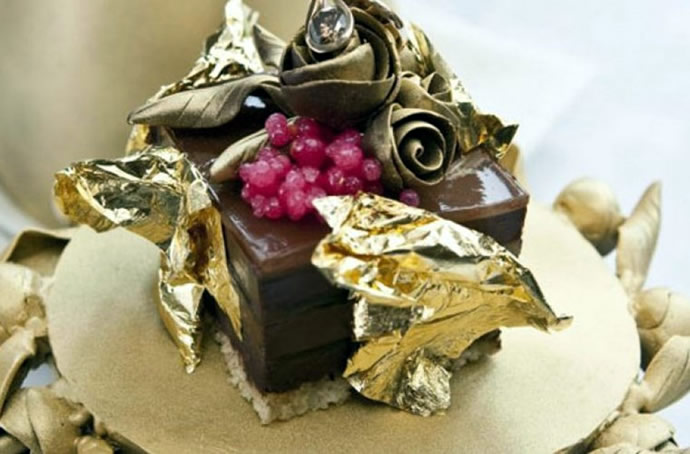 4. Chocolate Pudding – Lindeth Howe Country House Hotel, England ($35,000)
Chef Marc Guibert of Lindeth Howe Country House Hotel in England's Lake District made this pricey chocolate pudding from high-end chocolate, gold caviar topped with a two-carat diamond. It's made with four types of the finest Belgian chocolate and has to be ordered three weeks in advance.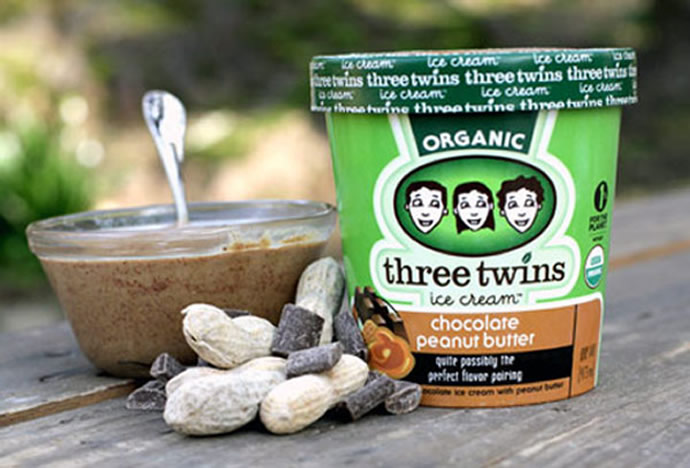 3. Ice Cream – Three Twins Ice Cream, Kilimanjaro ($60,000)
What makes this ice cream sundae so expensive is that it is made from the disappearing glacier from Mount Kilimanjaro in Tanzania, Africa. The sundae's price also includes first class airfare to Tanzania, five-star accommodations, a guided climb, as much ice cream as you can eat and a souvenir t-shirt made from organic cotton.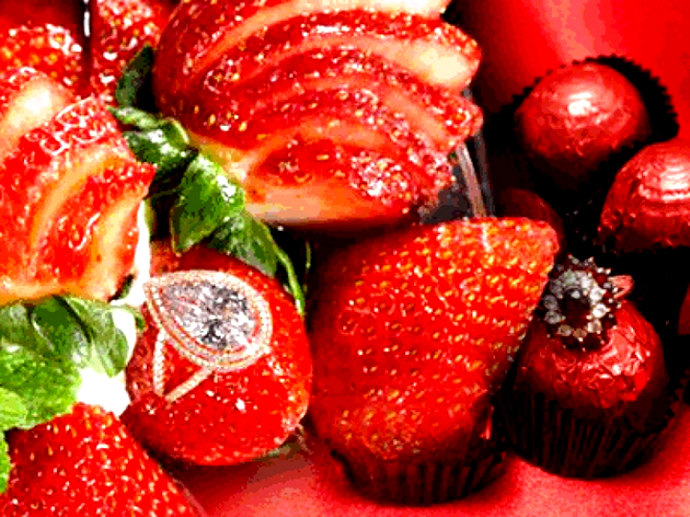 2. Strawberries Arnaud – Arnaud's, New Orleans ($1.4 million)
The New Orleans stalwart's dessert is a patented blend of bright-red red berries, vanilla ice cream, a port–red wine sauce, whipped cream, mint. It comes with a 5-carat diamond ring that once belonged to British financier and philanthropist Sir Ernest Cassel.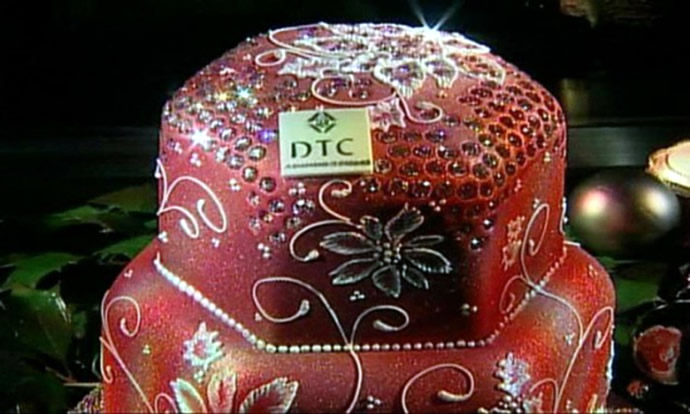 1. The Diamond Fruitcake ($1.65 million)
Yes, you read that right. The world's most expensive dessert costs a whopping $1.65 million. Japanese pastry chef Jeong Hong-yong created the bespoke cake that is studded with 223 diamonds. It took six months to develop and a whole month to convert it from an idea to the edible luxury cake that it is. All the other ingredients that went into this cake, besides the diamonds, remain unknown. It went on display in an exhibit called "Diamonds: Nature's Miracle" at Takashimaya Department Store and was put up for sale during Christmas in 2005.