Cool off in the summer heat by sampling the delights on offer at these seven elegantly themed tea parties at top Hong Kong and Macau hotels
No worries if you still haven't got an invitation for Alice's Mad Hatter's Tea Party in Wonderland, as seven equally wondrous places are offering stylishly themed afternoon tea sets this August and September.
1. Timothy Oulton x Mandarin Oriental: British afternoon tea with Timothy Oulton
The pop-up in the lounge of the Mandarin Oriental Hong Kong is the backdrop for afternoon tea with a British-inspired menu amid the surroundings of Timothy Oulton furniture. The brand prides itself on handcrafting traditional but modern British furniture in the quest to revive the lost art of hosting. Timothy Oulton offers guests a relaxing afternoon tea experience in the comfort of iconic furniture such as the Stonyhurst Chest, inspired by vintage luggage.
Price: HK$398 per person
Dates: Until August 21
2. The Mira: Mira-cle unicorn afternoon tea party
Here's a dreamy teatime to share with your cuties. The Mira Hong Kong is offering an adorable unicorn-themed tea party with a rainbow of colourful sweets and savouries handcrafted by its executive pastry chef Jean-Marc Gaucher. Treats include the unicorn cupcake and the mini unicorn pita pizza. What's more, there will be a giant unicorn to pose with.
Price: HK$578 for two
Dates: August 19 and August 25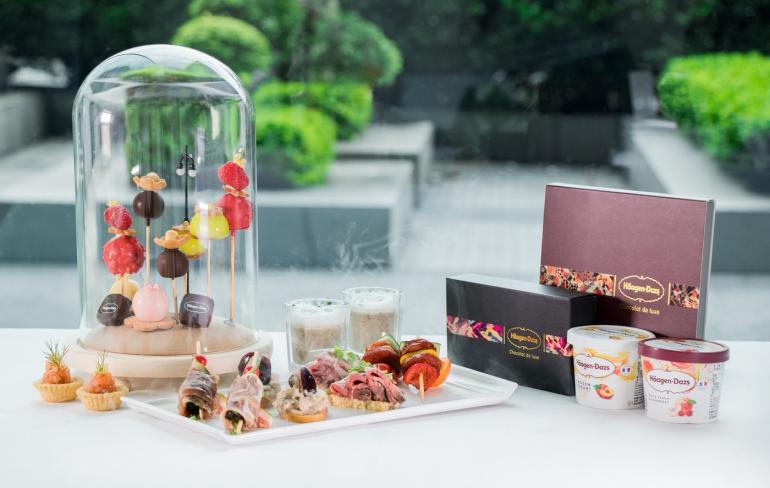 3. Häagen-Dazs x Hotel ICON: Summer chocolate paradise afternoon tea
Häagen-Dazs and Hotel ICON are teaming up to cool the city down with an ice cream and chocolate-themed tea set. The ice cream brand is introducing its new chocolat de luxe dessert collection, plus two brand new ice cream flavours – white peach & raspberry, and yellow peach frozen yoghurt. The set also features savoury dishes, and diners will have access to an unlimited supply of the brand's silky ice cream.
Price: HK$288 per person, or HK$546 for two
Dates: Until September 8
4. Moschino x Ritz-Carlton: Moschino afternoon tea
Joining forces with Italian luxury fashion house Moschino, Ritz-Carlton Hong Kong's executive pastry chef Richard Long is introducing a bunch of Italian flavours to the new afternoon tea set. Highlights include the layered crunch chocolate passion tart, featuring the fashion house's double question mark logo, and the gold fresh couture sweet treat inspired by the fragrance notes of the fashion brand's spray perfume.
Price: HK$428 per person, or HK$688 for two
Dates: Until September 16
5. Chivas Mizunara x Conrad: Chivas Mizunara afternoon tea
Conrad Hong Kong is introducing an afternoon tea set that features Japanese whisky Chivas Mizunara. Centred around the whisky, the tea set offers Japanese-inspired delicacies that highlight the liquor's flavour profile. Food selections include a teriyaki eel served like a burger with a squid ink bun, and a refreshing orange and honey cheesecake.
Price: HK$318 per person, or HK$518 for two
Dates: Until September 30
6. Guerlain x InterContinental: #190YEARSOFCREATION afternoon tea
To celebrate cosmetics house Guerlain's 190 years of creation, InterContinental Hong Kong has launched this sophisticated French tea set which is inspired by the defining ingredients the fashion house uses – rose, iris, vanilla, Tonka beans, bergamot and jasmine. Executive chef Maxime Luvara and executive pastry chef Christian Gonthier will prepare savoury and pastry dishes including crab meat with bouillabaisse, vol-au-vent and Bergamot-inspired mandarin jelly and soft meringue "Paris-Brest", served on a specially made Guerlain black box.
Price: HK$668 for two
Dates: August 15 to September 30
7. Chopard x Wynn: Chopard diamond afternoon tea
Inspired by the fine craftsmanship of high jeweller Chopard, executive pastry chef Yoann Mathy at Wynn Macau and Wynn Palace Cotai presents meticulously handcrafted desserts that honour some of Chopard's most illustrious creations like the diamond-studded Happy Sport collection. The jewel in the crown will be the Palme d'Or vanilla cheesecake, which pays tribute to the Cannes International Film Festival's most prestigious award, crafted by Chopard since 1998.
Price: 588 patacas for two
Dates: Until October 7
Note – This story was originally published on SCMP and has been republished on this website with permission.