The Moët & Chandon brand name has inspired everything from their very own Bar Boy to an Ice Imperial Boat. Now the color of the luxe bubbly finds its way to the Moët & Chandon vending machine. Installed as part of the holiday gift section at British department store Selfridges, the machine mimics the color of champagne. Looking luxurious in a metallic rose gold finish, it dispenses mini bottles of Moët & Chandon.

Gone are the days of canned soups and packaged sandwiches. Now, patrons in the "Destination Christmas" section of Selfridges's London store can watch a Moët & Chandon mini bottle pop out at the press of a button. That too is a limited edition specifically produced for Selfridges, with a green art-deco label bearing Swarovski crystal embellishments.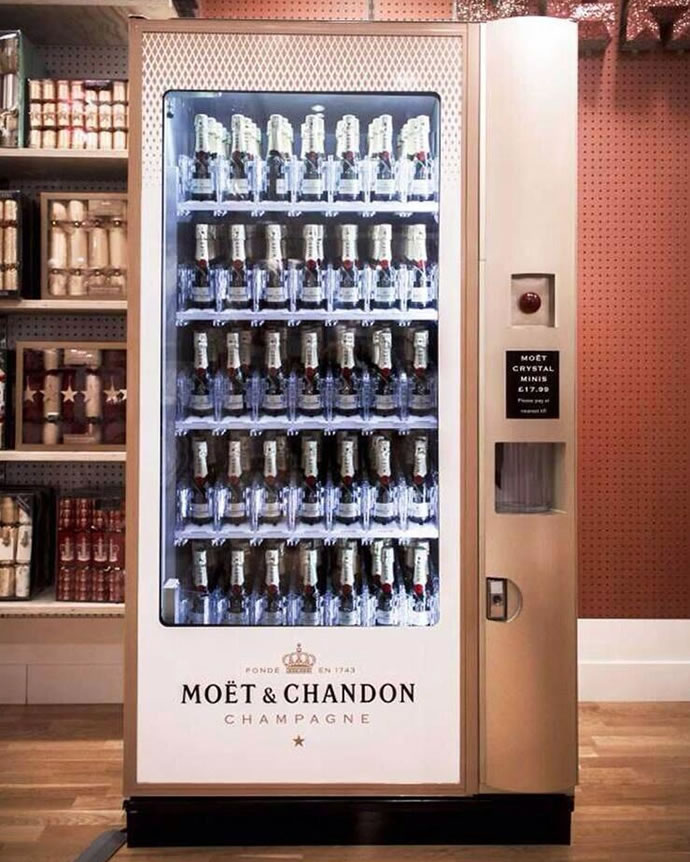 By putting its product out there in such an innovative way, the French brand makes itself more accessible and appealing to entry-level holiday shoppers. Besides that, social media is also abuzz with this latest move on the part of both the high-end names. Both Selfridges and Moët & Chandon witness large amounts of retweets and shares from their social media posts about the machine because of its bubble-icious novelty.
But while Selfridges is basking in all this bubbly glory, industry insiders suggest that the luxury spirit makers have another thing coming. "I think it will hurt the brand in the long run," said Al Ries, founder, and chairman of Ries & Ries, a Roswell, GA-based marketing strategy consultancy. "Champagne is expensive, and a vending machine connotes exactly the wrong perception," he said. "I can't imagine existing Moët & Chandon customers will be impressed with a vending machine selling Champagne.
"On the other hand, consumers who don't buy Champagne might be impressed to see it sold in a vending machine. And they are also likely to notice the brand name. Possibly it might influence some of these consumers to consider buying Moët & Chandon in the future." Either way, shopping this holiday season will consist of a whole lot of bubbly glugging minus the hassle of flute clinking. The machine holds hundreds of 200ml bottles, which cost $29 each, a meager amount for budding luxury buyers when compared to other bottles for purchase at the department store. In addition to being sold there, the mini bottles will also be available on the eCommerce site of Selfridges.
[Via – Luxurydaily]