You've almost certainly used TripAdvisor to look up reviews of hotels before you book a room or suite, but have you ever used the service to make up your mind about a fine dining restaurant? As it turns out, many travelers across the world actually do recall their experience for reviews and some restaurants have been consistently better than others. For their 2016 Traveller's Choice Awards, TripAdvisor rounded up some of the best fine dining establishments in the world. To do this, the website actually uses an algorithm that considered the quantity and quality of user restaurant reviews from the past 12 months. Keep scrolling to see if your favorites made the cut!



10. Azurmendi Gastronomico – Larrabetzu, Spain
Reviewed over 600 times, this restaurant prioritizes sustainability but not at the cost of flavor and quality. The three Michelin starred restaurant is headed by Eneko Atxa who has looked to his roots in Basque for inspiration for his restaurant menu.

9. Adam's – Birmingham, United Kingdom
Adam's is still a young restaurant, opened in 2013 by husband and wife duo Adam and Natasha Stokes. However in that short time, the restaurant has already earned a laundry list of accolades for a bespoke menu. It boasts almost 1500 reviews on TripAdvisor.

8. Voila Bistrot – Paraty, Brazil
This French bistro in Brazil has been reviewed over 1000 times and has been called a slice of Paris in South America. The restaurant offers amazing forest views and a dining experience that is beyond compare.

7. Waterside Inn – Bray on Thames, United Kingdom
Another French restaurant, this one has 1148 reviews and three Michelin stars to boot! Located on the banks of the iconic Thames, this restaurant has been called vegetarian friendly and also offers gluten free options.

6. Alinea – Chicago, United States
Alinea is the only American restaurant that made it to the list with 1024 reviews. The menu by chef and owner Grant Achatz has been designed to excite and entertain diners as well as satisfy appetites. You can check out the creative concept and presentation of the food thanks to the pictures uploaded by reviewers.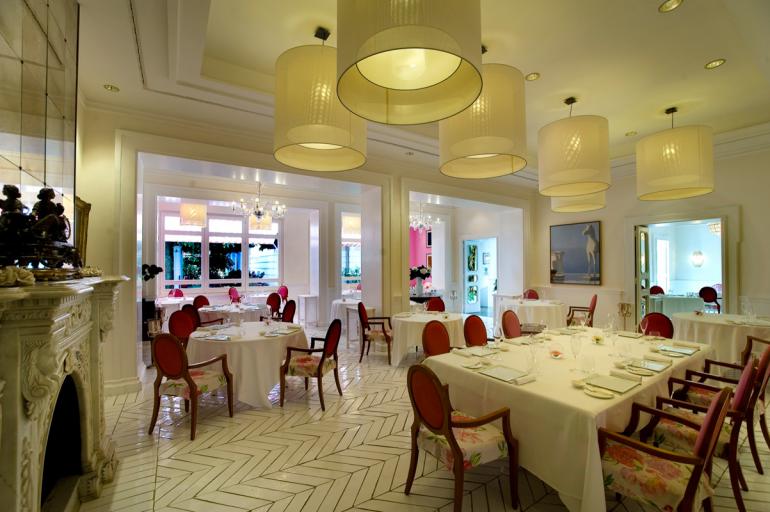 5. Ristorante Don Alfonso – Sant'Agata sui Due Golfi, Italy
The restaurant's pink exterior certainly does the trick of inviting diners in and even if it didn't the 881 reviews on TripAdvisor would certainly do the trick. The restaurant's wine cellar supposedly boasts 25,000 bottles of wine and is housed in an ancient tunnel!

4. Le Manoir Aux Quat'Saisons – Great Milton, United Kingdom
The UK's second entry into this list is another French favorite with 1757 reviews that uses seasonal produce to create a remarkable array of fine food. Choose from five or seven-course lunches and dinners or create your own culinary journey with their a la carte menu. There's also a vegetarian menu on offer for the veg-heads out there.

3. L'Auberge de I'lll – Illhaeusern, France
936 reviews exist for this restaurant most of which pronounce it a gem which must be visited. An image search revealed a picturesque building that looks like it's been plucked out of a story book with a garden to match. Fresh seafood, perfectly cooked meats and delicately flavored poultry are just the tip of the iceberg.

2. Maison Lameloise – Chagny, France
The restaurant is set in a 15th century inn which is an experience in itself, but combined with an inventive menu and an extensive wine list, it's a gastronomic adventure. 896 reviews on TripAdvisor attest to the popularity and memorable quality of this restaurant.

1. Martin Berasategui – Lasarte, Spain
Spain took the first and last spots on the list! First place went to Martin Berasategui which has 959 reviews and three Michelin stars. The menu offers a contemporary take on Spanish flavors and has been created by chef and owner Martín Berasategui who holds 8 Michelin stars in total, the most of any Spanish chef.
[Via:Tripadvisor]