Last year Coca Cola paid tribute to some of Japan's most famous cities (including Hokkaido, Tokyo, Kyoto, Setouchi, and Kumamoto) with their regional slim bottles, each of which featured artwork that represented a specific city or region. This year, the brand has released an all new line-up of slim bottles which showcase Sendai, Nagoya, Chiba, Koshien, Hiroshima, and Ishin. Each bottle is only available in the area it celebrates, so collectors can start planning their epic road trip across Japan.

Sendai's bottle features an illustrated take on the statue of the Samurai Date Masamune that city boasts.

In Nagoya, the bottle gets the addition of a bright gold Kinshachi – a mythical creature with the head of a tiger and body of a carp. Kinshachi are seen on the roof of the Nagoya Castle.

Chiba's artistic motif is much more contemporary. It's the Tokyo Bay Aqua Line expressway, which connects Chiba to Tokyo and offers beautiful bay views. The label also features a surfer as a reference to Chiba's famous surf spots.


The Koshien Stadium on this bottle is actually located in Hyogo prefecture, between Osaka and Kobe. This stadium hosts the national high school baseball tournament that the Japanese love watching in the summer.


Eagled eyed baseball fans will immediately recognize this cute cartoon as the mascot for Hiroshima's baseball team – the Hiroshima Toyo Carp.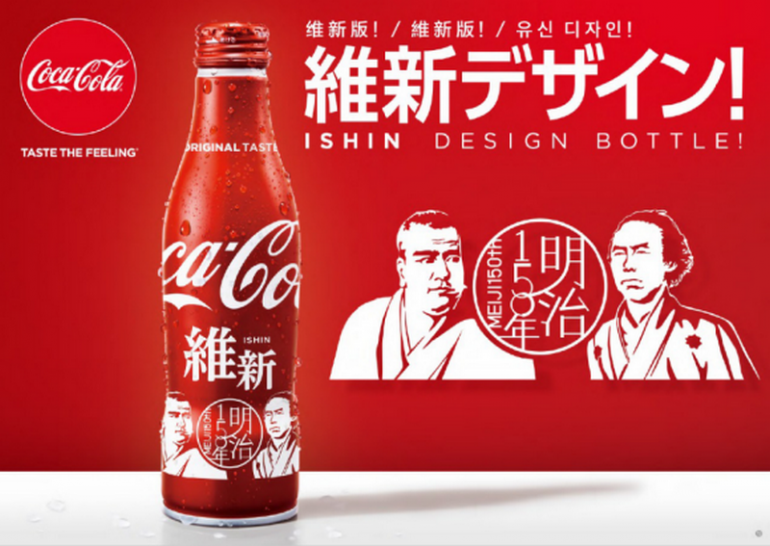 The last bottle will be available for purchase in west Japan as a recognition of the Kumamoto and Kochi Prefectures. These are the birthplaces of Saigo Takamori and Sakamoto Ryoma, two progressive samurai whose contributions helped the Meiji Restoration or Meiji Ishin. This restoration refers to an event which consolidated the political system under Emperor Meiji and ended the country's long feudal period and allowed for modernization. This bottle marks the 150th anniversary of the event which took place in 1868.
[Via:Soranews24]