A good laugh and a long sleep are the best cures in the doctor's book. But in order to have a good sleep, you must have a good mattress. Snoozing on a premium Hästens mattress was a sure-shot way of ensuring the best sleep experience in the world, but the mattress kings are aiming higher and we have ourselves the first of its kind 'Sleep Spa Hotel'. Swedish bed maker Hästens, which boasts 168 years of experience has joined hands with Portugal's family-owned O Valor do Tempo luxury group to create its first hotel near the country's famous Joanina Library, part of the UNESCO World Heritage-listed University of Coimbra. Their proximity to the Biblioteca Joanina library is the main inspiration for the interiors that have several gold-adorned baroque furnishings. The 15 rooms are adorned with 1,200 hand-carved and gold-plated marble book spines. The lobby too is lined with 419,992 small mosaic tiles arranged geometrically across the floor and walls with tiles extending up to the ceiling in an ode to the bookshelves.



The Hästens Sleep Spa is a lot more than just its unique interiors. In their endeavour to provide a world-class night's sleep, the hotel is offering guests a service called Bed Talks. This educates guests on sleeping positions and tips, as well as the correct bedding required for their upcoming stay from sleep expert Dr. Edie Perry.

Guests will enjoy an extensive and impressive pillow menu, time-specific music playlists, and an in-room channel of sleep health videos. Each room is unique, either overlooking the Mondego River or contemplating the hotel's private garden: an elegant and luminous refuge, for body and mind.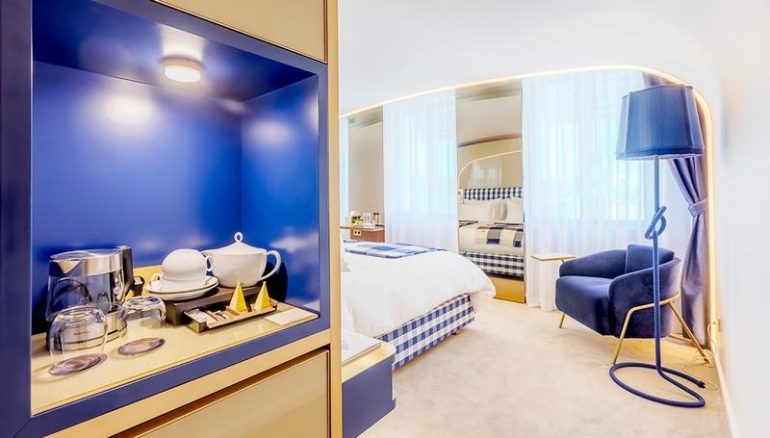 Jan Ryde, Executive Chairman and fifth-generation owner of Hästens says, "With Hästens Sleep Spa, we want to make people around the world feel how important it is to let the body get really good sleep, through good conditions and the right means. Our sleep expertise is unique and we want to be able to offer everyone to experience the rarity of our beds. That is what makes this hotel concept so fantastic, and we hope that more and more people will be able to take part in it in the coming years with the hope of additional hotels."