Imagine being surrounded by rolling hills, scrub woodlands, and soft rumbling streams. A place is rich in history and culture and a place that is home to India's majestic tigers. Aman-i-Khás is your answer to this. A tented camp resort on the fringes of Ranthambore National Park, home to all kinds of exotic wildlife; this chic safari resort consists of just 10 tented suites against the dramatic backdrop of the Aravalli Hills.



These tents make it as our suite of the week simply because it combines back-to-nature simplicity with the bygone allure of lavish Mughal hunting parties. Sheltered by soaring canvas walls & ceilings with diaphanous cotton partitions (referencing the Mughal inspiration behind the camp); the tents include living, sleeping, dining, and bathing areas, with king-size beds and sunken baths.

We absolutely love the interiors… Each tent suite measures around 1162 Sq. ft. with solid floors and lighting designed to recreate the old-world feel of flickering oil lamps. The natural environment of the fields, national park, and mud dwellings of villagers informs some of the tents' designs such as the floors of tinted cement, walls constructed from river stones, mud cladding, an earthy color palette, and tactile soft furnishings in warm hues. Even the pool complements the natural surroundings with its stepwell design modeled on the ancient step-wells found across the region. Surrounded by a sunny terrace with loungers and sheltered by a grove of trees, there is no better place to relax and be at one with nature.

Talking about relaxation there's also the Aman Spa where you can revitalize your body and mind with their daily lakeside yoga sessions. The spa has two treatment areas surrounding a small fountain and offers massages, scrubs, and traditional henna art using local herbs and spices.

Picture dinner lit by flickering candles under a canopy of stars with nothing but wilderness around you. Romantic, we say! You can choose to have your meals outdoors or in the dining tent where you can tuck into dishes that can be traced back to the royal kitchens of the Mughal emperors. Mughlai food! We are salivating already!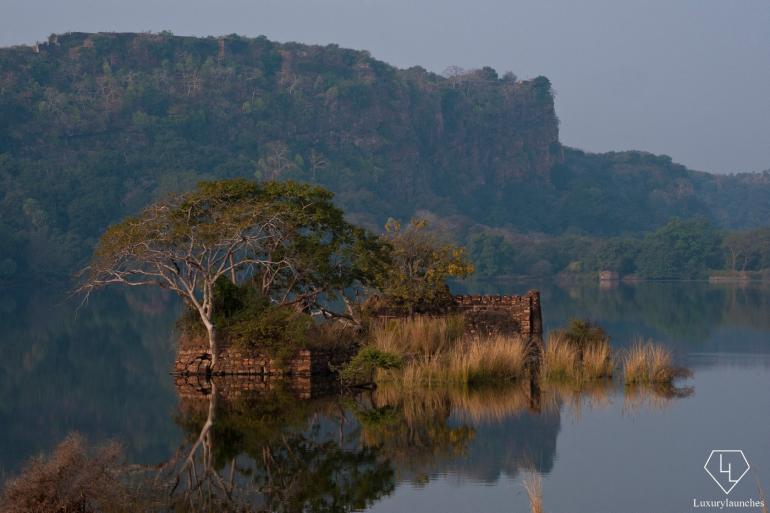 And if you would like to capture a glance at the majestic tiger, the resort offers you guided jeep safaris twice daily. Your highest chance of spotting a tiger is at the Ranthambore national park so we say do as many safaris as you can and good luck in spotting this elusive beast.
Cost: USD 1500
Size: 1162 sq. ft.
Occupancy: 2 adults

Why should you splurge on it?
We love their safari-themed tented camp concept that combines luxury with simplicity. For one, you are in the middle of the wilderness surrounded by nature & wildlife, and two, you have Batman! No, not the crime-fighting hero but a different kind of hero. A personal butler of sorts lovingly referred to as Batman that will accommodate all your requirements with pleasure.
Where : Aman-I-Khas
Village – Sherpur-Khiljipur, Ranthambhore Road,
Sawai Madhopur Rajasthan 322001, India
Tel: +91 7462 252 052