Kitty craziness is taking over LA! Hello Kiity Con is already in full swing while a Hello Kitty Scavenger Hunt and a Hello Kitty Retrospective are lined up at other locations in the city. As the feline frenzy reaches its peak, Koreatown's The Line Hotel is jumping aboard the bandwagon with their very own Hello Kitty themed hotel rooms. Designed by Sean Knibb, the rooms are a whimsical wonderland splashed with pink and liberally sprinkled with Hello Kitty motifs in their colorful and varied forms. Now here's your first glimpse into The Line's Hello Kitty rooms!


Located on the 12th floor, the Hello Kitty living room boasts one set of seats that are reminiscent of chocolate frosted cake and another set that are simply bundled up plushie toys! The pink printed wallpaper was custom made by Kevin Hanley, an artist and photographer who also shot the portraits of members of the pop band Nylon Pink.
In this bedroom, dull grey walls are offset by plushie toy clouds and a bedspread made up of……………… you guessed it, Hello Kitty plushies.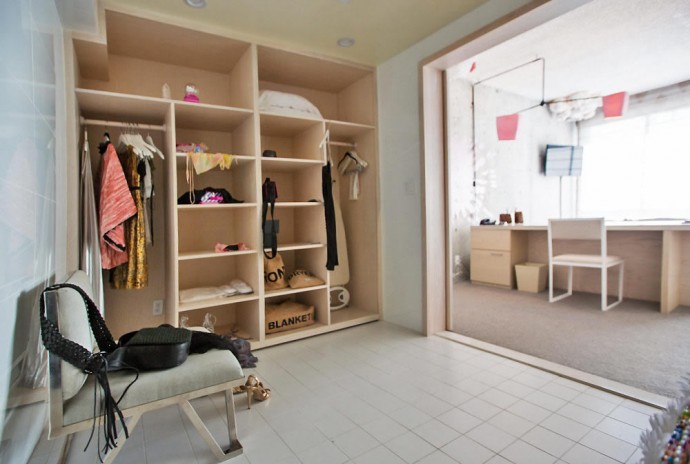 To create Kitty's closet, Knibb imagined the beloved Sanrio cat as "a 40-year-old jetsetting Angeleno." Displayed at the suite are the one-of-a-kind Hello Kitty-inspired heels created by shoe designer Sarah Johnson.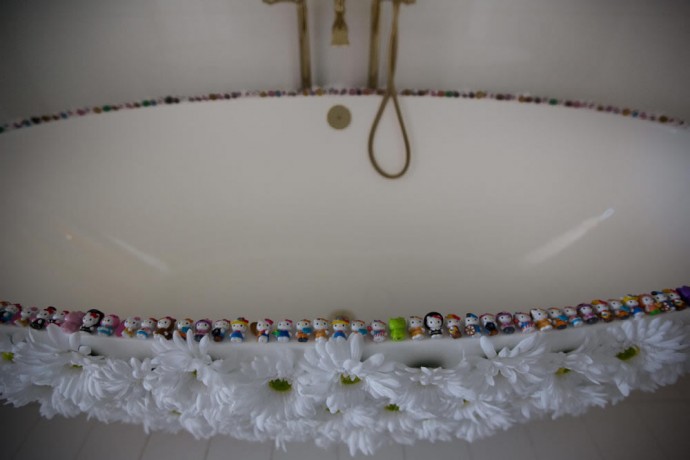 The bathrooms are filled with memorable details from OTT graffiti to gilt edge mirrors, saccharine pink shower curtains and a bathtub covered with flowers and rimmed with miniature Hello Kitties.
Residents of the room are also treated to some cool kitty swag, including stationary, bath soaps, bathrobes, bandaids, tech accessories, plush toys, and you don't even have to sneak this stuff into your suitcase. It's all intended for the guests to take home!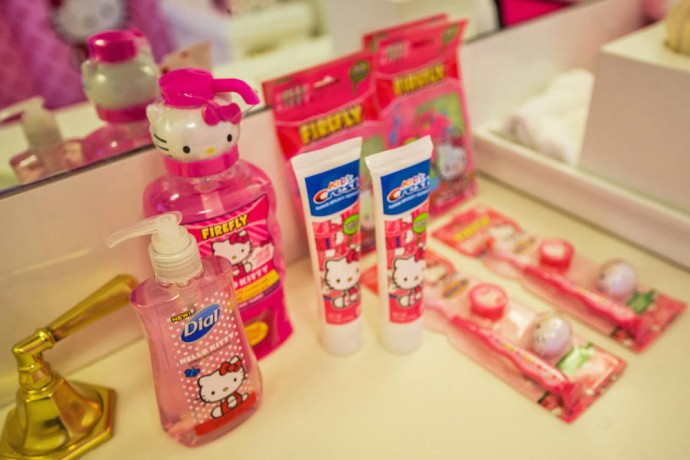 We're not sure about you but all this sweetness might give us a toothache. Room packages are completely sold out, but if you're attending Hello Kitty Con you can still check out the suite through a tour. The Hello Kitty x Knibb Design Suite is open to hotel guests as well as Hello Kitty Con attendees from 11am to 1pm and 3pm to 5pm on Thursday, October 30th and Friday October 31st, and from 11am to 1pm on Saturday, November 1st.
[Via – Racked]