Well, an iPhone is really just an iPhone without the several applications that have been crafted to give this Apple device a step above its peers. The Apple App Store has been known to play home to some of the best smartphone applications that are currently out there and continues to do so. We've been looking through the App Store, too, and have spotted some of the most expensive buys! We bring you the five most expensive iPhone applications, some of which are priced higher than the 64GB iPhone 5!



Preebs ($799.99)
The second most expensive iPhone application is called Preebs. Now while some may call it a futuristic solution to commute woes, others have termed it to be nothing more than a scam and a pocket-ripper. The application, priced at $800, hopes to make people's everyday commute easier with coupons, games, and the ability to customize the billboards people pass by on their way to work!

MobiGage NDI ($999.99)
This application is tied up with three other applications for the top spot, crowned as the most expensive iPhone application. Priced at $999.99, the application is used to inspect manufactured parts and assemblies, creates, edits, and runs measurement plans, and automates inspection processes. This application has been designed to hook up with the Northern Digital (NDI) industrial measurement systems.

Agro ($999.99)
Yet another $999.99 application is the Agro app that enables agronomists to access their inspection reports, hold the sale of products, visit clients, and more. The application is crafted especially for agronomists, or basically, folk who are involved in the production of food and the management of the environmental impact of agriculture.

BarMax CA ($999.99)
Created by a Harvard Law School alumni, this application is a bar exam review course designed for the iPhone and the iPad. Full courses are available on both these devices, and the application helps students to study on the go. And that's not all! The BarMax CA application for iPhones and iPads also offers email support and personalized essay feedback!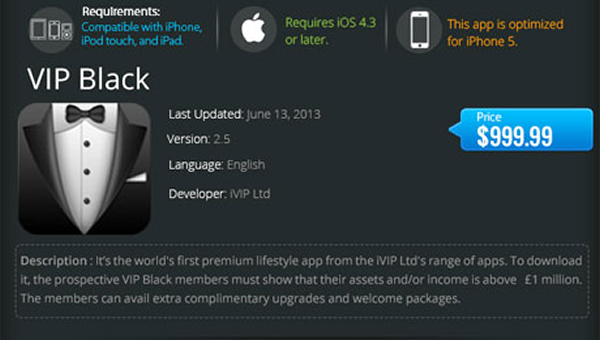 VIP Black ($999.99)
And finally, our personal favorite from this list of the highest-priced applications on Apple's App Store is the VIP Black. Also nicknamed The Millionaire's App, this one works as a virtual VIP pass, giving users access to all iVIP partner venues worldwide with full VIP treatment! As if that's not all, the application also provides an iVIP Concierge. The VIP Black application is only available to "high net worth individuals" with assets and/or income in excess of £1 million. Upgrades and welcome packages are complimentary!