When you think Mercedes you think old school luxury, you think fast cars and smooth drives. A Mercedes is of course a fantastic gift to receive for Valentines Day, however for those of us who cannot afford a Mercedes yet, owning some other products produced by the brand will have to sustain us. Each of these products have their base in the incredible worth ethic that goes into make the cars themselves.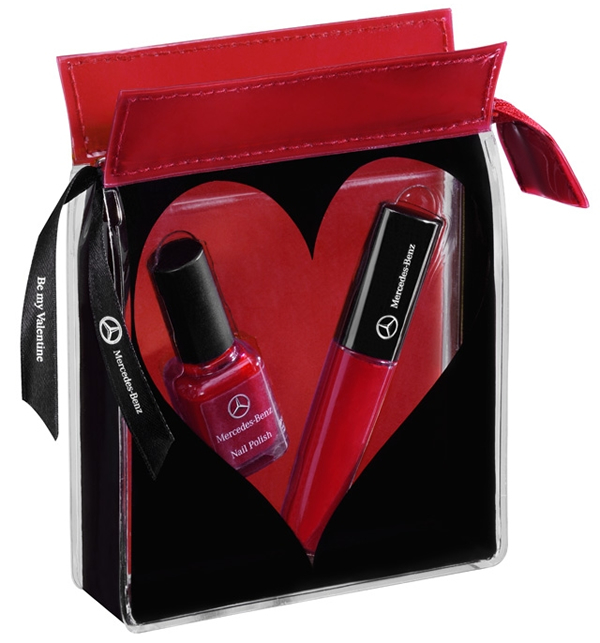 "Be my Valentine!" Cosmetik Kit
This particular kit is perfect for Valentines Day with its black and red heart shaped design. The bag features a nail polish and lip gloss in A – color Jupiter red. Printed on the loop and zipper is "Be my Valentine." This special edition kit is available only in 2013 and will set you back $40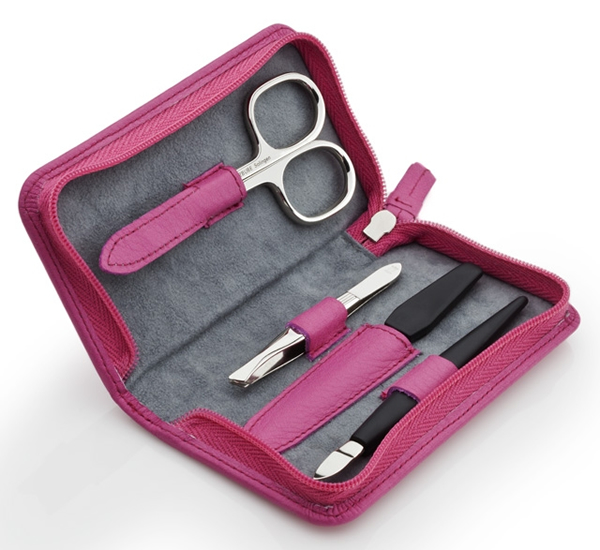 Manicure Set Leather Pink
Most women are a sucker for anything that is pink in color, around Valentine's Day this love for Pink increases tenfold. This Manicure set comes in a pink calfskin leather set that measures 7×12 cm. Inside you will find German made instrument including nail scissors, tweezers, nail file and a nail cleaner. The case is made in Germany and features a 3D star Mercedes logo on the outside. The entire set costs about 109 dollars

Mercedes – Benz Museum Moroso Chair
Anybody who has ever sat in a Mercedes Benz and felt the incredible comforts of their seats would blindly trust the engineering behind a chair produced by them. Designer Scott Wilson for Moroso created this particular chair in a limited edition of 50 units. Sized at a height of approximately 34 inches this chair retails for about $580, additional shipping costs may apply due to the chair's large size.

SLR. Club Travel Collection Gran Turismo (Coupe)
This exclusive luggage consists of a clothes carrier, two small and two large trolley cases. Parts of this set fit perfectly into the boot of the Mercedes SLR Roadster. These are not delicate pieces of luggage having been made from vegetable tanned calfskin; the products are waterproof and light-fast. Two coat hangers, a shirt bag and an adjustable leather holding strap have all been integrated into the clothes carrier to make it more versatile. The shells have been made of shock resistant material to add another level of hardiness to this set of suitcases. Each piece in this collection retails for approximately $6,750.

Mercedes Benz Classic Picnic Basket
Imagine driving in your comfortable Mercedes to a gorgeous meadow or field where you spread out a picnic and spend the day in the sun with a loved one. Personally I cannot think of a better way to spend Valentine's Day. This picnic basket by Mercedes Benz seeks to complete that visual with a beautiful wicker medium brown basket that is equipped for two people. It contains two wine glasses, two cups, cutlery made from stainless steel, two white china plates, two fabric napkins, table cloth, salt and pepper and a bottle opener. The basket itself features a badge bearing the historical Mercedes star and retails for around $135
[Available at Mercedes-Benz-Classic-Store]