This project endeavors to take you back in time into the Victorian Era. The 15 Renwick, as it is called is an eleven storeyed building and is scheduled to be completed by the end of 2015. This steam punk themed luxury development is hoping to attract 'rich hipsters'.


The advertisements of the building feature 18th and 19th century themed characters and settings and goes quite well with the industrial history of the neighborhood. The website features pictures of old fashioned cars , bridges and people dressed in the elaborate Victorian outfits and head dresses.
The façade of the building has framed windows that tilt and turn out to open and mixed with copper panels which are treated to give them that old industrial look. The flooring of the lobby is tiled with patterned cement and will have a polished stucco ceiling. The 31 residences will have the herringbone- patterned flooring. The services and facilities include a 24 hour butler and an old time boxing gym. The will also have amenities like a laundry room, bike storage and a roof deck. The prices of these residences range from $ 2 million for a third floor two bedroom apartment and can go upto $ 7 million for the four duplex penthouses with private terraces.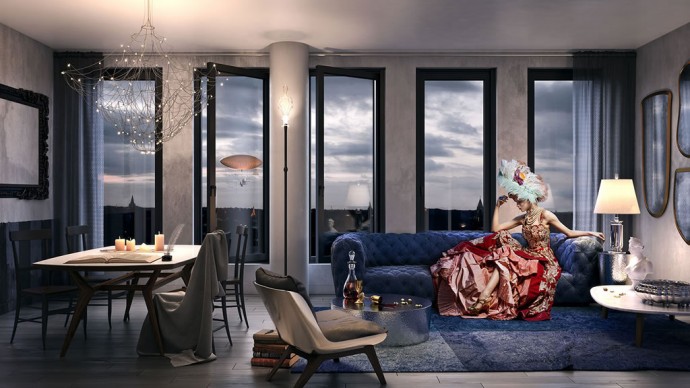 Those wanting to be in the hustle and bustle of modern day New York, but still experience the old age charm can look into investing into an apartment in 15 Renwick.